OffTrackBetting.com - US Legal Horse Racing Betting Online

OffTrackBetting.com is a fully licensed, regulated and U.S. based website, offering legal online wagering on horse racing & greyhound racing - JOIN OTB
About OffTrackBetting.com
OffTrackBetting.com (OTB) offers secure online betting on Thoroughbred, Harness and Quarter Horse racing & Greyhound racing. Account wagering can be set up within minutes and will enable you to watch and wager on races from coast to coast and around the world. All wagers placed through OTB are commingled with partnered Host Track pari-mutuel betting pools at hundreds of race tracks worldwide.
OffTrackBetting.com is a service of Lien Games Racing, LLC, a regulated service provider of secure and reliable online horse betting based in North Dakota.
OffTrackBetting.com is approved and/or licensed through Lien Games Racing by:
Lien Games Racing has processed
over $750 million
in pari-mutuel wagers
Working with Lien Games allows OTB players to join & bet with confidence, knowing they are wagering through an established company that has a confirmed track documentation of processing over $750 million in pari-mutuel wagers.
In addition, Lien Games Racing works with the licensed charity North Dakota Horse Park, which receives a portion of wagers made at OffTrackBetting.com.
The Best Value in Online Horse Betting
OffTrackBetting.com offers one of the most competitive Horse Racing Reward Programs available for online horse race betting. At OffTrackBetting.com, even the smallest bettors have the potential to become the biggest.
Off Track Betting is tailor-made for horseplayers and constantly strives to improve and expand its offerings. We, at OffTrackBetting.com, are proud of our commitment to Customer Service and value feedback from our members. Please do not hesitate to call our highly-developed customer service representatives toll-free at 1-855-941-1010 or contact them via email at support@OffTrackBetting.com where we assure you someone will respond to your queries and/or concerns within a 24-hour period.
OTB Online Account Wagering
100% first deposit match bonus for new players!
Daily Cash Back Rewards - Up To 6% - No minimums!
NO Membership Fees.
NO Monthly Fees.
NO Per-wager Fees.
FREE Live Horse Racing Video for active wagering accounts.
FREE Race Replays.
FREE Race Results.
FREE Deposits and Withdrawals.
FREE Real-time racing information: race odds, will-pays, race scratches/changes, and track conditions.
FREE Horse Racing Picks - Selections for New York race tracks, Aqueduct, Saratoga & Belmont Park.
FREE Newsletters - News and schedules for upcoming Graded Stakes events and more.
OTB is U.S. Based, Legal, Licensed and Regulated.
Fast enrollment system gets you wagering in no time.
Over 300 Tracks Worldwide- Bet Thoroughbred, Harness & Quarter horse racing & Greyhound Racing.
Direct deposit of funds by Visa, MasterCard, Discover credit cards, ACH, certified and personal check, wire transfer or money order.
Winnings are automatically credited to your account immediately following the race.
OTB Customer Service - skilled & friendly seven days a week.
Toll-free Support at 1-855-941-1010 or email OTB at support@OffTrackBetting.com
OTB offers all wagers available at the track - including exotic wagers such as trifecta, superfecta, pick 3, pick 4, pick 5 and pick 6. Money wagered through OTB is commingled with existing racetrack pools.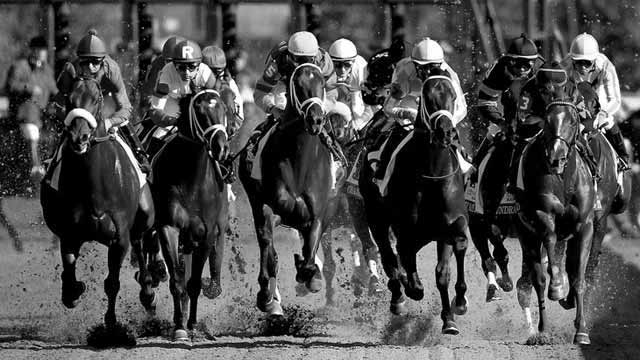 Bet Belmont Stakes with OTB