Colonial Downs Results - September 05, 2022
< Colonial Downs Results for August 31, 2022
Colonial Downs Results for September 06, 2022 >
---
Colonial Downs Race Results
September 07, 2022
September 06, 2022
August 31, 2022
August 30, 2022
August 29, 2022
August 24, 2022
August 23, 2022
August 22, 2022
August 17, 2022
August 16, 2022
August 15, 2022
August 10, 2022
August 09, 2022
August 08, 2022
August 03, 2022
August 02, 2022
August 01, 2022
July 27, 2022
July 26, 2022
July 20, 2022
July 19, 2022
July 18, 2022
July 13, 2022
July 12, 2022
July 11, 2022
September 01, 2021
August 31, 2021
August 30, 2021
August 25, 2021
Instant access for Colonial Downs Race Results, Entries, Post Positions, Payouts, Jockeys, Scratches, Conditions & Purses for September 05, 2022.
Colonial Downs Information
Colonial Downs is a racetrack for Thoroughbred flat racing and Standardbred harness racing located in New Kent County, Virginia adjacent to Interstate 64, halfway between Richmond, Virginia and Williamsburg, Virginia.
The track has a one and one-quarter mile dirt oval, a seven and one half furlong inner turf oval and a one and one-eighth mile outer turf oval. Harness races start from a chute on the back stretch of the dirt oval.
The Virginia Derby is Colonial's annual showcase event. The Virginia Derby is held mid July, the $600,000 Grade II event draws over 9,000 fans to the New Kent oval. Thoroughbred racing's top three year old turf horses, along with the sport's top jockeys and trainers compete 1.25 miles in the Virginia Derby. The $500,000 Grade II Colonial Turf Cup, a Derby prep race, is held in June.
The track features an autumn harness racing meet. Colonial Downs is the only 1 and 1/4 mile track in North America with harness racing and features a one turn mile. The horses start from a chute on the backstretch. Harness racing times at Colonial Downs are the fastest in racing. On October 11, 2008, the world trotting record was set during the $100,000 Patriot Invitational. It was set by Enough Talk. The trotter became the first in harness racing history to break the 1:50 barrier with 1:49.3.
Colonial Downs Information Thoroughbred and Harness Racing
10515 Colonial Downs Pkwy, New Kent, VA US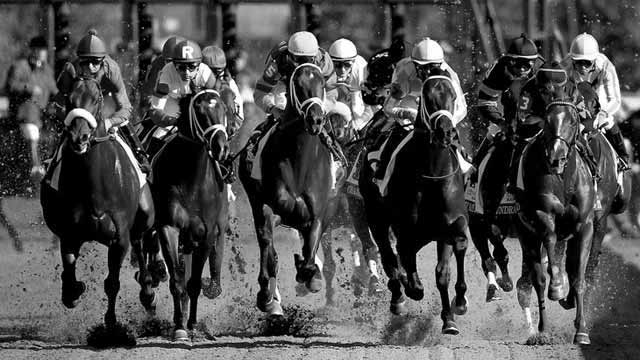 Bet Horse Racing with OTB