Classic

Toast of New York – Toast of New York took everything in his stride when he gained his first experience of the main track Tuesday morning when doing a hack canter of a couple of circuits under the guidance of James McCarthy.

"He was really good today and I was really pleased with him" McCarthy said.

Trainer Jamie Osborne is expected in California Wednesday evening.

Longines Distaff

L'amour De Ma Vie – Pia Brandt's L'Amour De Ma Vie followed a similar pattern to Monday. She jogged with her pony for three-quarters of a circuit before breaking into a gentle canter.

Longines Turf

Telescope – Highclere Thoroughbred's Telescope, trained in Newmarket by Michael Stoute, and the mount of Ryan Moore, put in his first appearance on the track on Tuesday morning, following his arrival in the Quarantine Barn at Santa Anita last Saturday. The 4yo son of Galileo did no more than a very light canter on the turf, but Highclere's Harry Herbert was happy with what he saw.

"Everything has gone to plan with the horse so far. Sir Michael has a great record in preparing a horse for this race, and this has been the plan for some time. I wondered at one point whether we should be running the horse in the Arc' (the Prix de l'Arc de Triomphe at Longchamp), but Sir Michael was adamant that we should stick to the plan and come here. We will see how things go, but my hope is that he will stay in training next year and be campaigned internationally again," Herbert said.

Magician and Chicquita – Irish trainer Aidan O'Brien is two-handed in this year's renewal of the Longines Breeders' Cup Turf, in which he saddles the defending champion Magician and the 4yo Chicquita, winner of the Irish Oaks in 2013. Both horses traveled in the O'Brien contingent of five horses that arrived at the Quarantine Barn at around 8:30 on Monday night. They can be expected to make an appearance on the track Thursday morning.

Brown Panther – The Tom Dascombe-trained Brown Panther, who is part owned and was bred by former England international footballer Michael Owen, went out for a jog and a canter on the main track accompanied by a pony throughout.

Brown Panther missed his intended last start in the Canadian International, when he became unruly and bolted during the race preliminaries, unseating his regular jockey Richard Kingscote. In contrast, his behavior at Santa Anita has been exemplary thus far for his regular work rider Chris Ely.

Flintshire – The Andre Fabre-trained Flintshire comes into the Turf off a second-place finish in the Prix de L'Arc de Triomphe to the outstanding race mare Treve. He continued his quiet preparations for Saturday's race, going out onto the main track in the group of five French Breeders' Cup runners, who all had a gentle canter on Santa Anita's main track.

Filly & Mare Turf

Dank, Fiesolana, Just The Judge and Secret Gesture – All the European contenders for this year's Breeders' Cup Filly & Mare Turf stretched their legs for the first time Tuesday morning. Dank, Fiesolana and Just The Judge all went out on to the turf track at 7:30 while Secret Gesture's connections decided to keep her on the dirt.

The three fillies on the turf all walked for half a circuit before slightly quickening up into a gentle canter until the winning post, and then slowed back down to a walk before returning to the barn via the paddock.

Secret Gesture did nothing strenuous and did a gentle canter on the dirt.

Willie McCreery, Fiesolana's trainer arrived in California Monday night and was trackside to see the daughter of Aussie Rules at first hand.

He was pleased with his filly and when asked about his draw in post six he said, "The draw is grand and we will be riding her to get home in the race."

Charlie Hills was also at the track to see Just The Judge go out for the first time since arriving at Santa Anita from Woodbine and expressed his delight at what he saw. "Everything is absolutely tip top," he said.

English jockey James Doyle got the leg up on Just The Judge and was very happy with the way his filly went.

"Everything was fine and she felt really well." He said. "Santa Anita is a lovely track," and when asked about the condition of the turf course stated, "Although I only did a gentle canter, it is quite quick but not firm, and there is a lovely cushion of grass. It is different grass to back home but it is absolutely fine."

James Savage, traveling head lad for Michael Stoute was delighted with Monday's draw for the Filly & Mare Turf, "We would take stall three any day of the week" he said.

Mile Anodin, Karakontie and Veda – France is strongly represented in this year's renewal of the Breeders' Cup Mile, and their three representatives all went out together at around 8.00am for a jog and a light canter on the main track.

Trainer Freddy Head, who was successful in the race as a jockey aboard Miesque and as a trainer on three occasions with the great Goldikova was again at the track to supervise Anodin's preparations.

He said of his charge, "Everything has gone well with the horse, he has run consistently well all season, and was unlucky in his last race. I think this track and the ground will suit him, and with luck I think he can run a big race."

His fellow trainers from France Jonathan Pease, who saddles this year's Poule d'Esssai des Poulains (French 2000 Guineas) winner Karakontie, and Alain de Royer-Dupre who runs HH the Aga Khan's Veda, have yet to arrive at Santa Anita.

Mustajeeb – Irish trainer Dermot Weld, who has enjoyed plenty of international success in his distinguished career, including a Belmont Stakes with Go and Go, and two Melbourne Cup wins in Australia with Vintage Crop and Media Puzzle, but who has yet to win a Breeders' Cup race, sends out Mustajeeb in an attempt to correct that omission on his resume.

His big race jockey Pat Smullen was on board Tuesday morning for a light piece of exercise on the main track shortly after 7 a.m. Smullen, who also has the rides on Caspar Netscher in the Turf Sprint and on Secret Gesture in the Filly & Mare Turf, was happy enough with his horse.

"Mustajeeb seems in good form and I think this race will suit him. His best trip is at seven furlongs back at home, (the distance at which he won the Jersey Stakes at Royal Ascot in June), and an easy mile here should be what he needs," he said.

Toronado – England's best hopes of success in the Mile would appear to rest with Toronado, trained by Richard Hannon, who is the 5-2 morning line favorite for the race. Winner of the Queen Anne Stakes at Royal Ascot, and not disgraced in his two most recent runs behind Kingman in the Sussex Stakes and Charm Spirit in the Qatar Prix du Moulin de Longchamp, Toronado, a 4yo son of High Chaparral, is giving his connections hope that he can go out on a high on Saturday in what will be his last race before he retires to stud.

Representing the horse's Qatari owners Al Shaqab Racing, their racing manager Harry Herbert said at the morning track work after seeing Toronado put in a light canter on the main track, "The horse seems very well. Sean Levey who rides him every day says the horse has never been better. He has had a relatively light campaign this year as the owners also have Olympic Glory and we have kept the two of them apart. He has got a good draw (Post 5) and that gives his jockey (Richard Hughes) options in the race. These races take a lot of winning, but we are hopeful going into Saturday."

Trade Storm – Newmarket trainer David Simcock saddles England's other runner in the race, Trade Storm, who comes to Santa Anita off an international success in the Woodbine Mile in Toronto in September. Trade Storm had a quiet canter on the main track Tuesday morning shortly after 8 a.m., and is pleasing his regular exercise ride Laura Pike.

"He felt absolutely fine this morning. He's an experienced traveler, having been to Canada and Dubai twice. He takes everything in his stride and this trip has been no different," she said.

Xpressbet Sprint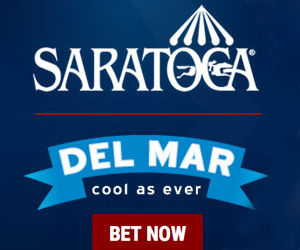 Wind Fire – Wind Fire, the sole European representative in the Breeders' Cup Sprint took a while to get used to his new surroundings in the hands of regular rider Claire Murray when out on the main track Tuesday morning.
He was doing a gentle canter out on the dirt, but when entering the home stretch took a keen hold and started looking around at everything, that was going on, but to Murray's credit she soon had him under control.
The son of Distorted Humor will be trying to give Qatar Racing Limited its first Breeders' Cup success and a second European success in the race with the last win coming back in 1991 with Sheikh Albadou.
Juvenile Turf Aktabantay, Commemorative and Wet Sail – Aktabantay, Commemorative and Wet Sail all saw the Santa Anita turf track Tuesday morning and stretched their legs for the first time in the California sunshine.
Aktabantay's trainer, Hugo Palmer, who flew in to Los Angeles late Monday night was here to see his 2yo son of Oasis Dream do a very gentle canter on the turf with Angela Davis in the saddle.
Wet Sail will be trainer Charlie Fellowes' first Breeders' Cup runner and took to the turf, but first jogged half a circuit of the dirt before doing a gentle canter.
Charlie Hills' Commemorative also went out on to the turf but a lot later than the other European horses and under the guidance of jockey James Doyle jogged a circuit of the track with a pony before doing a gentle canter before returning home. Doyle reported the colt to be in good form.
War Envoy – The remaining challenger for this year's Juvenile Turf is the Aidan O'Brien-trained War Envoy, who will be the mount of Ryan Moore in Friday's race. He arrived in the quarantine barn Monday night and will not be seen out on the track until Thursday.
Juvenile Fillies Turf Osaila and Prize Exhibit – Osaila and Prize Exhibit, two of the European challengers in the Juvenile Fillies Turf, both gained experience of Santa Anita Tuesday morning, but restricted their exercise to the main track. Both horses cantered but it was the Jamie Osborne-trained Prize Exhibit who found it more difficult to adapt to to her new surroundings.
"She was OK this morning but was a bit keen," said her rider Lucy Barry.
Al Shaqab's racing manager Harry Herbert said of Osaila "She's has improved physically over the last few months and is getting stronger all the time. She has probably got to improve again, but I am looking forward to seeing her run."
Qualify, who will be the mount of Ryan Moore and who drew Post 14, will be seen for the first time out on the track on Thursday morning once she has cleared quarantine.
Turf Sprint Caspar Netscher – Caspar Netscher with regular work rider Daryl McLaughlin in the saddle once again took to the dirt and did a routine canter on the main track. Ian Russell, who is overseeing the preparation of the son of Dutch Art until trainer David Simcock arrives on Wednesday night said. "We did a regular canter today and everything was all right."