HORSE RACING NEWS

Page 1 of 1,991 results (0.37 seconds)
---
09/10/2023
Reddam Racing, the nom du course for owner J. Paul Reddam, came away a double winner in the standings when racing came to a close at Del Mar Sunday.
---
09/10/2023
Pacific Classic winner Arabian Knight has been named the Horse of the Meet for the 2023 summer season at Del Mar. Gold Phoenix was second in the voting followed by Anisette.
---
09/10/2023
There's an old saying 'The more things change, the more they stay the same.' It was never more evident than during the 2023 summer meet at Del Mar in both the jockey and the trainer standings.
---
09/10/2023
Among The Top US Tracks For Field Size, Wagering; California Safety Standards Continue
---
09/07/2023
Disneyland lays claim to being the "Happiest Place on Earth" but anyone who has spent time in the winner's circle at Del Mar knows that Mickey and his friends have a close rival.
---
09/02/2023
Two of the top 3-year-old colts in America hooked up in the stretch in the $1-million FanDuel Racing Pacific Classic at Del Mar Saturday and Zedan Racing Stables' Arabian Knight held off Pin Oak Stud's Geaux Rocket Ride by a neck at the conclu
---
09/01/2023
These days Flightline lives in quiet surroundings at Lane's End Farm in Versailles, Kentucky, away from all of the hustle and bustle of the racetrack, enjoying retirement like any other accomplished professional, with a few exceptions.
---
08/31/2023
Geaux Rocket Ride © Benoti Photo
---
08/30/2023
41st Running Takes Place Nov. 1-2, 2024, at Majestic Del Mar racetrack in Del Mar, California.
---
08/29/2023
The 33rd edition of the FanDuel Racing Pacific Classic drew 11 runners Tuesday for Saturday's headliner and – for the first time – the mile and a quarter for 3-year-olds and up attracted three 3-year-olds, any of whom could have a big sa
---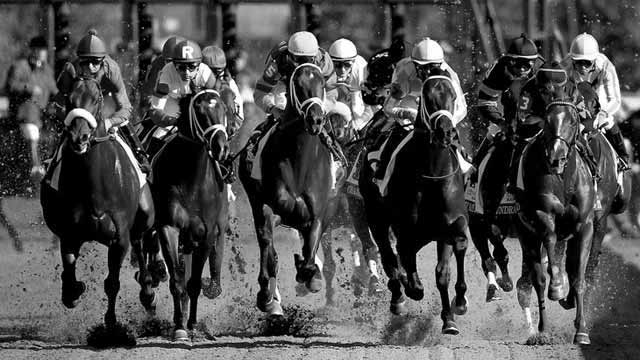 Bet Horse Racing with OTB