Bet on the 2019 Preakness Stakes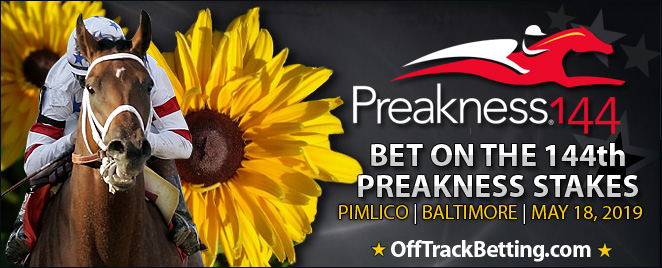 Bet & Watch the Preakness Stakes online with OffTrackBetting.com - US Legal Online Wagering
The 144th running of the $1,500,000 Preakness Stakes (Grade I), is the second jewel of the Triple Crown, set for Saturday, May 18, 2019 at historic Pimlico Race Course in Baltimore, Maryland.
When is the Preakness Stakes?
The Preakness Stakes is on Saturday, May 18, 2019!
Where is the Preakness Stakes?
The Preakness Stakes is raced at Pimlico Racecourse in Baltimore, Maryland
When is the field drawn for the Preakness Stakes?
Post positions are scheduled to be drawn Wednesday, May 15 at 5 p.m. ET at Pimlico.
Where can I watch the Preakness Stakes?
Watch the Preakness Stakes via your player account with OffTrackBetting.com or live on TV with NBC at 5:00 p.m. Eastern Time
---
Preakness Stakes 2019 Race Schedule
Black-Eyed Susan Day - Friday, May 17
| | | | |
| --- | --- | --- | --- |
| Jim McKay Turf Sprint | $100,000 | 5 Furlongs/Turf | 3&UP |
| Skipat | $100,000 | 6 Furlongs/Dirt | F3YO |
| Allaire Dupont Distaff | $150,000 | 1 1/8 Miles/Dirt | F&M 3&UP |
| Miss Preakness - GIII | $150,000 | 6 Furlongs/Dirt | F3YO |
| Black-Eyed Susan | $250,000 | 1 1/8 Miles/Dirt | F3YO |
| Pimlico Special | $300,000 | 1 3/16 Miles/Dirt | 3&UP |
| Hilltop | $100,000 | 1 Mile/Turf | F3YO |
Preakness Stakes Day - Saturday, May 18
| | | | |
| --- | --- | --- | --- |
| Preakness Stakes | $1,500,000 | 1 3/16 Miles/Dirt | 3YO |
| LARC Sir Barton Stakes | $100,000 | 1 1/16 Miles/Dirt | 3YO |
| Searching Stakes | $100,000 | 12 Furlongs/Turf | F&M 3&UP |
| Maryland Sprint Stakes | $150,000 | 6 Furlongs/Dirt | 3&UP |
| James W. Murphy Stakes | $100,000 | 1 Mile/Turf | 3YO |
| Dixie Stakes | $250,000 | 1 1/16 Miles/Turf | 3&UP |
| Gallorette Stakes | $150,000 | 1 1/16 Miles/Turf | F&M 3&UP |
| Chick Lang Stakes | $200,000 | 6 Furlongs/Dirt | 3YO |
| The Very One Stakes | $100,000 | 5 Furlongs/Turf | F&M 3&UP |
Preakness Update: May 13
With Hall of Fame trainer Bob Baffert on the scene, Improbable worked an easy half-mile in 51.80 seconds on a chilly Monday morning at Churchill Downs in preparation for Saturday's 144th Preakness Stakes (G1) at Pimlico Race Course.
"He worked really easy, an easy half around there," Baffert said. "I didn't want to do too much with him. I just wanted to make sure that he still has a lot of energy."
Video: Improbable training and Bob Baffert interview: https://youtu.be/BHGUC-rfN2c
Improbable was 3-for-3 last year but is 0-for-3 this year, finishing second in Oaklawn Park's Rebel (G2) and Arkansas Derby (G1) prior to a fifth-place finish in the Kentucky Derby (G1) that was upgraded to a fourth upon the disqualification of first-place finisher Maximum Security.
"He's going over the ground really well, looks really healthy," Baffert said. "He's really held his weight really well, especially for a horse who shipped twice to Arkansas and then came back here to run in the Derby. That's what you want to see this time of the year. It looks like he's enjoying himself out there, so I don't see anything that would make me want to change my mind [about running]. We want to go up there and make sure he's hitting on all cylinders. We don't want to go up there and embarrass ourselves. So we were looking good today."
Baffert has saddled a record-tying seven Preakness winners: Justify (2018), American Pharoah (2015), both of whom went on the sweep the Triple Crown, Lookin At Lucky (2010), War Emblem (2002), Point Given (2001), Real Quiet (1998) and Silver Charm (1997). All five of Baffert's Kentucky Derby winners - War Emblem, Real Quiet and Silver Charm, as well as Justify and American Pharoah - prevailed two weeks later in the Preakness. In Improbable, Baffert will be trying to win the Middle Jewel of the Triple Crown for the third time with a horse who lost the Derby, following champions Point Given in 2001 and Lookin At Lucky in 2010.
"Point Given was a beast," Baffert said. "This horse has run some big races, hasn't run a bad one, always shows up. That's what I like about that horse. The way the field is shaping up, it looks like it's going to be a big field. It's still a pretty even bunch. As we saw in the Derby, they're all right there. That's why there was so much traffic. They all have the same style, so you still have to get lucky."
There is a strong possibility that Improbable will go to post Saturday as the favorite.
"I just inherited it, I think. But I wouldn't say he's a heavy, heavy favorite. It's still wide open. Improbable still needs to get away [from the gate]. For some reason, the first 100 yards, he scrambles a little bit. For a horse with as much natural speed as he has, it takes him a while to get going. In the Derby, he was right behind those horses and when Maximum Security slowed it down down the backside, everybody was bottled up behind. It was one of those things where he was fifth and stayed fifth the whole way, there was no moving. I think post position and the break are still very important for him."
Baffert said he thinks the Preakness' 1 3/16-mile distance could help Improbable.
"A mile and a quarter might be stretching it," he said. "The thing about his mechanics, he's really light on his feet, so he doesn't really struggle. We'll see how he handles Pimlico. He looked great today."
Improbable will be one of four Preakness contenders who raced in the Derby, along with War of Will, Win Win Win and Bodexpress.
"We won't have any of the Derby winners in there," quipped Baffert, referring to disqualified first-place finisher Maximum Security and adjudged winner Country House. "It's still going to be an exciting race. To me, it's still an important race. I really enjoy going to these races. I like the Preakness. I really enjoy it; it's a lot of fun. The pressure is off. We go in there and have a good time.
"All the Classics are really enjoyable. It's just a different type of race. It's all about the 3-year-olds," he added. "The Breeders' Cup is like the Olympics, different divisions. These Classics are all about the same 3-year-olds. There are a lot of new shooters in here that look tough. There's a hometown horse [Alwaysmining] that's really good. That horse from Golden Gate, Anothertwistafate, he's a really good horse, too. So it's not a gimme. I'm not going in there feeling like I know I have the heavy muscle. I think I have a really good horse, but it's a pretty tough race."
Improbable is owned by WinStar Farm, China Horse Club International and Starlight Racing, basically the same partnership that campaigned the Baffert-trained 2018 Triple Crown winner Justify. Mike Smith, who rode Justify, picks up the mount for the Preakness.
Laughing Fox Works 4F for Middle Jewel of Triple Crown
Laughing Fox, who earned an automatic entry in Saturday's Preakness (G1) at Pimlico by winning Oaklawn Park's $300,000 Oaklawn Invitational May 4, cruised through a leisurely half-mile work in 51.60 seconds under exercise rider Wilson Fabian Monday at Churchill Downs. The breeze was a typical move for a Steve Asmussen-trained horse the week of a race.
"Obviously he ran nine days ago - a quick turnaround for him, which we've had some success running back in two weeks," said Asmussen, who won the 2007 Preakness with two-time Horse of the Year Curlin and the 2009 Preakness with Kentucky Oaks (G1) winner Rachel Alexandra. "He's got a great attitude. Nice cool morning, he felt very good. I thought he went over the racetrack very well. I think in the past we've been very happy with how horses who have run at Oaklawn have run at Pimlico, so I feel good about that going up there."
Ricardo Santana Jr., Asmussen's go-to rider, has the mount on Laughing Fox, who flies to Baltimore on Wednesday.
Asmussen finished third in last year's foggy Preakness with Tenfold, who runs in Friday's Pimlico Special.
Equipment Change for Bourbon War in Preakness
Bourbon Lane Stable and Lake Star Stable's Bourbon War will be sporting new attire when he goes to post in Saturday's 144th Preakness Stakes (G1) at Pimlico with regular rider Irad Ortiz Jr. aboard.
"We're adding some short-cup blinkers to the mix this time. It's nice to keep the rider atop just so he has a feel for what he thinks about the equipment change," trainer Mark Hennig said.
Bourbon War, who came up short on qualifying points to make the Kentucky Derby field, most recently finished fourth behind disqualified first-place Derby finisher Maximum Security in the March 30 Florida Derby (G1) at Gulfstream. The son of Tapit, who closed from ninth in the Florida Derby, had previously rallied from far off the pace to finish a half-length behind victorious Code of Honor in the Fountain of Youth (G2) at Gulfstream.
Bourbon War, who recorded a five-furlong bullet workout Thursday, jogged over the sloppy going at Belmont Park Monday.
"He's doing great. He's been in the mud the last couple days," Hennig said. "Everything's fine. All is well."
Bourbon War is among eight Preakness candidates who did not compete in the Kentucky Derby. Four scheduled starters, Improbable, War of Will, Win Win Win and Bodexpress, ran in the Derby.
"Improbable is the horse to beat. He didn't get beat far in the Derby. He should be the favorite. Rightfully, so," Hennig said. "There are new shooters that are bringing great credentials to the table, too. I guess we'll find out if the new shooters can be competitive with those horses that ran in the Derby. We have confidence in our horse based on his form in Florida, but he still has to reproduce that on the track."
Bourbon War is scheduled to ship to Pimlico after training at Belmont Wednesday.
Alwaysmining `in a Very Good Place'
Runnymede Racing's multiple stakes winner Alwaysmining galloped Monday morning at Fair Hill Training Center in Elkton, Md. as he continues preparations for his graded debut in Saturday's 144th Preakness (G1) at Pimlico.
Regular exercise rider Felix Astudillo was aboard for the exercise, which came over Fair Hill's seven-furlong Tapeta synthetic surface.
"He's doing very well," trainer Kelly Rubley said. "He galloped this morning and looked wonderful."
At Fair Hill, Rubley has the option of using both the synthetic surface and its surrounding one-mile all-weather dirt track. Alwaysmining had his final breeze for the Preakness May 10, going a half-mile in 48.20 seconds, fastest of 13 horses, on the synthetic surface.
"He jogs on the dirt and he generally gallops on the dirt, when it's not sealed," Rubley said. "He seems to be in a very good place."
Alwaysmining takes a six-race win streak into the Preakness. Five of those victories have come in stakes, none more impressive than his 11 ¼-length romp in the 1 1/8-mile Federico Tesio April 20 at Laurel Park, which earned him an automatic berth in the Middle Jewel of the Triple Crown.
A son of Stay Thirsty, winner of the 1 ¼-mile Travers (G1) in 2011, Alwaysmining is attempting to become the ninth Maryland-bred to win the Preakness and first since Deputed Testamony in 1983. Magic Weisner finished second in 2002.
"Sure, to have him be kind of the hometown hero would be kind of neat. But, we've got to get it done first," Rubley said. "He seems to be in a very good place."
Alwaysmining, who will be ridden by regular jockey Daniel Centeno, will maintain his typical exercise schedule at Fair Hill before arriving late Thursday morning at Pimlico. He will get his first tour of Old Hilltop on Friday.
"We're just going to keep his normal routine. He'll gallop tomorrow and Thursday and ship to Pimlico after training here on Thursday," Rubley said. "I'm undecided what we'll do, gallop or jog, but we'll decide that Friday morning."
D. Wayne Lukas: Preakness `Baffert's Race to Lose'
Market King, the newest candidate for Saturday's Preakness (G1) at Pimlico, went out for a routine jog Monday at Churchill Downs as he resumed training following Saturday morning's five-furlong workout in 1:00.40. That move, on top of one in 1:00.20 four days earlier, encouraged trainer D. Wayne Lukas to put Market King into the Middle Jewel of the Triple Crown, a race the Hall of Famer has captured six times, most recently in 2013 with Oxbow.
Jon Court, who, at 58, became the oldest jockey to ever ride in the Kentucky Derby (G1) when aboard Long Range Toddy, has the mount on the colt owned by Robert Baker and William Mack.
"He's fresh and he's doing well," Lukas said of Market King. "Looking at the field, I think it's a real competitive field, but I think it's a doable deal. They're only 3 once; they only get that opportunity one time. If you pass it up, the hill gets steeper in the fall without a doubt. If you like your horse, you give them a shot when they're 3. But I think there's about seven or eight of them in there taking a shot."
Lukas, of course, has padded his Hall of Fame career by winning major races with horses that defy their odds.
"Last year we waltzed into town with a horse, I don't know what they put him in the morning line, I think it was about 30-1," he said of Bravazo, who went off at 15-1 odds and finished a half-length behind eventual Triple Crown winner Justify in the Preakness. "And Bravazo was one jump from beating Justify. It's a horse race. You treat it like a horse race. It's [trainer Bob] Baffert's race to lose without a doubt [with Improbable], but he's coming off a tough Derby and back in two weeks. But I saw him [Sunday] and he looked terrific, so I don't think we're going to get any breaks. He's a very solid horse, but you can't mail it in. You've got to go around there."
Market King finished third in a division of Oaklawn Park's Rebel Stakes (G2) won by Omaha Beach, the morning-line favorite for the Kentucky Derby until being sidelined by a breathing obstruction. Market King subsequently finished 11th in Keeneland's Blue Grass (GII).
"He struggled with the racetrack that day, I thought, and that was back quick for him," Lukas said. "It was a quick turnaround for him with a van trip and a new track. It probably wasn't a very good trainer's decision on my part. But he trains so well here (at Churchill Downs), and I think this track plays more like Pimlico than Keeneland does by a long way. You always question one who hasn't gone a mile and a quarter whether he'll go a mile and three-sixteenths. But like I told Mr. Mack and Mr. Baker, if we're going to find out, Pimlico is the place to find out, because horses do have a tendency to stay a little longer there."
Lukas said Market King will van to Baltimore Tuesday, leaving Churchill Downs about 5 a.m.
Bodexpress Lands Velazquez for Preakness
Trainer Gustavo Delgado, on hand to watch Florida Derby runner-up Bodexpress train Monday at Churchill Downs, said Hall of Fame jockey John Velazquez will ride the Bodemeister colt in Saturday's Preakness (G1) at Pimlico. For all of his achievements, Velazquez has never won the Middle Jewel of the Triple Crown.
"I feel good. We've got Johnny V," said Delgado, whose son, Gustavo Delgado Jr. oversaw Bodexpress' training while the trainer returned to his Gulfstream Park West base. "I'm happy with him. My son says he's been training well. "
Bodexpress was among the horses that got caught up in the far-turn melee when front-running Maximum Security drifted into the path of War of Will. Bodexpress wound up 14th and was placed 13th through Maximum Security's disqualification.
"We think in the Derby, with getting bumped and checked and everything, he could have run better than he did," Delgado said. "I think a better result was possible, because he came back to the barn and he wasn't even tired."
Delgado Jr. noted that jockey Chris Landeros also had to use Bodexpress more than desirable in the early stages to secure a position heading into the first turn after breaking from Post 19. Bodexpress drew into the Kentucky Derby field from the also-eligible list with the defection of program favorite Omaha Beach. A subsequent scratch of Haikal made the Derby a 19-horse race. Because the No. 1 starting-gate stall was kept open to alleviate congestion inside, Bodexpress still broke from the 20th stall though it is considered Post 19.
"Probably going straight to the Preakness from the Florida Derby would have been the right thing to do, especially since we were going to have to start from the outside post," the younger Delgado said, adding with a laugh, "But how can you tell an owner to skip the race, to skip the Derby?"
Instead, he said cheerfully, they're viewing the Derby as a workout to set Bodexpress up for the Preakness.
Bodexpress will train Tuesday morning before vanning to the Lexington airport for a 1:30 p.m. departure of the Texas Sutton equine charter to Baltimore, Delgado Jr. said.
Signalman Giving All Right Signals for Preakness
The Kenny McPeek-trained Signalman, third in Keeneland's Blue Grass (G2) in his last start, galloped 1 ½ miles under exercise rider Danny Ramsey at Churchill Downs Monday. The son of General Quarters is scheduled to van to Lexington for Tuesday's Tex Sutton flight to Baltimore.
"He's doing beautiful," Ramsey said. "He's training good; he's eating good. He's just got to run good now. We've got no excuse. He's doing extremely well. It's up to the jock now. We did our part."
Signalman, who was third in last fall's Breeders' Cup Juvenile (G1) and went on to take the Kentucky Jockey Club (G2) at Churchill, will have regular rider Brian Hernandez Jr. in the saddle.
Also at Churchill Downs, the Brad Cox-trained duo of Keeneland's Lexington (G3) winner Owendale and Oaklawn allowance winner Warrior's Charge galloped 1 ½ miles. They are expected to do the same Tuesday before flying to Baltimore from Louisville Wednesday afternoon.
The Mark Casse-trained War of Will, who finished eighth in the Derby and was placed seventh, got the morning off before his scheduled Monday afternoon departure on a van ride from Churchill to Pimlico.
Anothertwistafate, who earned an automatic entry into the Preakness with his victory in the El Camino Real Derby at Golden Gate Fields, is scheduled to fly from Oakland to Baltimore/Washington International airport Tuesday.
Win Win Win, who finished 10th in the Kentucky Derby and was placed ninth, is scheduled to ship from Fair Hill Training Center in Elkton, Md. to Pimlico Thursday.
Use the links below to learn more about the second leg of the `Triple Crown of Horse Racing'
2019 PREAKNESS STAKES EARLY PROBABLES
Kentucky Derby (G1) winner Country House tops the list of candidates for the 144th Preakness Stakes (G1) - the Middle Jewel of the Triple Crown at Pimlico Race Course - on May 18.
While Hall of Fame trainer Bill Mott was not ready to commit Country House, the Derby champ through the historic disqualification of Maximum Security, to the Preakness Sunday morning, he said that the chestnut colt came out of the race very well and was a Preakness prospect.
"Having the Derby winner, you're pretty much forced to go into the Preakness," Mott said with a smile while meeting with the media outside his barn at Churchill Downs.
During a Sunday morning phone conversation with Maryland Jockey Club's President and General Manager Sal Sinatra, who formally invited Country House to the Preakness, Mott said the decision would be made after he talked with the homebred colt's owners. Mott said he expected to have an answer in a day or two.
Maximum Security, who led from gate to wire in the Derby but was disqualified for a bumping incident at the quarter pole, is scheduled to be shipped to trainer Jason Servis' barn at Monmouth Park on Monday. Servis reported Sunday morning that the horse exited the Derby in good order and that a Preakness start had not yet been discussed.
Ten others are on the early list of prospects for the Preakness: War of Will, who was seventh in the Derby; Bodexpress, who was 13th in the Derby; Sueno, third-place finisher in the Louisiana Derby (G2); Alwaysmining, winner of the Federico Tesio at Laurel; Anothertwistafate, winner of the El Camino Real Derby; Signalman, third in the Blue Grass (G2); Laughing Fox, winner of the Oaklawn Invitational; Blue Grass winner Owendale; Mr. Money, winner of the Pat Day Mile (G3); and Fountain of Youth (G2) runner-up Bourbon War, fourth in the Florida Derby (G1).
Derby runner-up Code of Honor might be considered for the race, Hall of Fame trainer Shug McGaughey said. Code of Honor was scheduled to be shipped back to Belmont Park Sunday and McGaughey said he would be talking with owner William Farish about plans for the colt.
Hall of Fame trainer Bob Baffert, a record-tying seven-time winner of the Preakness, said Sunday that he would decide in the next few days whether he will send a horse to run in Maryland's signature race. Baffert had three Derby starters - Improbable (4th), Game Winner (5th) and Roadster (15th).
Mott said that Country House will continue training at Churchill Downs and would be shipped to Pimlico during Preakness week.
Country House is a homebred chestnut son of 2010 Preakness winner Lookin At Lucky and is co-owned by Maury Shields, her nephew Eugene "Guinness" McFadden and their friends Larry, Nanci and Jaime Roth, who run as LNJ Foxwoods. Maury Shields' late husband, Jerry, bred the colt.
After a lengthy review following the Derby, the Churchill Downs stewards decided to disqualify Maximum Security and place him 17th. It was the first time that a horse who reached the wire first in the Derby was disqualified. That moved County House - who had finished second, 1¾ lengths behind Maximum Security - into the top spot, giving Mott the first Derby win of this outstanding career. Mott said it was the correct call and showed the integrity of the sport.
"To put this in perspective, it was a difficult decision because it was the Kentucky Derby," he said. "I don't think it would have been a difficult decision if it had been the first race on the card."
Mott, who was the youngest flat trainer inducted into the Hall of Fame in Saratoga Springs, N.Y. at the age of 45 in 1998, has been on both sides of decisions by stewards.
"I feel terrible that I have to apologize for winning," he said. "I really feel terrible for the connections, the owners. I hate to sit there saying something as foolish as 'I'm sorry I won,' because I don't want to give them the wrong impression that I am unhappy about winning because I'm not. I'm thrilled. I'm thrilled with the horse. I'm thrilled with everybody that's worked with the horse. I think they deserve the win.
"It's just such an unusual way to have to go to the winner's circle and win the Kentucky Derby. This Kentucky Derby will be talked about for a long time. I think it will be probably up there with [jockey Bill] Shoemaker standing up at the sixteenth pole [on Gallant Man in 1957]. It's just one of those things. It's not going to go away.
"We're going to take the win. We're going to take it and hopefully Country House comes back and runs big in the future, whatever race it may be."
Country House signaled that he belonged on the Triple Crown trail with a second-place finish in the Risen Star (G2) Feb. 16 at Fair Grounds. After he was fourth in the Louisiana Derby on March 23, Mott sent him to the Arkansas Derby (G1) April 13. He finished third in that race at Oaklawn Park and earned just enough qualifying points to make it into the Derby field.
Mott acknowledged returning in the Preakness, two weeks after the Derby victory, is not how he typically spaces races for his horses.
"Now we're talking about a horse that has had quite a few races," he said. "You run back in the Preakness and maybe you hit the board and maybe you don't. Maybe you win. But it probably compromises his chances a little bit to win the Belmont. That's just looking at it as a trainer and what would be normal. But the Triple Crown is not a normal situation. It never has been. I don't think they should space anything out anymore. The challenge of the Triple Crown is that it's three races close together and it takes a champion - it takes a Justify - to win those kind of things."
Alex and JoAnn Leiblong's Laughing Fox earned an automatic spot in the Preakness Stakes with his rallying neck win in the $300,000 Oaklawn Invitational over Night Ops on Saturday. Trainer Steve Asmussen said it was premature to discuss the Preakness until he'd talked with the owners and sees the Union Rags colt in person.
"He ran a very good race yesterday. I thought he overcame a very strong speed bias," Asmussen said. "He's been a deep closer. Watching the races at Oaklawn throughout the day and talking with Darren [assistant Darren Fleming], speed was holding. I thought he overcame and ran a really big race. We'll see how he comes out of the race. He will come here [to Churchill Downs].
"I think his fourth in the Arkansas Derby and Country House being third looks a little more significant today than it did yesterday," he added.
Rupp Racing's Owendale, winner of Keeneland's Lexington (G3) April 13 is a strong possibility the Preakness, trainer Brad Cox said. Owendale defeated Preakness candidates Anothertwistafate and Sueno in the 1 1/16-mile Lexington.
"He breezed really well [Saturday]," Cox said of a five-furlong work in 1:02.80. "A little slow. They broke off slow but he finished up really well, galloped out great and he looked well this morning."
Cox said the outcome of the Kentucky Derby is part of the equation.
"Good group of horses," he said. "I feel like this horse, as long as he's doing well and training well, he can run with that group, just like he did in the Lexington. He didn't surprise us in the barn, or the rider [Florent Geroux] or anybody who had been dealing with him leading up to the Lexington. The way he was training, we had a lot of confidence in him. If we can get him in that same form, that confidence level going into the Preakness, he'll be competitive."
Mr. Money, winner of the Pat Day Mile Saturday, could be a possibility for the Preakness while Derby 12th-place finisher By My Standards is not expected to advance to the Middle Jewel of the Triple Crown, said Dennis "Peaches" Geier, assistant to trainer Bret Calhoun.
About the Preakness Stakes
The second leg of the Triple Crown, the Preakness Stakes, is held on the third Saturday each May at Baltimore, Maryland's Pimlico Race Course. Sandwiched between the Kentucky Derby and the Belmont Stakes in the Triple Crown, the Preakness is contested at a distance of 1 3/16 miles, and regularly attracts a field of the best three-year-old Thoroughbred racehorses in North America. A staple on Pimlico's stakes schedule since 1873, the Preakness is often a handicapping challenge for bettors as all of North America's best jockeys and trainers are in action at Pimlico that day. Other key stakes races held Preakness weekend at Pimlico include the Pimlico Special, the Dixie Stakes, the Gallorette Handicap and the Maryland Sprint Handicap.
Predating the Kentucky Derby by two years, the Preakness Stakes was first run in 1873. It got its name from then Maryland Governor Oden Bowie, who dubbed it `The Preakness' in honor of a horse of the same name that won the Dinner Party Stakes on the opening day of the Pimlico track in 1870. The race was originally a mile and a half in length, and the inaugural event saw 7 horses go to the starting gate. The first Preakness was won by My Sheba, who trounced the rest of the field by 10 lengths. That would remain the largest margin of victory in the race until 2004 when Smarty Jones won the event by 11 lengths. To date, Smarty Jones' triumph is the biggest margin of victory in Preakness history.
The Preakness race wasn't an immediate success and moved several times during its early years. In 1890, the Morris Race Course in the Bronx, New York held the race after which there was no race run for the next three years. In 1894, the Preakness was revived at the Gravesend Race Track on Coney Island and remained there for the next 15 years. In 1909 it returned to the Pimlico track in Baltimore where it has been run ever since. In 2009, the parent company of the Pimlico track, Magna Entertainment, filed for Chapter 11 bankruptcy and moving the Preakness was once again considered. The Maryland Legislature quickly approved a plan to buy the track if Magna was unable to find a buyer so for now it looks like the Preakness will remain in Baltimore for the foreseeable future.
Just like the Kentucky Derby is preceded by the Kentucky Oaks on Friday, and the Preakness has a similar tradition with Black-Eyed Susan day. The Black-Eyed Susan was first run in 1919 as the Pimlico Oaks; but the name was changed in 1952 to pay homage to the Maryland state flower. The mile and one-eighth race for three-year-old fillies has been a Grade II event since 1976. Gates for the Black-Eyed Susan day open at 10 AM on Friday, May 17th with a full day of racing action.
Can't make it to the track? Watch and wager on the Preakness Stakes with OffTrackBetting.com. All wagers made through OffTrackBetting.com are directly commingled into track pools, so you can play all of your favorite bet types with confidence, knowing that you'll receive full track odds on all wagers made with us. And with free, high-quality video, you can watch the races online or with your mobile device. OffTrackBetting.com is US-based and legal and licensed, and we promise you superior customer service and the best online wagering experience in the industry.