Undefeated Awesome Banner Gearing Up for G3 Swale Jan. 30 El Botas, Prince Vincenzo Represent Sharp in Sunshine Millions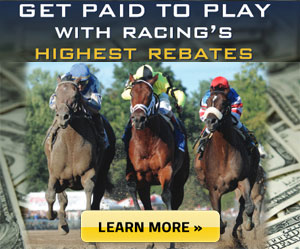 Special Sunshine Millions First Race Post Saturday 12:05 p.m.
HALLANDALE BEACH, FL – Trainer Stanley Gold will resist the temptation to run undefeated Awesome Banner in the $350,000 Holy Bull (G2) at Gulfstream Park Jan. 30, opting to send the Jacks or Better Farm's homebred colt around one-turn in the $150,000 Swale (G3) the same day.
"He's sprinted; he's fresh; he's been trained to sprint. Why would I want to stretch him out now? To go into the Holy Bull wouldn't make any sense, so he'll go in the Swale," Gold said. "He'll run the seven-eighths, and he'd probably be fit to run two turns. It seems like the right thing to do."
Gold is confident that Awesome Banner, a commanding winner in his only two career starts, will be suited to two-turn races when the time is right.
"Two turns is not necessarily a mile-and-a-quarter if you're talking about the Kentucky Derby. Will he go two-turns? Yes, he'll go a mile-and-a-sixteenth. Will he go a mile-and-a-quarter? Is he a Derby horse? Who knows? That'd be nice, but I'm not even going to think about it. I'm going to think about the Swale," Gold said. "The Swale isn't going to be easy. He'll run in the Swale and we'll go from there."
Awesome Banner debuted with a sparkling 9 ¾-length victory, running 4 ½ furlongs in a track-record 51.07 seconds on June 5. A knee chip was discovered following his debut, and the Florida-bred colt underwent surgery. He was sidelined for six months before returning in the six-furlong Hutcheson (G3) at Gulfstream Jan. 2. The son of Awesome of Course set a strong pace (44.87 seconds for the first half mile), pressed to his inside and outside into the stretch, before drawing off powerfully to score by 4 ¾ lengths in 1:09.57. Noholdingback Bear and Sheikh of Sheikhs, who had finished 2-1, respectively, in the Juvenile Dirt Sprint Stakes on the Breeders' Cup undercard at Keeneland Oct. 31, finished second and third, respectively, in the Hutcheson.
"When they were tightly bunched, the three of them, and we were getting pressed, I was concerned that, not having a tightener, they might get him. Of course, they were coming off layoffs too, but not a layoff and a surgery. They were coming off a race on Breeders' Cup Day, so they were proven," Gold said. "He was good enough to handle that, but I wasn't expecting him to draw off. It wasn't like they stopped. It was that he had another gear that they didn't have."
Gold reported that Awesome of Course came out of the Hutcheson "like he didn't even run," while praising the smooth-striding colt's poise under pressure.
"He reacted like an experienced horse. He was ridden well, and he rated well. He had the gas in the tank when you asked for it. The acceleration was there. That's what good horses have," said Gold, who will award the return mount to Jose Caraballo. "He listens to the rider. I've had horses that can really run, but they were hard-headed and did what they wanted, to their own detriment. This horse has it but waits until you ask for it."
El Botas, Prince Vincenzo Represent Sharp in Sunshine Millions
Having enjoyed success running horses first time off the claim, trainer Joe Sharp has entered two of his newest additions, El Botas and Prince Vincenzo, for Saturday's Sunshine Millions program.
Brad Grady's El Botas, 5-year-old chestnut son of Consolidator, will break from post one in a field of eight for the $150,000 Sprint, while Ken and Sarah Ramsey's Prince Vincenzo drew outside post 12 in the $150,000 Turf.
Both horses are making the first start for their new connections since being claimed out of races last month at Gulfstream. Sharp, a former assistant to Mike Maker entering the second full season on his own, has won at a 23 percent clip with such horses.
"I don't think there's any great science to it other than a lot of times we were able to be pretty aggressive and here is a place where you can kind of run back for what you claimed them for. It's just case-sensitive and we place the horses according to where we feel like they belong," Sharp said. "Some of them we get a little high on and others we give them 30 days and keep a little more realistic on. I think it's just evaluating each horse and finding the right spot for them, and having the owners that are willing to let you drop one when you need to."
Sharp won a two-way shake for El Botas out of a front-running 5 ½-length victory going six furlongs on the main track Dec. 19, his fourth victory from six career starts at the distance. He has since worked twice for Sharp at Palm Meadows, Gulfstream's satellite training facility in Palm Beach County.
"He's doing great. I thought he was a value for $25,000 the day we took him. Since then he's had two great works at Palm Meadows; the second one we slowed him down a little bit," Sharp said. "We're looking forward to getting a chance to see what he's got against stakes company."
El Botas is five-for-seven lifetime on a fast main track, is a two-time winner at Gulfstream and was second in the five-furlong Treasure Coast Stakes over the turf course Sept. 19. Sharp also considered him for the $150,000 Sunshine Millions Turf Sprint, run at five furlongs.
Luis Saez, second in the Championship Meet standings, will be aboard for the first time. Listed at 8-1 on the morning line, they will carry 117 pounds, six fewer than even-money program favorite X Y Jet, who breaks from outside post eight.
"We were on the fence about whether to run him in the turf sprint or the dirt sprint, and when we compared his numbers we opted for the dirt. Obviously there's the one horse, X Y Jet, but I've never been one to duck one horse. A lot can happen," Sharp said. "You take him out of the equation and we look pretty tough in there. We've got a more than capable pilot and I wouldn't trade places with anybody. He's doing great."
Prince Vincenzo was taken for $30,000 after finishing fourth by 1 ½ lengths as the favorite in a one-mile event over the turf course Dec. 23. The 4-year-old Exclusive Quality colt owns two wins in three tries at the 1 1/16-mile distance of the Turf and has stakes experience, running third in the OBS Championships and Sophomore Turf Stakes last year.
"We got him back to the barn and sorted him out a little bit. We gelded him so he's a first-time gelding; that's the ultimate equipment change. We feel like he's moving forward," Sharp said. "I'm not thrilled about the post-position draw so I'm kind of on the fence on whether we'll make it to the starting gate or not. In any event, we're happy with the claim and we'll find a spot where he can win if this isn't the one."
Joe Bravo will ride Prince Vincenzo, rated at 20-1 on the morning line. Fundamental, from post two, is the 2-1 program favorite.
"The only thing that concerns me is the 12 hole. I think the competition in there, you can probably put a blanket over that field for the most part. We'll see," Sharp said. "I'll play it day by day. Physically the horse is doing fantastic and we're happy with him. We'll keep an eye on it and see if there's any scratches that can get us inside a little bit more."
Special Sunshine Millions First Race Post 12:05 p.m.