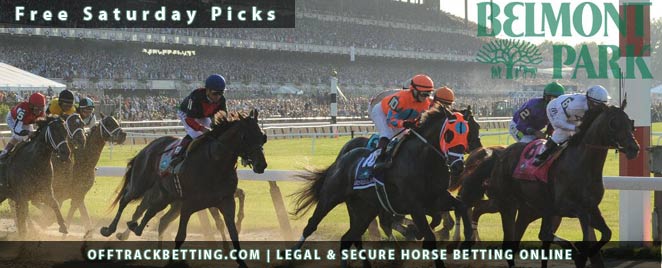 Welcome to the OTB Free Belmont Park Picks page where you can find free horse racing handicapping picks for Belmont Park race track in Elmont, New York! Get Full Card Belmont Selections and Horse Betting Analysis for all Saturday horse races this season at Belmont Park.
Get up to 5% cash back when you bet horses at Belmont Park
win or lose! Open OTB Account
Belmont Park Free Picks at OffTrackBetting.com - Sat., April 30, 2016
Race 1
1
#1 Southern Gem (5/2)- Exiting key race, could go wire to wire.
5
#5 Secure Access (8/1)- Switch to route might help, nice value.
Race 2
1A
#1A Nevada Kid (2/1)- Excellent recent workout, the horse to beat.
2
#2 Saint Finian (15/1)- Very consistent, should be included.
Race 3
7
#7 Aussie Prayer (6/1)- Exiting extremely key race, ready to run a big one.
5
#5 Doukas (3/1)- Steadily improving, lots of potential.
1
#1 D'bunnyphone (12/1)- Switch from route to sprint could help a lot.
Race 4
5
#5 Super Allison (2/1)- Hopes to keep winning, comes in under the radar.
6
#6 Picco Uno (8/1)- Well rested, and running great with trainer J. Servis.
Race 5
2
*Our Pick Of The Day* (76% Have Finished 1st or 2nd) #2 Gran the Man (9/5)- Excellent recent workout, very talented horse.
Race 6
1
#1 Vandalize (8/5)- Second start under trainer T. Pletcher.
11
#11 Heliodoro (8/1)- Switch from turf to dirt might be the difference.
3
#3 Gloves Off (12/1)- Two very good recent workouts.
Race 7
2
#2 Bellamy Way (9/5)- Loves running at Belmont, and very consistent.
6
#6 Sea Raven (6/1)- Has been impressive of late, should hit the board.
Race 8
2
#2 King Kreesa (4/1)- Excels at this distance, ready to win big.
8
#8 Kharafa (10/1)- Has been consistent, should be in the mix.
5
#5 Green Mask (2/1)- Also best at this distance, and good value.
Race 9
3
#3 Conquest See Ya (9/2)- Best recent Beyer figure in the field.
8
#8 Henrik Rules (12/1)- Looks to return to previous form.
Be sure to visit us here at Off Track Betting to get in your horse racing wagers and check out our free horse picks for every Saturday at Belmont Park.
Race Results
for our free Aqueduct Picks from the previous Saturday (04/23/16)
Race 1: #6 In Condition- WIN $5.40 (*Our Pick Of The Day*)
Race 2: #5 Pass The Dice- WIN $5.10, #7 Hurry Up Alan- PLACE $3.40, #4 Howl- SHOW $4.00, $2 Exacta Paid $15.80, $2 Trifecta Paid $50.50, $2 Daily Double Paid $23.60
Race 3: #2 Liam's Prince- SCRATCHED.
Race 4: #3 Flick Of An Eye- WIN $7.80
Race 5: #3 Uncle Sigh- PLACE $7.90, #12 Startup Nation- SHOW $2.10
Race 6: #4 Touchdown- WIN $11.40
Race 8: #1 She's All Ready- PLACE $6.60
Race 9: #4 Momma's Mark- SHOW $5.60
---
Free Horse Racing Picks & Selections
Bookmark this page and check back each week for Full Card Selections, Odds and Horse Betting Analysis for all Saturday horse races this season from some of the best US racetracks: Aqueduct Free Picks, Gulfstream Park Free Picks, Del Mar Free Picks, Santa Anita Free Picks, Belmont Park Free Picks and Saratoga Free Picks.
In addition to those racetracks, our growing team of horse handicapping experts offers free horse betting picks for the Triple Crown: Kentucky Derby, Preakness Stakes, Belmont Stakes, plus the Breeders' Cup.
---
are provided as a courtesy to augment your handicapping process. We do not provide any warranty or guarantee either implied or expressed.