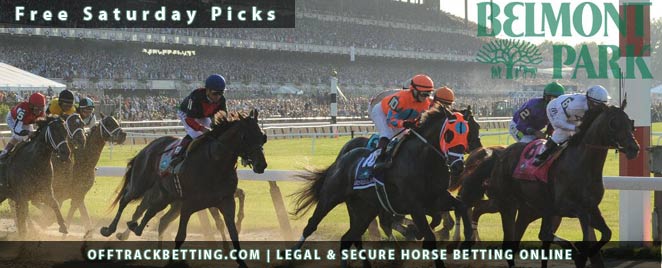 Welcome to the OTB Free Belmont Park Picks page where you can find free horse racing handicapping picks for Belmont Park race track in Elmont, New York! Get Full Card Belmont Selections and Horse Betting Analysis for all Saturday horse races this season at Belmont Park.
Get up to 5% cash back when you bet horses at Belmont Park
win or lose! Open OTB Account
Belmont Park Free Picks at OffTrackBetting.com - Sat., September 24, 2016
Race 1
4
*Our Pick Of The Day* (78% Have Finished 1st or 2nd) #4 Tale of Silence (3/1)- Exiting key race, and only horse in field with racing experience.
Race 2
5
#5 Glennevan (9/5)- Great trainer/jockey combo.
6
#6 Memory Keeper (10/1)- Exiting a key race, has good value.
Race 3
4
#4 Mo Town (7/5)- Very solid recent workout, easily the horse to beat.
6
#6 Your Secret's Safe (5/2)- Switch from sprint to route may help tremendously.
1
#1 Fastlanefrontman (12/1)- Excellent recent workout, should be included.
Race 4
4
#4 Kharafa (5/2)- Excels at this distance, could win big here.
3
#3 King Kreesa (4/1)- Loves running at Belmont, should be in the mix.
Race 5
6
#6 Caydern (5/1)- Switch from route to sprint could help a lot.
7
#7 Noble Moon (10/1)- Good recent workout, will be competitive.
4
#4 Second City (8/1)- Trainer J. Englehart has had success in similar races.
Race 6
9
#9 Altar Boy (5/2)- Exiting extremely key race, could go wire to wire.
3
#3 Mambo At The Gym (4/1)- Very good recent workout, should hit the board.
11
#11 Show Bound (6/1)- Trainer J. Englehart enters hot of late.
Race 7
7
#7 Shalako (7/2)- Looks to keep winning, exiting key race.
6
#6 Birchwood Road (8/1)- Well rested, ready to run a big race.
3
#3 Memories of Peter (20/1)- Exiting key race, and loves running at Belmont.
Race 8
5
#5 Mrs McDougal (9/5)- Best at this distance, and exiting key race.
3
#3 The Tea Cups (12/1)- Runs well on this track, could surprise here.
Race 9
7
#7 The Imposter (3/1)- Trainer B. Cox has had success in similar spots.
2
#2 Whateveryouwant (10/1)- Great recent workout, has potential.
8
#8 Wireless Future (12/1)- An even better workout of late, tough to throw out.
Race 10
11
#11 Flying K C (3/1)- Exiting key race in which he nearly won.
1
#1 Champagne Therapy (10/1)- Keeps improving, and nice recent Beyer figure.
Be sure to visit us here at Off Track Betting to get in your horse racing wagers and check out our free horse picks for every Saturday at Belmont Park.
Race Results
for our free Belmont Park Picks from the previous Saturday (09/17/16)
Race 1: #5 Midnight Hawk- WIN $3.80 (*Our Pick Of The Day*)
Race 2: #2 Heaven Is Waiting- WIN $10.40, #1 Soglio- PLACE $2.40, $2 Exacta Paid $22.40, $2 Daily Double Paid $20.20
Race 3: #7 Storm Pursuit- SCRATCHED.
Race 6: #8 Dr. Edgar- WIN $21.60
Race 7: #8 Lead By Example- SHOW $2.60
Race 8: #2 Jet Black- PLACE $3.90
Race 9: #5 On Leave- WIN $3.50
Race 10: #6 Paddy's Crown- SHOW $4.70
---
Free Horse Racing Picks & Selections
Bookmark this page and check back each week for Full Card Selections, Odds and Horse Betting Analysis for all Saturday horse races this season from some of the best US racetracks: Aqueduct Free Picks, Gulfstream Park Free Picks, Del Mar Free Picks, Santa Anita Free Picks, Belmont Park Free Picks and Saratoga Free Picks.
In addition to those racetracks, our growing team of horse handicapping experts offers free horse betting picks for the Triple Crown: Kentucky Derby, Preakness Stakes, Belmont Stakes, plus the Breeders' Cup.
---
are provided as a courtesy to augment your handicapping process. We do not provide any warranty or guarantee either implied or expressed.