2011 Breeders' Cup Wrap-Up
Rob Gregorka
Las Vegas, NV -- This past weekend's Breeders' Cup at Churchill Downs saw numerous long-shot upsets. While every Breeders' Cup has its long-shot winners, this year's Cup had more than usual which resulted in some huge payouts. Many handicappers are also lamenting the fact that there were clear indications in the past performances and recent workouts that pointed toward these big upset winners. Let's break down the available information that could have helped steer us toward the winning long shots.
Friday at the Breeders' Cup featured the ladies, and one of the weekend's biggest long shots won the 9th race, The Breeders' Cup Filly and Mare Turf. The Grade 1 stakes race held a purse of $2,000,000, and was filled with plenty of talent. However, it was a filly, Perfect Shirl, who claimed first and paid $57.60 to some extremely happy long-shot backers. Perfect Shirl was the first upset winner that was truly right in front of every handicapper's nose. With a recent four furlong workout in 47 seconds flat, she was the only horse in the field with this impressive of a recent workout! It goes to show even the horses with the longest odds can be very talented at the Breeders' Cup.
...it was the supporters of Court Vision who took home an astonishing $131.60 for every $2 bet.
The biggest shocker of the weekend came in Saturday's 10th race, The Breeders' Cup Mile. With jockey Robbie Albarado aboard, long shot Court Vision pulled off the upset over three-time champion in this race, Goldikova. While Goldikova was the 7/5 favorite, it was the supporters of Court Vision who took home an astonishing $131.60 for every $2 bet. What's even more remarkable about Court Vision being such a long shot was that he was another horse with a very good recent workout for all to see. At the very least, we have learned that long shots with good workouts leading up to the Breeders' Cup are almost always worth a small bet. Other long shot winners this year were:
These winners are excellent examples of the types of long shots we can expect to look for in next year's Breeders' Cup. With the proper amount of homework and key info, long shot winners can be found and big payouts can be capitalized on. On days when the betting pools are so enormous, big winnings with long shot upsets can be had. This year's Breeders' Cup proved to be the perfect example.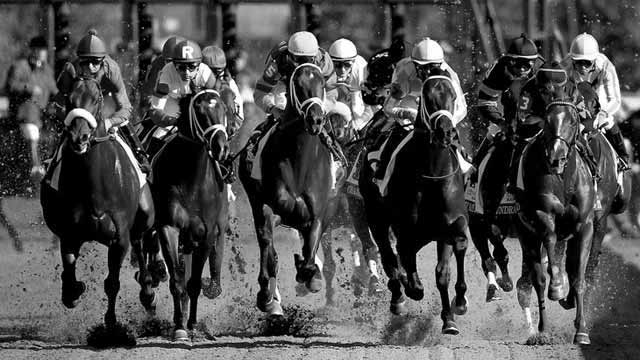 Bet Horse Racing with OTB