Broad Brush Stakes and Excelsior Stakes at Aqueduct
Rob Gregorka
Las Vegas, NV -- A pair of stakes races highlight Saturday's 10 race card at Aqueduct. The $75,000 Broad Brush Stakes is the second race on the card while the $150,000 Excelsior Stakes is race nine. Here is a look at both of those races.
$75,000 Broad Brush Stakes
This race is off the radar for most people who are looking at Kentucky Derby contenders but a couple could emerge with a big win on Saturday. Rick Dutrow sends out Swag Daddy, who is the 5-2 horse-betting favorite. A big effort could send Swag Daddy to the Wood Memorial, which is a major Kentucky Derby prep race. Swag Daddy is a two-time stakes winner and Dutrow is winning about 40% of the time in the meet at Aqueduct. It does hurt somewhat that jockey Junior Alvardo has chosen to ride Street Life, but Swag Daddy is still a deserving favorite. Street Life is actually the third choice in the morning line at 4-1 behind Copy My Swagger who is 3-1.
Broad Brush Stakes Entries
Race 2 on Aqueduct's Saturday card with a Post Time of 1:22 PM.
| | | | | |
| --- | --- | --- | --- | --- |
| 1 | Festive Spirit | C. Velasquez | C. Baker | 5-1 |
| 2 | Swag Daddy | A. Garcia | R. Dutrow, Jr. | 5-2 |
| 3 | Jackin My Style | R. Silvera | R. Persaud | 30-1 |
| 4 | Copy My Swagger | D. Cohen | D. Jacobson | 3-1 |
| 5 | Romp City | O. Castillo | C. Lynch | 12-1 |
| 6 | Hard Facts | E. Castro | M. Trombetta | 7-2 |
| 7 | Street Life | J. Alvarado | C. Brown | 4-1 |
---
$150,000 Excelsior Stakes
The field for Saturday's Excelsior Stakes has only six in it but it is full of contenders with five of the six horses listed at off-track betting odds of 6-1 or less. Jim Hooper, trainer of Inherit the Gold, thinks it is going to be a great race.
"This might be the best race they've had all year in New York," said Hooper. "Which one of these horses would you throw out?"
The morning line favorite is San Pablo at 2-1. He finished second last time out to Marilyn's Guy last month. San Pablo is a speed horse that should go right to the lead. The second choice is Redding Colliery who was very impressive last time out as he upset I Want Revenge in the Evening Attire on January 28. Marilyn's Guy is a close third choice at 3-1. The short rest and added distance are a concern for Marilyn's Guy but trainer Tony Dutrow said the horse is training very well for this race. Birdrun is the fourth choice at odds of 5-1. It will be the first start of the year for the son of Birdstone. Completing the field is Norman Asbjornson, who is the longshot at 15-1.
Excelsior Stakes Entries
Race 9 on Aqueduct's Saturday card with a Post Time of 1:22 PM.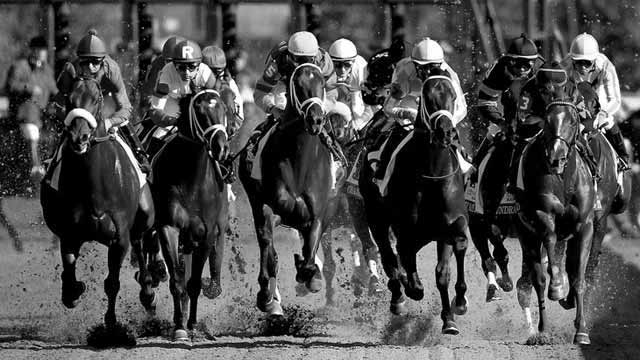 Bet Horse Racing with OTB