Up to 6% in Horse Betting Rebates
Rob Gregorka
Las Vegas, NV -- If you want to be a winner when betting the horses, then you simply have to get horse betting rebates. The good news is that at OffTrackBetting.com, you can get up to 6% in rebates. Just how important are rebates, and how much of a difference can they make?
Horse betting rebates good for industry
Rebates are important not only to horseplayers but also to the horse tracks. Horse racing is not as popular as it used to be but with the ability for players to bet using the Internet and with the addition of horse rebates, players are realizing that horse betting is fun and it can be profitable. Free money is always helpful to players.
Horse racing rebates give bettors an edge
Horse rebates are good for players, tracks and for Off Track Betting sites. The players get more money in their pockets to wager with and can go from losing money to winning money. The horse tracks get more action from players and that means more money in the pools. Off track sites are able to drive more business to the tracks, increasing the pool sizes. Rebates are simply good for everyone associated with horse racing.
Huge betting advantage with horse racing rebates
Just how much of a difference can rebates make to horse betting players? Horse rebates are so important to players because they can turn losers into winners. For example, a player that normally loses about 10% of his bankroll during the year wagering on the horses can now become a winner with rebates. A horse-betting player that has been just spinning his wheels going 50-50 can now turn a nice profit. OffTrackBetting.com offers some horseracing rebates at certain tracks and bet types that are as high as 6%.
The great thing about rebates is that the more you wager, the more you get back in rebates. And it doesn't take weeks or months to get the money back so you can use it. At OffTrackBetting.com, the money is usually in your account the next day. Keep in mind that when you set up an account at OffTrackBetting.com, you not only get horse racing rebates but you also get a $100 signup bonus simply for setting up an account and wagering. What are you waiting for - join OTB today!
If you are serious about winning money at horse racing, then you have to take advantage of horseracing rebates. With Triple Crown races right around the corner, it is a perfect time to get started betting the horses and cashing in on rebates. Check out the rebates available today at OffTrackBetting.com.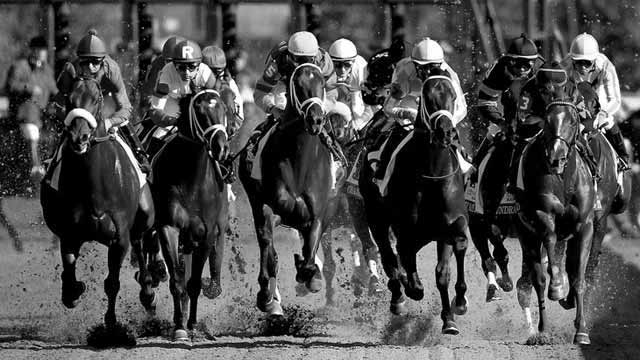 Bet Horse Racing with OTB