Do Trends Matter Anymore in Kentucky Derby Betting?
Rob Gregorka
Las Vegas, NV -- There used to be a time in Kentucky Derby betting when you simply could throw horses out because of time-tested trends. That is not as much the case today as Kentucky Derby trends seem to get broken every year. Let's take a look at some of the ones that have gone down in flames recently. We'll also look at a couple that you can still take to the bank.
Popular Kentucky Derby Trends
Derby Favorite - One of the most popular trends is to bet against the Kentucky Derby favorite. There were 20 straight Kentucky Derbys where that worked every time. It ended in 2000 when Fusaichi Pegasus won as the favorite, and in four of the past 12 years the favorite has won.
Some trends still hold up in Kentucky Derby betting
Long Layoff - Forget about the long layoff problem -- Barbaro broke that 50-year drought in 2006. Big Brown and Super Saver also won the Kentucky Derby coming off long layoffs so you can throw this trend right out the window.
Lightly Raced - It used to be that horses had to have run at least six races to have any chance of winning the Kentucky Derby. That trend has not held water in recent years with Big Brown winning with only three career starts and Animal Kingdom won last year having raced just four times. You can throw in lightly raced 3-year-olds into this as well as there was only one Derby winner from 1947 to 2007 who won the Derby with only two prep races at age three. Forget about that trend now as Street Sense, Big Brown and Mine That Bird all broke it.
Other Trends - Geldings never used to win the Derby but Funny Cide broke a 72-year drought by winning in 2003 and Mine That Bird won in 2009. The first-ever Breeders' Cup Juvenile winner to go on and win the Derby was Street Sense in 2007. Big Brown broke the outside post jinx by winning from post number 20 in 2008. Smarty Jones in 2004 was the first winner of the Arkansas Derby to win the Kentucky Derby, and he also was the first unbeaten Derby winner since Seattle Slew in 1977. It used to be a given that a horse had to have raced previously on the dirt to have a chance in the Derby but Animal Kingdom broke that trend last year.
Kentucky Derby Trends remaining unbroken
Not all of the Kentucky Derby betting trends have failed though. There has not been a Kentucky Derby winner that didn't have at least one start at age two in more than 100 years. You have to go all the way back to Apollo in 1882 for the last time a horse won the Derby being unraced as a 2-year old. And there has not been a horse that has won from the rail since Winning Colors in 1988.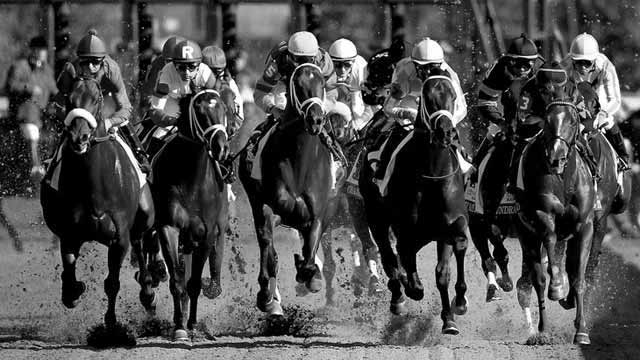 Bet Horse Racing with OTB