Horse Racing Results - August 11 & 12, 2012
Las Vegas, NV - It was another very interesting weekend of graded stakes action indeed. The big races came at Saratoga, Del Mar, Monmouth Park and Ellis Park. In all there were five Grade 2 races and two Grade 3 races on a packed schedule. Let's take a look at the results starting at Saratoga.
Fourstardave Handicap at Saratoga Results
On Saturday the Grade 2 Fourstardave Handicap went down for the older boys on soft turf. Wise Dan was clearly the class of the field as he ran away with this one by 5 lengths. He was the 3-5 heavy favorite and now has two wins in three starts in 2012. Corporate Jungle, winner of both G3 Appleton and Elkwood Stakes made a big move mid-stretch but ended up second. Get Stormy finished third in a race totally dominated by Wise Dan.
Fourstardave Handicap Results & Payouts
---
Adirondack Stakes at Saratoga Results
On Sunday Saratoga hosted a pair of races for some up and coming two year olds. The first was the Grade 2 Adirondack Stakes for fillies. Kauai Kitty followed up an impressive 12 length win with a wire-to-wire relatively easy score on Sunday giving Todd Pletcher his first GS win at the Saratoga meet - amazing! Salamera, the 7-1 fourth choice was second and Fully Living was third.
Adirondack Stakes Results & Payouts
---
Saratoga Special at Saratoga Results
The Grade 2 Saratoga Special Stakes was next on the schedule, featuring two year old colts. The big story line ahead of this race was the 2-1 favorite Shanghai Bobby who withdrew prior to the race with a fever. Spurious Precision took advantage and as the 3-4 favorite led wire-to-wire and won by five lengths - impressive! 26-1 shot He's So Fine came from last to finish second while 11-1 In Harm's Way finished third.
Saratoga Special Results & Payouts
---
La Jolla Handicap at Del Mar Results
Del Mar was the scene of two graded stakes races over the weekend. On Saturday the Grade 2 La Jolla Handicap for three year olds was contested. It was a miniscule field of four that eventually lined up and yet it was the one race on the weekend that came down to a photo finish - a three-way photo finish to boot! Old Time Hockey won his first graded stakes race as 5-2 second choice and gained a little revenge for a recent third in the Oceanside to second place finisher and 6-5 favorite My Best Brother. Blingo finished third.
La Jolla Handicap Results & Payouts
---
John C. Mabee Stakes at Del Mar Results
Del Mar also hosted the Grade 2 John C. Mabee Stakes on Sunday for fillies and mares three years old and upward. In a thriller the 6-1 fourth choice City to City rallied and came back for trainer Jerry Hollendorfer. All Star Heart who looked like she had the race sewn up was caught and finished second while Go Forth North finished third. Favorite 3-2 Neired was a disappointing fourth in the Mabee.
John C. Mabee Stakes Results & Payouts
---
Monmouth Oaks at Monmouth Park Results
The Jersey Shore was the setting for the Grade 3 Monmouth Oaks on Saturday for three year old fillies. 9-5 second choice Wine Princess led all the way and eventually won by two and a quarter lengths. The daughter of Azeri held off 22-1 long shot Proud Pearl who finished second and 2-1 third choice Jemima's Pearl who finished third. Morrow Grove, the 8-5 favorite on the Oaks finished a distant fifth.
Monmouth Oaks Results & Payouts
---
Gardenia Stakes at Ellis Park Results
Finally there was the Grade 3 Gardenia Stakes - the highlight of Ellis Park's summer meet. Fillies and mares three years old and upward were on display. Salty Strike emerged victorious for her third straight stakes victory win wire-to-wire fashion beating out the 7-5 favorite Joyful Victory who was making her first start since March. 21-1 long shot Ridgester finished third.
Gardenia Stakes Results & Payouts
---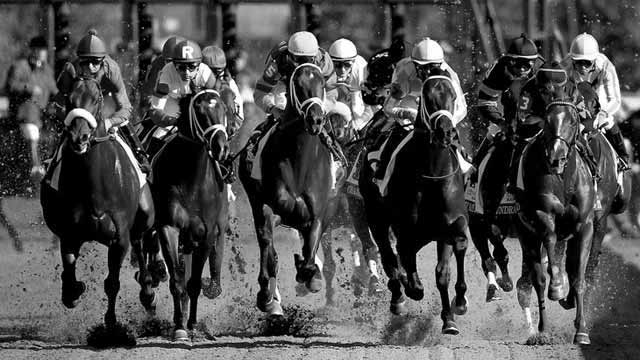 Bet Horse Racing with OTB