Cigar Mile Handicap 2017 Contenders & Analysis

Neolithic
Trainer Todd Pletcher said Qatar Racing and Starlight Racing's Neolithic came out of his Friday breeze in good order as he readies for the Grade 1 Cigar Mile.
Neolithic, who is coming off a second-place effort in the Grade 2 Fayette on October 28 at Keeneland, was clocked in 48.81 seconds on Belmont Park's training track, working in company with Vulcan's Forge.
"He worked good. We'll talk to the connections and see what they want to do and find out about jockey assignments," said Pletcher.
Vulcan's Forge
Vulcan's Forge, a 4-year-old Giant's Causeway colt, is also a possibility for the Cigar Mile after finishing second in an optional claimer on November 12 at the Big A, though Pletcher said he will talk to the connections to determine final plans. Vulcan's Forge is owned by William and Corinne Heiligbrodt and Team Valor International.
Neolithic has finished in the money in his last three races since a layoff of more than four months following his third-place effort in the Group 1 Dubai World Cup on March 25.
The 4-year-old son of Harlan's Holiday won against optional claiming company in his return on August 5 at Saratoga and ran third in the Grade 1 Woodward on September 2 before earning a 93 Beyer Speed Figure in the Fayette last month. Both graded stakes were contested at 1 1/8 miles.
"He got kind of sick when he first came back out of the World Cup - he had a little temperature - so we were forced to give him some additional time off," Pletcher said. "But he's come back with three good races. This will be kind of a new twist for him; a one-turn mile. He's had success at seven-eighths and he's also had success going a little bit further. Hopefully, he's tactical enough to be behind the main speed and ahead of the main closers and find that spot. It'll be interesting to see."
Neolithic will be running at Aqueduct for the first time since running second in the 2016 Grade 3 Discovery. The Kentucky-bred has plenty of experience against top-level competition, finishing third to Shaman Ghost and Arrogate in the Grade 1 Pegasus World Cup on January 28 at Gulfstream Park.
"He's pretty versatile and he shows up and runs hard wherever you take him," Pletcher said. "He's followed up with a couple of good, quality purse-earnings against some of the best horses in the world. I like the fact that he's run well at whatever distance and whatever track we've been at."
Biblical
Calumet Farm's Biblical continues to train well heading into his stakes debut in the Grade 2, $250,000 Remsen for juveniles on Cigar Mile Day, Pletcher said. The Tapit colt broke his maiden in his third race last out, rallying from fifth to post a 1 ¾-length score on November 17 at Aqueduct at the Remsen distance of 1 1/8 miles.
"He didn't break great that day, he kind of veered in and it compromised his early position," Pletcher said. "We're looking forward to seeing him step up."
Marconi
Marconi is listed as a possibility for the Remsen, though Pletcher said he will likely target either a mile and an eighth race later this year at Aqueduct or race at Gulfstream after running second in his debut on November 17 at Aqueduct, adding that the two-week turnaround time might be too much at this stage.
"He's still a maiden and he's only run once, so we're learning towards giving him some more time," Pletcher said.
Sharp Azteca
Gelfenstein Farm's multiple graded stakes winner Sharp Azteca turned in a six-furlong breeze Saturday morning at Gulfstream Park West, his final work ahead of the Grade 1, $750,000 Cigar Mile Handicap presented by NYRA Bets on Saturday, December 2 at Aqueduct Racetrack.
Expected to ride Sharp Azteca for the first time in the Cigar Mile, New York-based jockey Javier Castellano flew to South Florida for the early-morning move, guiding the 4-year-old Freud colt through six furlongs in 1:13, according to track clockers. Immediately after the work, Castellano had to catch a flight to California for riding engagements at Del Mar on Saturday afternoon, but trainer Jorge Navarro said his conversation with the Hall of Fame rider yielded nothing but accolades for the Breeders' Cup Dirt Mile runner-up.
"He's not the type of guy that says much, but he sounded impressed with the horse," said Navarro. "We didn't have much time to talk right after, but he called me from the airport and he told me he really liked him. He's never been on him before, that was their first date, and he was very, very pleased with how the horse worked. We know each other from South Florida and we have a pretty good relationship, and it makes everything so much easier for me to hear that from a jockey like Javier Castellano."
In the Dirt Mile on November 3, the speedy colt led under a pressured early pace but couldn't hold off a late charge from Battle of Midway, finishing a half-length behind the winner to record his third second-place finish in as many tries against Grade 1 company. Sharp Azteca has finished in the money in all six starts this year, including wins in the Grade 2 Gulfstream Park Handicap, the Grade 3 Monmouth Cup, and, prior to the Breeders' Cup, a four-length victory in the Grade 2 Kelso Handicap at a one-turn mile on September 23 at Belmont Park.
"One turn, two turns, I don't think it matters for him. He's just a straight-up runner," said Navarro. "I think he's a horse that shows up to every dance. The only time he didn't show up was the second time I ran him and he was getting over a foot issue. Aside from that, I can't remember the last time he ran a bad race. I take my hat off to him for that.
"That's the way he does things, he goes out there and he shows up, he runs," he said. "That was a big race at Del Mar, that was a huge race. I was pretty pleased with how he did. How much can I ask? I can't be upset about it. I want nothing but the best for him. I do want to win that race and I want to win a Grade 1 for him, but I'm sure that's just around the corner."
The Cigar Mile had been on the connections' radar for months, Navarro said, but plans to run Sharp Azteca once more in his 4-year-old season were nearly scrapped in the days following the Breeders' Cup.
"Before the Breeders' Cup, he had never shown me signs of being tired," he said. "But the first two days after the race, I could see he was tired. I could see it in his eyes. When we moved him back to Florida, the plans for the Cigar Mile were on a day-to-day basis. I wanted to see how he came back, how he was acting, how he was eating. If he wasn't 100 percent, we were going to give him 45-50 days, send to him out to the farm for a few weeks. We want to get that Grade 1, but we also want to make sure he's happy, doing good. We don't want to run him just to run him.
"About two weeks ago, he started showing us that he was ready to do something and now he's back to his normal self," he added. "I think he's put on weight since the Breeders' Cup. He looks amazing. And, the way he worked today, I think Castellano fell in love with him. He's ready now. Hopefully, he's not a straight Floridian and he'll like the cold weather up there."
Sharp Azteca will ship from Gulfstream Park West early Tuesday morning and is expected to settle in at Aqueduct later that afternoon.
Mind Your Biscuits
After his third-place finish in the November 4 Breeders' Cup Sprint, Mind Your Biscuits is on target for the Cigar Mile, according to trainer Chad Summers.
"He's done well. He came out of the Breeders' Cup great," Summers said. "I'm real proud of him. I don't know if maybe it's the weather with him. Last year, he flourished in this kind of weather. The colder it is, it's like he gets relief from the summer. He's doing real well though, and I'm happy with how he's coming into the race."
The 4-year-old son of Posse will make his 19th career start in the Cigar Mile, and will look to add another tally to his win column following victories in the Grade 2 Amsterdam and the Grade 1 Malibu, as well as his biggest win to date, a three-length score in the Group 1 Golden Shaheen in Dubai on March 25. Saturday's race, his sixth start in a Grade 1, shapes up as another tough field for the 2016 New York-bred Horse of the Year.
"This is as strong as a Cigar Mile as I can remember. From top to bottom, there's a deep field in there," said Summers. "Everybody is coming in from all directions. It's great to see Dallas Stewart coming in, Mr. Fipke has a horse in there [Tale of S'avall]. With that said, I'm interested to see where the weights will be when they come out. I mean my horse ran a mile once, so I hope they're kind to us."
Mind Your Biscuit's lone start at a mile came in a maiden special weight in November 2015 at the Big A. He's had 14 races in between, racing exclusively from six to seven furlongs, but the added furlong doesn't bother Summers, who believes the mile is well within his scope.
"I think he'll be fine," he said. "Not that you can really feel certain until they do it. You just don't know. How they run, how they look, how they train ... until they do it, you won't know. I always believed he can handle the distance. He's coming into it great.
"I'll ship him over to Aqueduct later this afternoon, let him get used to the area," Summers added. "The plan is to throw him out there Tuesday morning, and do something with him. Maybe a quarter-mile just to keep him sharp. I did it in Dubai, and wanted to do it at the Breeders' Cup, but we didn't. Nobody knows him better than my exercise rider, so we'll see.
"All things considered I was real proud of him, and what he accomplished. We went over there last year, and it was different. This year had a totally different feel to it. To come up short, at that point, it was a little tough to swallow. He was a little too far back. Del Mar I believe is the shortest stretch in the country, and it hindered a lot of runners. Hopefully we'll get a little payback on Saturday. We have a lot of respect for Sharp Azteca. It's only a matter of time before he gets a Grade 1 win. I also love that Simon Callaghan is coming, he will put a little more speed in the race with Americanize, and we'll find out who Practical Joke is.
"I think it's going to be a great race, I'm real excited for it. Just hope that the weights are fair. I hope I don't have to give away 10 or 12 pounds to anybody else. We'll see how much they give us and the others."
Tom's Ready
G M B Racing's Cigar Mile contender Tom's Ready put in his final breeze on Friday, going four furlongs in 49.20 seconds at Churchill Downs. Trainer Dallas Stewart said Saturday that the More Than Ready colt exited the work in good order and is currently en route to Belmont.
"He's just a moderate-type workhorse," Stewart said. "He's consistent in his workouts. He shows up big in his races."
Tom's Ready earned a personal-best 107 Beyer in his winning effort in the Grade 3 Bold Ruler last out on October 28 at Belmont. Since running seventh in the Grade 1 Metropolitan Handicap on Belmont Stakes Day, June 10, he has a pair of wins and a two third-place finishes in four starts, all against stakes company, including a hard-fought effort in which he rallied from 10th at the half-mile mark to get third in the Grade 1 Forego on August 26 at the Spa.
Stewart said a nearly sixth-month freshening after running fifth in the 2016 Grade 1 Breeders' Cup Dirt Mile was beneficial to Tom's Ready stellar 4-year-old campaign.
"That just helped develop him and put a lot of muscle on him," Stewart said. "He's a real fighter. He's a grinder and he's very healthy right now, so we're hoping he shows up big for us. There's a lot of good horses, so he'll have to run a big race to win."
Hall of Famer Mike Smith will make the trip to New York to ride Tom's Ready, looking for his second all-time Cigar Mile win and first since Gold Fever in 1996.
"He's the type of colt where he comes from the back and he circles the field and he'll make a big run, so we're just hoping for a hot pace to help us out," Stewart said.
Summer Revolution
The connections of 4-year-old Summer Revolution are currently leaning towards a bid in next Saturday's Cigar Mile, said trainer Rudy Rodriguez Saturday morning. There's just one missing piece of the puzzle to ensure his chance on being in the gate at post time: finding a suitable rider for Jeff Drown's Summer Bird colt in the final Grade 1 of 2017 in New York.
"I'm not too sure yet, we're still up in the air," Rodriguez said. "You can say maybe eighty to twenty, twenty percent that we don't go. Right now, we're looking for a jockey. We're looking to talk to Florent Geroux, see what it takes for him to come. If he wants to come, we'll go. If not, maybe we're thinking about putting Martin Garcia on him.
"We were hoping the non-winners of three would go, and run him in an allowance because that race is coming up very tough," he added. "With Sharp Azteca, it's going to be very tough to beat him. I want to keep him fresh and try to put him in the right direction, and not squeeze the lemon too early. Right now, our main goal is to try and run him in the Carter. So that's pretty much the role I have with him. He's training very good, he's a nice horse, and I know he can compete with these horses, but at the same time you want to have the right jockey, so we'll see."
Summer Revolution has made just one start this year, a two-length victory over $62,000 open claimers at Belmont Park on October 26. The winner of three races from seven career starts won his first two races then finished fourth in the Grade 1 King's Bishop in 2016. He followed that with a ninth-place finish in last year's Grade 2 Pennsylvania Derby and was second against open claiming company before running sixth in the $100,000 Gravesend Handicap to close out his 3-year-old campaign.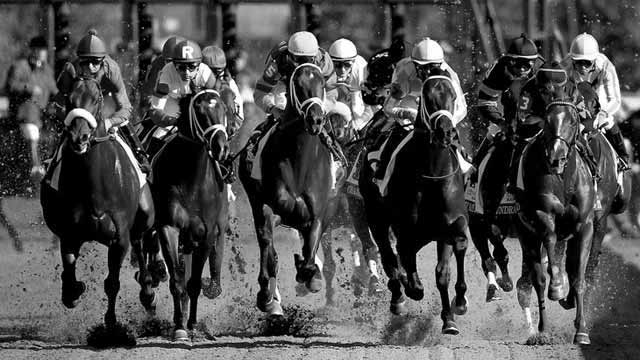 Bet Horse Racing with OTB