2018 Hambletonian Contenders & Odds at Meadowlands

Eighteen 3-year-old trotters entered Saturday's (Aug. 4) 93rd Hambletonian Stakes at the Meadowlands Racetrack, requiring two eliminations to trim the field to 10 for the $1 million final later that afternoon. Wolfgang is the 5-2 morning-line favorite in the first elimination and Six Pack is the 2-1 favorite in the second. Atlanta, the lone filly taking on the boys, is the 3-1 second choice in the first elimination.
The draws for the Hambletonian and companion Hambletonian Oaks, which is restricted to 3-year-old female trotters, were held Tuesday (July 31) at the Meadowlands. Wolfgang drew post No. 5 in his elimination and Six Pack drew post No. 9. Atlanta will start from post No. 7. The top-five finishers from each $100,000 elimination return for the final.
Manchego, who won one of last Saturday's two eliminations for the Hambletonian Oaks, is the 5-2 morning-line favorite in the $500,000 final. Phaetosive, the other elimination winner, is the 3-1 second choice. As elimination winners, Manchego and Phaetosive drew for spots in posts one through five, with Manchego getting post four and Phaetosive getting post five.
The stakes-filled Hambletonian Day card begins at 12 noon. The Hambletonian and Hambletonian Oaks will be featured on a live 90-minute broadcast on CBS Sports Network from 4-5:30 p.m. (EDT).
Atlanta is attempting to become the first filly to win the Hambletonian since Continentalvictory in 1996. In the previous 92 years, 161 fillies entered the race, with 13 winning the sport's most prestigious event for 3-year-old trotters. Atlanta is the 22nd filly to enter the race since the start of the Hambletonian Oaks in 1971.
The two most recent fillies to enter the Hambletonian, Pampered Princess in 2007 and Mission Brief in 2015, both won eliminations. Pampered Princess was seventh-placed-sixth in her final, won by Donato Hanover, and Mission Brief finished second to Pinkman in her final.
Atlanta is undefeated in five races this year. She trotted the fastest mile in the history of Vernon Downs, 1:50.3, in winning the Empire Breeders Classic for 3-year-old filly trotters on May 28 and heads to the Hambletonian off a 1:53.4 victory at Vernon Downs in a July 19 division of the New York Sire Stakes. For her career, Atlanta has won nine of 15 races and $301,645.
"I have a horse that I think can win the Hambletonian, that's exciting in itself, just having a player," said Scott Zeron, who will drive Atlanta for his father, trainer Rick Zeron. "(The draw) was fine by me. My dad wanted to be in the first heat, so we got lucky with that. We drew the seven; it's not the rail, but it's not too bad. I don't mind it. We'll make it work. It will give me the option to kind of look over and see what everyone is doing. We'll play it by ear."
Rick Zeron co-owns Atlanta, by Chapter Seven out of Hemi Blue Chip, with Michelle and Al Crawford's Crawford Farms, William Holland's Holland Racing Stable, Howard Taylor, and Brad Grant. Scott Zeron captured the 2016 Hambletonian with eventual Trotting Triple Crown winner Marion Marauder.
"For me, this is a different scenario, having the family horse," Zeron said. "I was in Florida all winter long with all the horses, so this one feels a little different having my father involved and being more involved with the barn. (Atlanta) is a super horse and I really hope she can deliver. I have no regrets about the decision."
Zeron's win with Marion Marauder was for trainer Paula Wellwood, who will send out Southwind Chrome in Saturday's second Hambletonian elimination. Zeron is listed to drive that horse as well.
"I have two competitive horses," Zeron said. "One is 3-1 and the other is 5-1. That's nice."
Wolfgang is undefeated in three races this year, with his victories including the Goodtimes Stakes and a division of the Stanley Dancer Memorial. He has won six of 13 lifetime starts and $516,690 for Charles Goodwin's Brixton Medical Inc., Goran Falk, Bud Hatfield's Hatfield Stables, and Art Zubrod's and Leah Cheverie's Fair Island Farm.
Four-time Hambletonian winner Jimmy Takter trains Wolfgang, who is one of four horses Takter is sending into the race. The others are You Know You Do, Tactical Landing, and Zephyr Kronos. With a win, Takter would tie Billy Haughton, Stanley Dancer, and Ben White for the most victories in Hambletonian history. Yannick Gingras drives Wolfgang.
"He's very good," Takter said. "I trained him a (1):56 mile here last Friday with a good last half and he felt awesome. You try to peak them as best you can. He's been very good every start. He's so professional. He's most likely the most reliable horse I have in the Hambletonian this year."
Six Pack is the fastest 3-year-old male trotter in history thanks to his 1:50 win in a division of the Stanley Dancer Memorial on July 14 at the Meadowlands. He has won five of six races this year, with his lone setback a second-place finish to Crystal Fashion in the Earl Beal Jr. Memorial. For his career, Six Pack has won nine of 14 races and $557,840.
Ake Svanstedt trains and drives Six Pack. Svanstedt won the 2017 Hambletonian with Perfect Spirit, who was elevated from second to first when What The Hill was disqualified for interference in the stretch.
Six Pack, by Muscle Mass out of Pleasing Lady, is owned by AkekeSvanstedt Inc., Jeff Gural's Little E LLC, Tomas Olofsson's Stall Kalmar FF, and Lars Berg.
"He has raced better and better for every race this year," Svanstedt said. "He is going up the whole time. He's an all-around horse. He's nice to handle and nice gaited and can leave fast. I think he can go faster (than 1:50). He was not tired the last time. He was just lazy, so I must push him."
Another highly regarded contender is Crystal Fashion, who is 7-2 in the first elimination. He has won five of eight races this year and finished second in the remaining three. For his career, the son of Cantab Hall out of Window Willow has won nine of 20 races and $523,252. He is trained by Jim Campbell, who won the 1995 Hambletonian with Tagliabue, for owner Jules Siegel's Fashion Farms. Siegel was inducted into the Harness Racing Hall of Fame on July 1, the day after Crystal Fashion's win in the Beal.
In the Hambletonian Oaks, Takter and Gingras team up with favorite Manchego as they attempt to win the race for the fifth consecutive year. Takter holds the record for Oaks wins with seven. Manchego has won 16 of 18 career races and $986,170 for owners Barry Guariglia's Black Horse Racing, John Fielding, and Herb Liverman.
Phaetosive, trained and driven by Trond Smedshammer, has won seven of 11 career races and $377,358. Smedshammer trained 2008 Hambletonian Oaks winner Creamy Mimi and was the trainer and driver of 2004 Hambletonian winner Windsong's Legacy. Phaetosive is owned by Wanda Polisseni's Purple Haze Stables.
Fields and Odds for the Hambletonian eliminations and the Hambletonian Oaks final:
Hambletonian Elimination One
PP-Driver - Trainer - Morning Line
1-Shoshie Deo-George Brennan-Dewayne Minor-10/1
2-Evaluate-Orjan Kihlstrom-Marcus Melander-15/1
3-Met's Hall-Andy Miller-Julie Miller-10/1
4-Lawmaker-David Miller-Andrew Harris-8/1
5-Wolfgang-Yannick Gingras-Jimmy Takter-5/2
6-Crystal Fashion-Tim Tetrick-Jim Campbell-7/2
7-Atlanta-Scott Zeron-Rick Zeron-3/1
8-Hat Trick Habit-Andy Miller-Scott DiDomenico-12/1
9-Zephyr Kronos-Jimmy Takter-Jimmy Takter-10/1
Hambletonian Elimination Two
PP-Driver - Trainer - Morning Line
1-Fashionwoodchopper-David Miller-Jim Campbell-10/1
2-Patent Leather-David Miller-Jim Campbell-15/1
3-Classichap-Trond Smedshammer-Trond Smedshammer-6/1
4-Alarm Detector-Trevor Henry-Benoit Baillargeon-10/1
5-Fourth Dimension-Brian Sears-Marcus Melander-10/1
6-Southwind Chrome-Scott Zeron-Paula Wellwood-5/1
7-Tactical Landing-Jimmy Takter-Jimmy Takter-4/1
8-You Know You Do-Yannick Gingras-Jimmy Takter-8/1
9-Six Pack-Ake Svanstedt-Ake Svanstedt-2/1
Hambletonian Oaks Final
PP-Driver - Trainer - Morning Line
1-Plunge Blue Chip-Ake Svanstedt-Ake Svanstedt-4/1
2-What A Knockout-David Miller-Marcus Melander-20/1
3-Seviyorum-Andy Miller-Julie Miller-15/1
4-Manchego-Yannick Gingras-Jimmy Takter-5/2
5-Phaetosive-Trond Smedshammer-Trond Smedshammer-3/1
6-Hey Blondie-Andy McCarthy-Chuck Sylvester-6/1
7-Live Laugh Love-David Miller-R. Nifty Norman-8/1
8-Lily Stride-Tim Tetrick-Mark Harder-10/1
9-Blonde Magic-Tom Durand-Tom Durand-20/1
10-Nixie Volo-Corey Callahan-John Butenschoen-20/1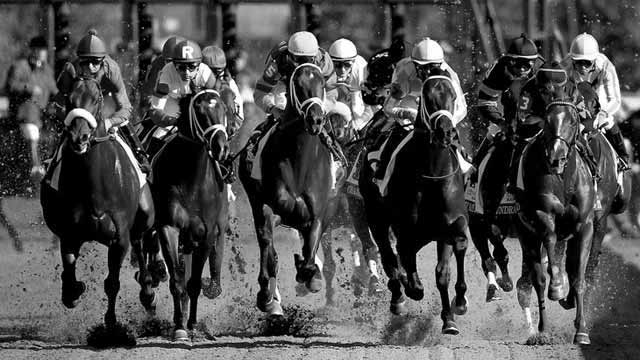 Bet Horse Racing with OTB