Jeff Ruby Steaks 2019: Entries & Odds at Turfway Park

The gate for Saturday's 48th running of the $200,000 Jeff Ruby Steaks (G3) at Turfway Park is approaching full, with 11 entries. The 1 1/8 mile race for 3-year-olds offers 34 points toward the Kentucky Derby: 20 to the winner, eight to the runner-up, four for third place and two for fourth place.
Somelikeithotbrown
Somelikeithotbrown, winner of the John Battaglia Memorial Stakes (listed) Feb. 15, is slated to return for the Jeff Ruby Steaks and is the most accomplished of the expected field to date. The Battaglia was the Big Brown colt's first start since he finished third over yielding turf in the Breeders' Cup Juvenile Turf (G1), beaten less than a length after setting the pace.
2019 Jeff Ruby Steaks Odds & Entries
Race 11 on Turfway Park's Saturday card with a Post Time of 6:37 PM
Entry
Horse
ML Odds
Jockey
Trainer
1
Dynamic Racer
12-1
Euclyn Prentice, Jr.


123 Lbs

Ronald Kahles
2
Moonster
20-1
John McKee


123 Lbs

Dale Romans
3
Five Star General
6-1
Declan Cannon


123 Lbs

Arnaud Delacour
4
Dabo
10-1
Luan Machado


123 Lbs

Dale Romans
5
Baytown Jimbo
15-1
Alexis Achard


123 Lbs

Paul McEntee
6
Skywire
3-1
Gary Boulanger


123 Lbs

Mark Casse
7
Counter Offer
10-1
Malcolm Franklin


123 Lbs

Ian Wilkes
8
Twelfthofneverland
10-1
Sheldon Russell


123 Lbs

Raymond Handal
9
Curlin Grey
10-1
Brian Hernandez, Jr.


123 Lbs

Kenneth McPeek
10
Somelikeithotbrown
8-5
Tyler Gaffalione


123 Lbs

Michael Maker
11
Speed App
20-1
Walter De La Cruz


123 Lbs

D. Lukas
"He's grown; he's filled out. He's a good-sized horse," said Harvey Diamond, whose Skychai Racing co-owns Somelikeithotbrown with Sand Dollar Stable. "He seems to be very agile and [trainer] Mike [Maker] says he's been training very well."
Somelikeithotbrown debuted on dirt and then broke his maiden impressively in his second start, coming from far back to win by eight lengths on the turf at Saratoga. He followed with two strong runner-up finishes in the With Anticipation Stakes (G3) at Saratoga and the Pilgrim Stakes (G3) at Belmont before heading to Churchill Downs for the Breeders' Cup.
"We tried him on dirt," Harvey continued. `We ran him the first time at Saratoga and I don't think it was a fair assessment because the track was very sloppy that day. But he didn't run very well, whether it was the surface or whether it was just his first race and he was immature. Then we put him on turf up there and he blew by the field. The turf races in New York that time of year were probably as good as they were running in the whole country, so when he ran very well against what we thought were some of the best turf horses in the country, that encouraged us to run in the Breeders' Cup.
"I don't think there is anything he wouldn't be eligible for, both dirt and turf. We wanted to see if he could run on the Polytrack and I think [the Battaglia] proved he could."
Somelikeithotbrown has been training at Turfway since early February and worked over the Polytrack Saturday, breezing five furlongs in 1:01.40, sixth-fastest of 41 at the distance.
Tyler Gaffalione has been named to ride Somelikeithotbrown Saturday, his first time aboard.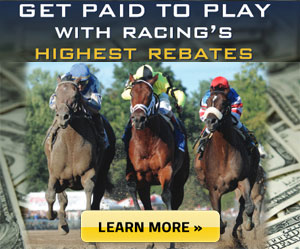 Skywire
Giving his promising horses a chance to prove themselves on a variety of surfaces has worked out well for trainer Mark Casse recently. Casse trains War of Will, who became the Kentucky Derby points leader after switching from turf to dirt. Saturday the Canadian Hall of Fame trainer hopes to continue keeping all options open when he sends Skywire to the Jeff Ruby Steaks. By Afleet Alex, Skywire is undefeated in two starts, one on the Tapeta at Woodbine and the second on the dirt at Gulfstream Park, the latter taken off the turf.
Skywire has packed a fair amount of seasoning into his brief career. In his debut at Woodbine Dec. 9, he got away slowly after being bumped at the break but closed with a determined kick to get up by three-quarters of a length going six furlongs. He was again compromised at the break in his first start this year when he hit the gate in the 1 1/16-mile allowance optional claiming test at Gulfstream, and then he shied as he entered the final furlong. Despite the trouble, he went on to win by six lengths.
"He got away bad but he was pretty impressive," Casse said. "We had him in on the grass and it came off and we said, `Well, let's give it a shot,' and he ran well. I think the key to all that is - and anyone who tells you differently, that they know, is lying - you've got to give a horse a try [on dirt] because you never know. You just never know. He had trained well on the dirt or we wouldn't have run him on the dirt."
While the long-range goal for Skywire is a spot in the Queen's Plate, the first leg of the Canadian Triple Crown, Casse wouldn't rule out giving the colt a chance to become his latest contender for the American classics if he performs up to expectations in the Jeff Ruby Steaks.
"If he runs really well Saturday he could end up in the Blue Grass [at Keeneland April 6]," said Casse. "He's one-for-one on the dirt, and he's one-for-one on the Tapeta."
Gary Boulanger will have the mount on Skywire for the Jeff Ruby Steaks.
Counter Offer
Exactly one month before this Saturday, Counter Offer rallied to finish fourth in the Sam F. Davis Stakes (G3), nosing out Knicks Go to collect the race's last available point toward the Kentucky Derby Presented by Woodford Reserve (G1). Saturday he is expected to join the hunt for 20 more points in the Jeff Ruby Steaks (G3) at Turfway Park.
After breaking his maiden in his fourth start on turf, Counter Offer made his first start on dirt in November when a mile allowance was taken off the turf at Churchill Downs. He finished fifth, beaten 7 1/2 lengths, but he had made a huge closing run from the back of the pack, more than 17 lengths off the lead. Trainer Ian Wilkes put him back on the dirt at Tampa Bay in his next start. Racing closer to the pace, he again rallied in the stretch to be second in the one mile, 40-yard race. He finished just a length and a half off the winner and showed grit in the effort.
Wilkes confirmed Monday that he will enter the Six Columns Stables colt in the Jeff Ruby Steaks. "It's all good, going according to plans," Wilkes said. "He's training well and I expect him to run well this weekend."
Twelfthofneverland
Twelfthofneverland just missed winning his third straight dirt race Feb. 1 for owner John Mahr in a mile test at Aqueduct. In his previous start he prevailed by a neck at Aqueduct at the same distance but in the mud. One race earlier he broke his maiden when another Aqueduct mile was taken off the turf. But while Twelfthofneverland's two wins in seven starts have come on dirt, trainer Ray Handal is not concerned about the move to Polytrack on Saturday.
"I expect him to love the surface," said Handal. "His sire, Istan, won the Turfway Park Fall Championship Stakes (G3) [at Turfway] in 2007."
Twelfthofneverland arrived at Turfway from New York on March 3 and Handal reports he has settled in well.
Five Star General
On paper, the best efforts of Five Star General's burgeoning career also have come on dirt. In the back of trainer Arnaud Delacour's mind, however, was the thought the colt would need a surface switch to reach his full potential.
Twice last year Delacour tried to enter the son of Distorted Humor on the turf, and twice the race was moved to the main track, first at Laurel in October, where he raced over a sealed sloppy track, and then at Aqueduct in November. Though Five Star General handily prevailed both times, by better than four lengths at Laurel and by 1 1/4 lengths in his gate-to-wire victory in Aqueduct's Central Park Stakes, Delacour worried his charge would find the waters too deep when facing better quality dirt runners.
The thought at the back of Delacour's mind was validated Feb. 9 when Five Star General finished sixth in his seasonal bow, the Sam F. Davis Stakes. With the defeat came a door of opportunity, however, as Delacour will send the bay colt over a synthetic surface for the first time in Saturday's Jeff Ruby Steaks.
"I always thought he would be limited in ability on the dirt when we started to run against really true dirt horses," Delacour said, "and that's a little bit what happened [in the Sam F. Davis]. So I wasn't really disappointed. He kind of ran like we were expecting him to. He breezed very well over the synthetic track at Fair Hill [Training Center in Maryland] when we were getting him ready last year. I always thought he would be more of a turf type of horse or synthetic. There are not that many opportunities to test them at this level on the synthetic so we thought it would be a good idea to try it and get a bit of a read on how he handles the track."
Owned by WinStar Farm, China Horse Club and SF Racing, Five Star General has won two of four career starts. He will be piloted Saturday for the first time by Declan Cannon, but even if the pair ends up in the winner's circle, Delacour said he would be hesitant to try to duplicate such an effort in the Kentucky Derby.
"Unless something changed, like we brought him to Keeneland and he breezed very well on the dirt or something like that, I don't really think Derby for him," Delacour said.
TURFWAY PARK'S JEFF RUBY STEAKS DRAWS 151 NOMINATIONS
The 48th running of the Grade 3, $200,000 Jeff Ruby Steaks (formerly known as the Spiral Stakes) at Turfway Park has drawn 151 nominations, Turfway Park racing secretary Tyler Picklesimer announced Tuesday. The 1 1/8 mile race for 3-year-olds is scheduled for Saturday, March 9, and offers 34 points toward the Kentucky Derby: 20 to the winner, eight to the runner-up, four for third place and two for fourth place.
"Scheduling the race a week or two earlier than in previous years gives horses in search of additional points time to continue the hunt on good rest after our race," said Turfway Park general manager Daniel "Chip" Bach. "We look forward to offering bettors another full, competitive field of Derby hopefuls."
Seven of the eight horses who contested Turfway's local prep, the John Battaglia Memorial Stakes (listed) Feb. 15, are nominated to the Jeff Ruby Steaks, topped by the impressive winner, Somelikeithotbrown. Trained by Mike Maker, Somelikeithotbrown won the Battaglia in his first start of the year after finishing third, beaten less than a length, in the Breeders' Cup Juvenile Turf (G1). Among the five others Maker nominated, he also trains Dunph, who earned two points while third in the Springboard Mile (listed) in his juvenile season.
Maker has won the Jeff Ruby Steaks, formerly the Spiral Stakes, four times: in 2006 with With a City, 2010 with Dean's Kitten, 2016 with Oscar Nominated and 2017 with Fast and Accurate.
Trainer Jerry Hollendorfer nominated eight to the Jeff Ruby Steaks, among them Gunmetal Gray, who already counts 18 Derby points from winning the Sham Stakes (G3) and finishing second in both the Robert B. Lewis Stakes (G3) and the American Pharoah (G1) Stakes. Hollendorfer also nominated Rowayton, third in the American Pharoah to earn two points behind buzz-generating Game Winner.
Other Hollendorfer nominees include Galilean, with three standout wins in four starts, all in stakes, and Instagrand, decisively undefeated in two starts including the Best Pal Stakes (G2); both seek their first Derby points. Hollendorfer won Turfway's Kentucky Derby prep race in 1998 with Event of the Year and 2000 with Globalize.
Another nominee with 18 points in the bank is Ben Colebook's trainee Knicks Go, who won the Breeders' Futurity (G1) at Keeneland and was second in the Breeders' Cup Juvenile (G1).
Trainer Danny Gargan claimed nominee Tax for Hugh Lynch out of an October race at Keeneland and promptly launched him on the Kentucky Derby trail. The gelding responded by earning 12 points while third in the Remsen Stakes (G2) and first in the Withers (G1). Robert Reid-trainee Maximus Mischief also has 12 points from winning the Remsen and finishing third in the Holy Bull (G2).
Trainer Kenny McPeek nominated three to the Jeff Ruby Steaks, including his Holy Bull upset winner Harvey Wallbanger, who earned 10 points for that effort. In five starts the colt has never been worse than second.
Jeff Ruby Steaks nominees with 10 points include Jerome Stakes (listed) winner Mind Control (trainer Gregory Sacco); Sam F. Davis Stakes (G3) winner Well Defined (Kathleen O'Connell); Smarty Jones Stakes (listed) winner Gray Attempt (Jinks Fires); and Risen Star Stakes (G2) show horse Roiland (Tom Amoss).
Doug O'Neill trained last year's winner, Blended Citizen, and this year has nominated three, including Magnificent McCool, who earned one point with a fourth-place finish in the Robert B. Lewis Stakes.
The Jeff Ruby Steaks is the centerpiece of a 12-race card that includes five supporting stakes: the $100,000 Maxim Crane Works Bourbonette Oaks (listed), a Kentucky Oaks points race; the $100,000 Kentucky Cup Classic (BT) for older horses; the $75,000 Latonia Stakes (BT) for older fillies and mares; the $75,000 Rushaway Stakes (BT) for 3-year-olds; and the $50,000 Mayers Electric Company Animal Kingdom Stakes (BT) for 3-year-old sprinters. First post March 9 is 1:10 p.m.