Bet Canterbury Park Horse Racing at OTB

Canterbury Park Press Release
Canterbury Park 65-day Season Starts May 18 at OTB
Canterbury Park's 65-day horse racing season will begin Tuesday, May 18 with track officials having high hopes for a more traditional season of racing and promotional activities.
Following a 2020 season that started later than usual and offered fewer race days with strict spectator capacity limits below 1,000 due to COVID-19, officials at the Shakopee, Minnesota racetrack were encouraged by Governor Tim Walz' announcement last Thursday that lifts spectator capacity restrictions beginning Memorial Day weekend.
Canterbury will race on Tuesdays, Wednesdays and Thursdays at 5 PM as well as Sundays beginning May 30 at 1 PM through September 16.
In May, capacity will be 2,500 but will increase in June.
"We are thrilled to be racing and to have more fans in the stands," Canterbury Park President Randy Sampson said. The announcement by Gov. Walz was welcomed but more sudden than most state entertainment venues like Canterbury had expected. Many are now facing the challenge of staffing to the levels needed to be successful. "Our priority is to provide the quality guest experience that we are known for," Sampson said. "To do that we will start with 2,500 guests and increase capacity in a responsible and safe way as we onboard more employees. I expect to welcome in excess of 7,500 to 10,000 guests as the summer progresses."
27 stakes races with purses totaling $2,060,000 will be run during the 65-day 2021 race meet. The richest of the stakes is the $150,000 Mystic Lake Derby at one mile on the turf on June 23, part of the six-stake Mystic Lake Northern Stars Turf Festival.
Again in 2021, each of the six stakes comprising the September 8 Minnesota Festival of Champions will offer $100,000 purses.
All but two of the meet's stakes will be run on Wednesday evenings when first post is 5:00 p.m.
The Northern Stars Turf Festival includes four $100,000 turf races in addition to the Mystic Lake Derby. Also on that date are the Mystic Lake Mile, the Lady Canterbury Stakes, the Dark Star Turf Sprint, and the Curtis Sampson Oaks named in honor of the late Canterbury Park founder and Chairman who died in 2020. The race previously was run as the Northbound Pride Oaks.
The $60,000 MTA Stallion Auction Stakes rounds out the stakes offerings on June 23.
Vice President of Racing Operations Andrew Offerman has scheduled preview days to offer racing opportunities leading up to the major stakes dates. The Northern Stars Turf Festival is previewed on May 26 with three $50,000 turf stakes, the Honor the Hero Stakes, HBPA Distaff and Brooks Fields Stakes.
Canterbury's marketing department made the decision this spring to release its promotional schedule and sell admission tickets month by month as guidance from the state regarding capacity became clear. Events such as Corgi Dog races, Extreme Day, and a fireworks display, which complement a day at the horse races and attract thousands of fans, are now possible and will be added to the schedule throughout the summer.
"Many of our most popular race-day events were just not operationally and financially feasible without knowing how many guests would be allowed," Vice President of Marketing John Groen said. "We can now schedule those events that bring so much enjoyment to our fans." Groen plans to push many of the events to the later months of summer. The horse racing itself will be at full stride from the start if Tuesday's opening night entries are any indication. The ninerace program drew a total of 86 horses in the body of the races and an additional nine on the also- eligible list.
Racing officials expect nearly 1,500 horses to be stabled in the barn area.
Wednesday's (May 19) program features a pair of $50,000 sprint stakes for horses bred in Minnesota, the Lady Slipper and the 10,000 Lakes Stakes. Hot Shot Kid and Mr. Jagermeister, the all-time leaders in purse earnings by a Minnesota-bred thoroughbred, will meet again in the 10,000 Lakes. In 2020, Hot Shot Kid defeated Mr. Jagermeister by 1 1/2 lengths.
Hot Shot Kid, trained by Mac Robertson, has earned $617,961 in a 35-race career, while Mr. Jagermeister, who has started 29 times, has earned $615,434. He is trained by Valorie Lund.
OffTrackBetting.com - US Legal Canterbury Park OTB is a great way to bet horse racing at Canterbury Park. Available to customers across the United States, OTB features both Thoroughbred and Standardbred racing from major racing venues in the US as well as top international racing from Europe, Japan, Australia and Hong Kong.
Canterbury Park 2021 Quarter Horse Stakes Schedule
In addition to Thoroughbreds, Canterbury Park's 2021 Quarter Horse Racing season will offer 15 stakes races and increased overnight purses.
The Shakopee, Minnesota racetrack's 65-day mixed-breed meet begins May 18 with the first quarter horse races set for May 31. The Mystic Lake Northlands Futurity, the richest race of the season, is scheduled for August 11. Should the estimated purse of $175,000 be reached, it would be the largest in the 34 renditions of the centerpiece 2-yearold race.
Also on August 11 will be the $100,000 estimated Canterbury Park Quarter Horse Derby. In response to what Canterbury racing officials predict will be a very competitive spring and summer in the Midwest, with tracks vying for the same horses, overnight purses for both open races and races restricted to Minnesota-breds in all categories have been increased.
For example, maiden purses which were $11,500 in 2019 and were subsequently reduced to $10,000 in 2020 as a result of uncertainty due to the COVID-19 pandemic will now be $16,500 in 2021. Allowance races for non-winners of two ran for $14,000 in 2019, $10,500 in 2020, and will be worth $17,500 in 2021. The majority of races will be run on Tuesdays and Wednesdays to avoid overlapping race days and opportunities with Prairie Meadows in Altoona, Iowa.
"Increasing purses will make racing at Canterbury more attractive to the participants and make quarter horse racing in the Midwest in general a healthier proposition for trainers, owners and breeders," Vice President of Racing Operations Andrew Offerman said.
"We have worked thoroughly this off-season with the Minnesota Quarter Horse Racing Association to come up with the best possible quarter horse racing program for Canterbury Park and to provide the best opportunity for interested parties to find success racing quarter horses at Canterbury Park and in the Midwest." July 6 features three Bank of America Regional Challenge Races, the Canterbury Park Distance Challenge, the Canterbury Park Distaff Challenge, newly designated Grade 3 in 2021, and the Grade 3 Canterbury Park Championship Challenge, won in 2020 by Danjer, a multiple Grade 1 winner recently named AQHA Champion Aged Horse and Champion Aged Gelding. Also on that day will be the MQHRA Stallion Auction Futurity with an estimated purse of $75,000.
Minnesota- bred quarter horses will have six stakes beginning with the $35,000-added Bob Morehouse Stakes on May 31 and concluding with the Minnesota Futurity and Minnesota Derby, each worth more than $50,000, on Sept. 8. The $25,000-added North Star State Futurity and North Star State Derby are new opportunities for Minnesota-breds in 2021 intended to bolster opportunities for state-breds.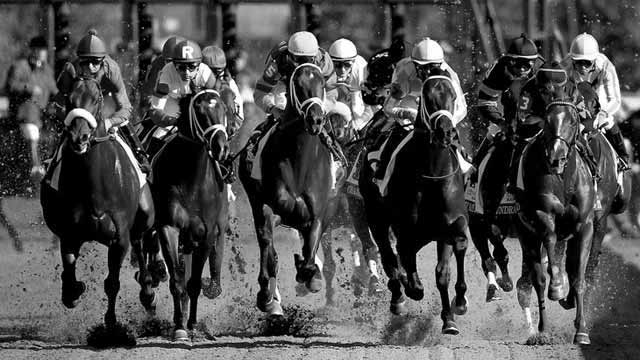 Bet Horse Racing with OTB