2021 All American Futurity Contenders & Odds

$3M All American Futurity - World's Richest Quarter Horse Race
Ruidoso and Rainbow Futurity champion Jess Savin Candy will wear the number-seven blanket in the gelding's attempt at winning the first two-year-old triple crown in forty years in the $3 million All American Futurity at Ruidoso Downs Race Track on Labor Day, September 6.
"That's the post position we wanted," trainer John Stinebaugh said. "The horse is feeling good and grazing every morning. We'll let him take a jog on the race track in the morning. He's on schedule."
Jess Savin Candy was made the 7-5 morning line favorite to win the race which will be the eleventh on the twelve-race card. The gelding will be ridden by his regular rider, Francisco Calderon for owners Dr. Jim Streelman and Bill Dale, and trainer John Stinebaugh.
2021 All American Futurity Field & Odds
Race 11 at Ruidoso Downs on Monday, September 6 - Post 7:15 PM
Entry
Horse
ML Odds
Jockey
Trainer
1
Favorite Blues Man
30-1
Noe Garcia, Jr.


124 Lbs

Juan Torres
2
Fdd Scout
3-1
Tanner Thedford


124 Lbs

Trey Wood
3
Jess Dealin
30-1
Sergio Becerra, Jr.


124 Lbs

John Stinebaugh
4
Jess Dream of Me
20-1
Jorge Torres


124 Lbs

Clinton Crawford
5
El Painted Eagle
15-1
Rodrigo Vallejo


124 Lbs

M. Taylor
6
Press Is My Hero
8-1
Jesus Ayala


124 Lbs

Monty Arrossa
7
Jess Savin Candy
7-5
Francisco Calderon


124 Lbs

John Stinebaugh
8
Sippin Hayden
8-1
Jose Ortiz


124 Lbs

Michael Joiner
9
Kj Desparado
6-1
Adrian Ramos


124 Lbs

Wesley Giles
10
Kat Eye Kylie
10-1
Ramon Sanchez


124 Lbs

Todd Fincher
Pre-Draw News
TRIPLE CROWN WITHIN REACH FOR JESS SAVIN CANDY
Jess Savin Candy, a two-year-old gelding, will attempt to become only the second quarter horse in racing history to earn the two-year-old triple crown when he goes to post In the $3 million All American Futurity on Labor Day at Ruidoso Downs Race Track.
The horse recorded the fastest time of the day on Saturday, 21.187 seconds for 440-yards, and qualified for the All American Futurity finals to be run on September 6th. The only race horse to have won the triple crown series previously was Special Effort back In 1981.
"I was feeling the pressure of the moment more than the horse," jockey Francisco Calderon said in the winner's circle. "It was just another race for him but now this horse has a chance at history--I'm very happy that we will have that opportunity."
Jess Savin Candy won the fifth race of the day under a slight tailwind by a half-length over Press Is My Hero and El Painted Eagle who also qualfied for the All American final. The gelding paid $2.60, $2.10 and $2.10 to win for the fourth time in five career starts.
Owned by Dr. Jim Strelman and Bill Dale (Dutch Masters III) and trained by John Stinebaugh, the Oklahoma-bred's sire is Jess Good Candy out of the mare Savin Grace by Pappasito.
The fifth race didn't go official until stewards reviewed race replays and lifted the inquiry light. Jess Savin Candy slightly broke into the filly Misty Shade of Blue to her inside, but ruled the incidental contact didn't impede either horses' chance.
"I saw the race replay and wasn't worried about it," Stinebaugh said. "Everything worked out fine and our horse is resting in the barn waiting for Labor Day.
KJ Desparado Records Fastest Time During All American Futurity Qualifiers
KJ Desparado, a two-year-old gelding, broke sharply and dominated the field of quarter horses in the fifteenth and final race of the day to win and record the fastest time during qualifying trials for the $3 million All American Futurity at Ruidoso Downs Race Track.
The race time was 21.452 seconds for 440-yards to win by a solid three-lengths. Bettors made KJ Desparado the favorite at ten-cents on the dollar paying $2.20, $2.10 and $2.10.
The gelding has made the finals of all three major stakes races this summer at Ruidoso Downs, the Ruidoso and Rainbow Futurities previously, and now will compete in the All American Futurity on September 6.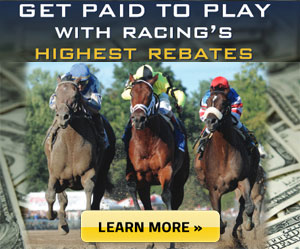 "I knew we had a fast time, but didn't realize it would be that fast," Jockey Adrian Ramos said In the winner's circle. "The horse had been working exceptionally well and when we left the gates I could tell that we were going to excelerate."
KJ Desparado is an Arizona homebred for owners John and Kathy Lee along with partner Ruben Mares, and trained by Wes Giles. His sire Is Apollitical Jess out of the mare Tres Veses by Tres Seis.
"This horse Is like one of those old-fashioned runners that were extremely durable and could run maybe twelve races in a year," Giles said. "He's very durable--and likes to make things easy on himself--although we really haven't seen a completely clean trip out of him yet."
Other All American Futurity qualifiers from Friday include: Slippin Hayden In 21.510 seconds; Kat Eye Kylie In 21.572 seconds; Jess Dream of Me In 21.651 seconds; and Favorite Blues Man in 21.651 seconds. Here is a complete listing of the horses from Friday's trials along with their race times:
JESS SAVIN CANDY BEGINS TRIPLE CROWN QUEST
Ruidoso and Rainbow Futurity champ Jess Savin Candy was entered today in trials for the $3 million All American Futurity at 440-yards next weekend at Ruidoso Downs Race Track and will compete in the fifth race as number-ten on Saturday.
The two-year-old gelding would need to record one of the five fastest times of the day in order to qualify for the All American Futurity final on Labor Day, September 6th, and win quarter horse racing's triple crown. That feat has only been done once in quarter horse racing-Special Effort did it in 1981.
Owned by Dutch Masters III (Dr. Jim Streelman and Bill Dale), Jess Savin Candy has earned $846,400 in four career starts that includes three wins. He will be ridden by Francisco Calderon for trainer John Stinebaugh.
Friday's race card features the return of Revenant Moon, a two-year-old filly that was favored at even-money odds to win the Ruidoso Futurity but suffered a bad gate break in the final to finish last. Revenant Moon won the Oklahoma Futurity at Remington Park on March 20th and has earnings of $224,018 in four career starts.
The filly will wear number-five in the sixth race and is owned by Robert Odom, Scott Bryant and Norman Allen. She will be ridden by Jose Alvarez for trainer Trey Wood.
Friday's tenth race features CC Hocks who finished second by a nose to Jess Savin Candy in the Rainbow Futurity finals. The gelding will wear number-two searching for a second win in four attempts for owner Carmen Arevalo-Arvezo and HV Ranch. CC Hock's will be ridden by Juan Pulido for trainer Santos Carrizales, Jr.
A total of 300 quarter horses entered the futurity trial races and will compete in 15 races on Friday and Saturday. First post is scheduled for Noon both days.
OffTrackBetting.com - US Legal Ruidoso Downs OTB is a great way to bet quarter horse racing at Ruidoso Downs. Available to customers across the United States, OTB features both Thoroughbred and Standardbred racing from major racing venues in the US as well as top international racing from Europe, Japan, Australia and Hong Kong.
About the All American Futurity
The World's Richest Quarter Horse Race - The Quarter Horse race that every owner, breeder, trainer and jockey wants to win is Ruidoso Downs' signature event, the All American Futurity.
Run over 440 yards every Labor Day, the All American Futurity gained its lofty status through unique financial cooperation between the track and horsemen. Ruidoso Downs contributes "added money" to start the race's purse, and then horse owners make payments to keep their young horses eligible. Many of these payments are made before the horse ever starts in a race.
This system made the All American Futurity the world's first $1-million race for any breed of horse and enabled the All American to become the first $2-million race in Quarter Horse racing. Now the All American Futurity has a purse of $3 million and is the richest race for a two-year-old of any breed in North America.