Bet Del Mar Horse Racing Online

Del Mar Press Release
Las Vegas, NV - Can't make it to Del Mar race track? Watch and wager on the races from Del Mar with OffTrackBetting.com. All wagers made through OTB online are directly commingled into racetrack pools, so you can play all of your favorite bet types with confidence, knowing that you'll receive full track odds on all wagers made with us. And with free, high-quality video, you can watch the races online or with your mobile device. OffTrackBetting.com is US-based and legal and licensed, and we promise you superior customer service and the best online wagering experience in the industry.
CASH REWARDS ON YOUR WAGERS | DETAILS HERE
Affectionately dubbed the track where the 'Turf Meets the Surf,' Del Mar Racetrack is located just moments from the California coast and hosts top-level Thoroughbred horse racing each summer and fall. Races on Del Mar's famous turf course and all-weather main track often draw sizable fields, and provide handicappers the opportunity to bet on the best racehorses, jockeys and trainers that California racing has to offer. Del Mar's stakes schedule is headlined by the Pacific Classic Stakes, and also includes the Eddie Read Stakes, Clement Hirsch Stakes, Del Mar Futurity, Del Mar Debutante and the Bing Crosby Stakes. Highlighted by its exciting, high-quality racing action, Del Mar has remained a popular wagering destination of many horseplayers since opening in 1937.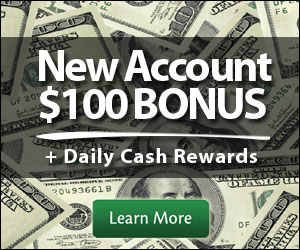 DEL MAR OTB ONLINE
Del Mar Thoroughbred Club has begun to move forward toward a two-meet racing season in 2014, the initial session being its usual summer stand, the second a shorter run covering the month of November.
Near the conclusion of 2013, Del Mar received the green light for its dual meets from both the California Horse Racing Board and the California Coastal Commission. In addition, it also worked through date and grounds issues with its landlord - the 22nd District Agricultural Association, the state body that oversees the multi-purpose, 350-acre Del Mar Fairgrounds that is home to the seaside racing oval. With all parties in agreement, DMTC officials now are preparing to put on their usual special summer show followed by a unique fall session that will help patch one of the holes in the Southern California racing calendar caused by the closing of Betfair Hollywood Park in December.
The track's summer season - which will be its 75th going back to 1937 - will open on Thursday, July 17 and go forward to Wednesday, September 3. Over the past several decades Del Mar usually has started its regular meet on a Wednesday, but with the San Diego County Fair running until Sunday, July 6 in 2014, the extra day to prepare the grounds and the racing surface - and to allow horses to adapt to it - was considered a safety priority. Del Mar last opened on a Thursday in 1999, and also opened on that day in 1969 and 1956.
DEL MAR HORSE BETTING ONLINE
Del Mar's fall meeting will have 15 racing days, opening on Friday, November 7 and concluding on Sunday, November 30. It will race Friday-Saturday-Sunday on its first weekend, then settle into a four-days-per-week (Thursday through Sunday) schedule for the balance of the session. In conjunction with the singular nature of the second season, track officials are planning a totally different theme to the session, one that calls on the track's Hollywood roots harkening back to its founder, Bing Crosby, and his show business connections.
First post during the summer will be the usual 2 p.m. with the adjustment to 4 p.m. for all 'Four O'Clock Friday' cards. The fall stand, however, will see first post at 12 noon throughout to allow for the earlier sunsets. The lone exception to the noon start will be Thanksgiving Day, November 27, when the starting time will be 11 a.m. to allow fans time for a day at the races as well as the opportunity to be home in time for a turkey dinner.
Both sessions this year will showcase the debut of Del Mar's new seven-furlong inner turf course, a wider, safer racing surface that is replacing the track's original greensward installed in 1960.
Online ticket and seat sales for the summer meet is schedule to start on Friday, May 9 at 10 a.m. Tickets and seats will be available for the fall session during the summer meeting beginning on a date yet to be determined.
In 2015 Del Mar is scheduled to run a similar twofold arrangement with slightly different dates. The 2015 summer season is slated for Wednesday, July 15 through Labor Day Monday, September 7, an expansion of its standard dates from seven to eight weekends and a total of 41 racing days. The fall session would be scheduled from Wednesday, October 28 through Wednesday, December 2, a five-week season that would enable the track to be open and available during the Breeders' Cup traditional dates, which are normally either the last weekend in October or the first in November.
"Our fall race meeting starting this year will be totally separate from our summer session," noted Del Mar Thoroughbred Club president and CEO Joe Harper. "They will be two different animals. We know our summer meet is a winner; we've proven it over and over again. And we expect our autumn run can be special, too, in its own way. With the backing of our horsemen and all our many racing fans in the San Diego area, we think we can put on a first-rate show here in the fall and help to keep racing in Southern California strong and successful."