Bob Baffert Trying for Two Straight - West Virginia Derby
West Virginia Derby Press Release By Bill Mooney
WEST VIRGINIA - As is the case with all major sports, Thoroughbred racing reveres its historic figures - Eddie Arcaro, "Plain Ben" Jones, Bill Shoemaker, and, of course, horses such as Mano'War, Citation and Secretariat.
And it seems a fair estimate that in future decades, Bob Baffert will be viewed in the same manner. Baffert, now age 58, has thrice been honored with Eclipse Awards as North America's outstanding horse trainer. And he was a 2009 inductee to the National Museum of Racing's Hall of Fame in Saratoga Springs, New York.
His prominence has extended beyond Thoroughbred trade publications and sports pages. Baffert has been featured in articles in "The New Yorker" and "Gentlemen's Quarterly." He's smart, quick with a quip and would be a dream come true for a publicist - if he needed one (which he doesn't).
This coming Saturday, Baffert will run Prayer for Relief in the 42nd edition of the Grade 2, $750,000 West Virginia Derby at Mountaineer Casino Racetrack & Resort. In doing so, Baffert will be shooting for his second consecutive victory in the event.
Bet on the Grade 2, $750,000 West Virginia Derby at Mountaineer Casino Racetrack at Off Track Betting. West Virginia Derby betting online.
In 2010, the Baffert-trained Concord Point registered a front-running one-length victory at Mountaineer. In his previous start, Concord Point had easily won the Grade 3 Iowa Derby at Prairie Meadows near Des Moines. Prayer for Relief's most recent effort occurred on June 25 - in, not surprisingly, the Iowa Derby. He won the 1 1/16-mile race by two lengths in an impressive time of 1:41.73. What has worked before may well work again.
Saturday will mark the fourth time Baffert has run a horse in the West Virginia Derby. Prior to Concord Point's effort, he had finished second with American Spirit in 1999 and sixth with Wanna Runner in 2006. Baffert came to Mountaineer with American Spirit - on the day of the race he had dinner in the clubhouse with his then fiance, Jill (who is now his wife), and expressed a touch of bewilderment for being in what he called "hilltop country."
American Spirit and Concord Point subsequently came to Mountaineer in the company of assistant trainers. Prayer for Relief, who is scheduled to arrive at Mountaineer Monday evening, will be under the care of assistant Wayne McDonnell.
Run an Equineline report on Baffert's career stats and you'll see that his Thoroughbred stakes scores fill more than 11 pages. They begin with March Speed's victory in the $2,000 Turquoise Futurity at Rillito Park in Baffert's native Arizona on April 4, 1982. They currently conclude with Irish Gypsy's victory in the Grade 2 A Gleam Handicap at Hollywood Park on July 16 of this year. His stakes triumphs total 534, with 310 of them occurring in graded events - Baffert's career win ratio in graded company is 22.9%. But maybe the most impressive statistic on Baffert's resume is his career win ratio with favorites, which is 39.6%. He knows where to spot his horses.
During a period that extended from May of 1997 through May of 2002, Baffert won eight of the 17 Triple Crown races that were run. In 1997, he came within three-quarters of a length in the Belmont Stakes of sweeping the Triple Crown with Silver Charm. The following year, he came within a nose in the Belmont of doing the same with Real
All told, Baffert trained Thoroughbreds have won 2,100 races and garnered over $167.6 million in purse earnings. Prayer for Relief would bring the earnings figure to more than $168 million with a win in Saturday's West Virginia Derby.
Prayer for Relief was bred in Kentucky by George Aschinger. As a weanling, the dark brown colt was consigned to the 2008 Keeneland November Sale, but failed to gain his reserve price (bidding on him only went to $39,000). Aschinger subsequently consigned Prayer for Relief to the 2009 Keeneland September Yearling Sale, and this time he was sold for $80,000 to Ahmed Zayat, a Baffert client.
Jump Start, the sire of Prayer for Relief, won the Grade 2 Saratoga Special (a 6 1/2 furlong event) at age two. Prayer for Relief's dam, Sparklin Lil, was a restricted stakes winner (she was bred by John Franks in Louisiana) at the one mile and seventy-yard distance as a two-year-old. So there's a touch of the speed-on-top/distance-on-the-bottom combination in Prayer for Relief's immediate heritage. Bloodstock experts frequently maintain, however, that one has to go back at least four to five generation to assess a racehorse's true potential. Do so with Prayer for Relief and one finds crosses with Secretariat, Buckpasser and Northern Dancer - providing Prayer for Relief with some impressive pedigree credentials.
Prayer for Relief broke his maiden on October 1 of last year at Hollywood Park for a $50,000 claiming tag. Since then he has been stakes-placed and a graded stakes winner. Interestingly, Sparklin Lil broke her maiden for a claiming tag, and then became a multiple stakes winner. Putting horses in the right places at the right times is part of a successful trainer's job. And nobody's better at doing that than Baffert.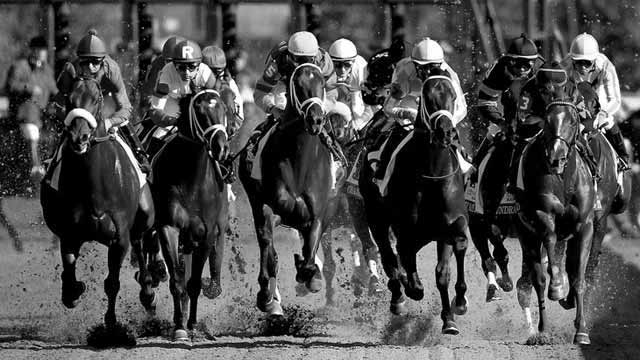 Bet Horse Racing with OTB
Bet Greyhound Racing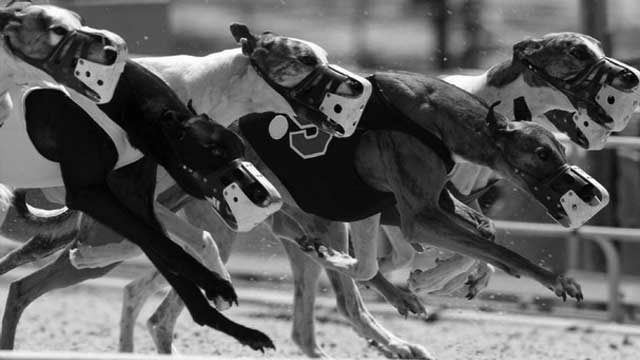 Bet Greyhound Racing online from the top dog tracks in the United States. Watch Free Live Video Streaming of every Greyhound Race when you bet from mobile phone, tablet, laptop or desktop.
Earn Daily Cash Rewards - Win or Lose
Hundreds of weekly Greyhound races
Free Live Video & Race Replays