Is this the Year for Europe in the Breeders' Cup?
Rob Gregorka
Las Vegas, NV -- Will Saturday be a day for some of Europe's best horses to win in Breeders' Cup betting? Between Friday and Saturday, a total of 28 foreign-based horses will be running in this year's Breeders' Cup. That number is lower than two years ago when a record 34 foreign horses made the trip to Santa Anita. Two years ago it was a gold rush for foreign horses as they won six of the 14 races. In 2008 they won five races. Could this year be another great year for Europe's best? Trainer Aidan O'Brien will try and do a little better as he is sending 11 horses this year. He has sent 63 starters in the past and won just four times. Let's look at the top European horses for Saturday's races.
Marathon This race is a mile and three quarters which means it is all about the European horses. American horses simply don't run this far. Meeznah and Brigrantin would be logical choices but this is their first time on the dirt and that is always a concern. Harrison's Cave is also in the race but really has no shot. Brigrantin has morning line odds of 8-1 and if he goes off with those types of odds he is worth a look.
One of the most interesting European horses in the Breeders' Cup Classic is O'Brien's So You Think.
Juvenile Turf This race is full of European shippers and should be a wide open race. You can easily make a case for a handful of horses including Caspar Netchser at 5-1 and Wrote at 12-1.
Turf The Breeders' Cup Turf is the main target for many of Europe's best horses since it has a purse of $3 million. Sarafina looks really good and even though this is her first time outside of France, she is the horse to beat at horse betting odds of 5-2.
Juvenile Aidan O'Brien will try and win the Breeders' Cup Juvenile with Crusade who has morning line odds of 12-1. O'Brien is also sending Daddy Long Legs who is also 12-1. Both horses could be in over their head though against Union Rags who is 2-1.
Mile The Breeders' Cup Mile is all about Goldikova. She hasn't been as good this year as in past years but do you really want to take a shot at going against her? None of the other European horses seem to have a chance in this race.
Classic One of the most interesting European horses in the Breeders' Cup Classic is O'Brien's So You Think. He was the best horse in Australia for two years, and he has been very good this year in Europe. The question is whether he will take to the dirt. All of the attention in this race is going to be on Uncle Mo and Havre de Grace but don't sleep on So You Can Think at odds of 5-1.
With all the potential big payoffs plus the OTB rebate you will get at OffTrackBetting.com, it's the best day of the year to bet the races.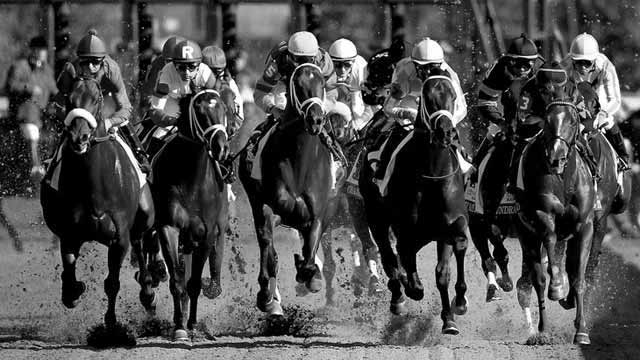 Bet Horse Racing with OTB