Finding the Singles in Breeders' Cup Betting
Rob Gregorka
Las Vegas, NV -- The two best times of the year to bet on horses are the Kentucky Derby and the Breeders' Cup. People that never bet horses at any other time of the year will bet on the Derby and on the Breeders' Cup. What this means is that the pools are bigger, and the payouts can be huge. When you bet on the Breeders' Cup you probably are taking some shots at the big payoffs in the pick 3's, pick 4's and the pick 6. When you put together your tickets, you are going to have to find some singles. Which horses should you consider?
Unless you are part of a syndicate that has a ton of money, you are going to have to find some singles to put together reasonably priced tickets for the pick 4 and pick 6. The goal is to hit a huge ticket, and you are simply not going to do it without including some longshots in some races. That means in other races you have to find a single. When it comes to Breeders' Cup betting where so many fields are competitive, you almost have to punch the all button on some of the races. You can only do that though if you find a single or two along the way.
Horse betting rebates are a way for you to turn a profit even if you have a losing day betting horses. Get your horse racing rebates at Off Track Betting.
Horses to Consider When you look at singles for your Breeders' Cup tickets on Friday and Saturday, you have a few obvious horses to consider. Goldikova has won the Mile the past three years and although she has lost races this year, you still have to consider her as a single although this year's Mile looks tough with Gio Ponti and Sidney's Candy in the race.
The Breeders' Cup Classic is supposed to be a battle between Havre de Grace and Uncle Mo but the Classic is not normally a race where you take a stand on just one horse but you might have to this year.
Friday's Sprint should be all about Bob Baffert's Secret Circle so that horse could be a single. Elusive Kate in the Juvenile Fillies Turf looks like another possible single. The Filly & Mare Sprint also has a likely single in Turbulent Descent. You may have noticed that those last three horses are all set to run on Friday so that may be the day where you have an easier time putting together a big ticket. Saturday will be tougher with no obvious choices on the morning line.
When you put in your big ticket on a pick 4 or a pick 6 in Breeders' Cup betting, you will have to take a stand somewhere. There will be horses that you have to single and just hope they come through for you so that you can do deep in other races. The good news is that on big days like Friday or Saturday in the Breeders' Cup, you just need to hit one big ticket to make everything worthwhile.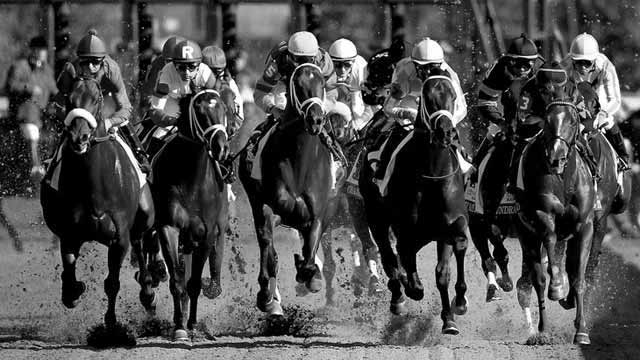 Bet Horse Racing with OTB