The WinStar Kentucky Cup Day of Champions at Turfway Park
Turfway Park Race Track Press Release
FLORENCE, KY., - The 2011 WinStar Kentucky Cup Day of Champions at Turfway Park Saturday will be broadcast live by TVG, with hosts Mike Joyce, Tom Amoss and Donna Barton Brothers on hand to provide coverage. The TVG team will cover the entire 12-race card including the five stakes that are the focus of the day. First post on Saturday is 1:10 p.m. ET.
WinStar Kentucky Cup - Grade 1 The field for the feature race, the $200,000 WinStar Kentucky Cup (G2) is taking shape, although decisions regarding several nominees remain up in the air. Among those already likely to run is 7-year-old Strike Impact, third in the Firecracker Handicap (G2) on the turf at Churchill Downs two races back and second, beaten a neck, in the West Virginia Speakers Cup Handicap in his last start.
The expected entry of Strike Impact puts popular Louisville Courier-Journal turf writer Jennie Rees in an odd-but happy-position. Strike Impact is trained and co-owned by Rees's husband, Pat Dupuy. As a result, Rees will be at Turfway Park Saturday to report on the four supporting stakes races but not the day's featured event.
Kentucky Cup betting from Turfway Park at Off Track Betting
"They feel it would be a conflict of interest," said Rees of her bosses. "The issue never came up until the Firecracker Handicap on the Fourth of July. It may never happen again, but I hope it does!"
"He's real good right now," said Dupuy, who claimed Strike Impact for $25,000 on July 25, 2009, out of a win at Arlington Park. The bay gelding is the only horse in Dupuy's stable, and he has won seven of 20 starts since the claim.
"This horse has some quirks," said Dupuy. "In another stable he'd probably fall between the cracks. He'd be just another horse. I put in a lot of time with him. He gets a lot of attention."
Though Strike Impact's last six races have been on grass, he is no stranger to all-weather surfaces. From 31 such starts, he has racked up 11 victories.
"It's a good time to take a shot," said Dupuy. "With so much racing going on, horses are shipping everywhere. I was hoping the race would come up a little light, but for $200,000 you know some good ones are going to show up."
Calvin Borel will have the riding assignment aboard Strike Impact, who will van from Churchill Downs to Turfway Park on Thursday afternoon.
Also likely for the WinStar Kentucky Cup is two-time Grade 1 winner General Quarters. Trainer Tom McCarthy charmed the racing world when he sent out General Quarters to capture the 2009 Toyota Blue Grass Stakes (G1). Saturday he will hope for similar Kentucky all-weather magic in the WinStar Kentucky Cup, a race the 77-year-old former Louisville school principal picked out as a prep for the Breeders' Cup Nov. 4-5.
"The Kentucky Cup fits in nicely time-wise with the Breeders' Cup," McCarthy said. "It's debatable which (Breeders') Cup race I might look at. I want to see how he does on Saturday."
General Quarters put up a fight to earn his second Grade 1 score, the Woodford Reserve Turf Classic at Churchill Downs in 2010, but this year, after a sharp second-place finish in a June 10 Fair Grounds dirt sprint, he disappointed with a pair of seventh-place finishes, first in the Firecracker Handicap and then in Arlington's Washington Park Handicap (G2) over the all-weather main track Sept. 3. But McCarthy feels General Quarters was not feeling his best in those last two efforts.
Turfway Park horse racing betting at Off Track Betting
"I found a little something that was bothering him," he said. "He was struggling with his tongue tie and actually cut open his tongue last time. He had been getting a little hard to saddle in races lately. It turns out that he didn't want the tongue tie, and I didn't listen. I don't train him with one, so I wouldn't have noticed anything in the mornings. The whole thing was so simple, it was stupid."
For the fourth straight start, Jamie Theriot will be aboard General Quarters, who will travel from Churchill Downs to Turfway Park by van Saturday morning.
Also on today's probable list for the WinStar Kentucky Cup are Baryshnikov (trainer Mike Maker); Demarcation (Paul McGee); Future Prospect (D. H. Skaggs); Shediak (FR) (Ben D. A. Cecil), and Workin for Hops (Mike Stidham).
The WinStar Kentucky Cup covers 1 1/16-miles and is written for horses 3-years-old and up.
Distorted Humor Kentucky Cup Distaff - Grade 2 Expected so far for the $100,000 Distorted Humor Kentucky Cup Distaff (G3) Grade 3 winner Ailalea (Todd Pletcher); Iowa Distaff runner-up Bella Medaglia (Bret Calhoun); allowance winner High Quality (Paul McGee); multiple stakes winner Kiss Mine (David Vance); Arlington Matron (G3) runner-up La Gran Bailadora (Maker); Gardenia Handicap (G3) runner-up Secret File (Charles Lopresti); and Grade 3 winner Upperline (Stidham). The Distaff is written for fillies and mares 3-years-old and up and also covers 1 1/16 miles. The top three finishers will earn seasons to one of three WinStar stallions-Super Saver, Colonel John, and Hold Me Back-in addition to purse money.
Speightstown Kentucky Cup Sprint - Grade 3 The Speightstown Kentucky Cup Sprint (G3) has to date sparked interest from Grade 3 winner Lou Brissie (Maker), multiple stakes winner Song of Humor (Milton Gaede), graded stakes-placed Cal Nation (Pletcher); stakes runners-up Matthewsburg (Maker), Philippe (Jimmy Baker) and Free Entry (Ron Moquett); allowance winners Unsaddled Glory (Ernie Retamoza) and Will's Wildcat (Baker); and fresh maiden special winner Chilled (McGee). The $100,000 Speightstown Sprint is carded for 3-year-olds going six furlongs.
Completing the five-race Kentucky Cup stakes are the 1 1/16-mile $100,000 Bluegrass Cat Kentucky Cup Juvenile and the one-mile $100,000 Tiznow Kentucky Cup Juvenile Fillies.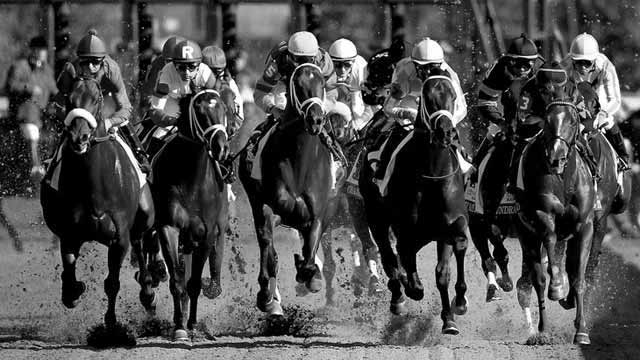 Bet Horse Racing with OTB