Kentucky Derby Points Update Apr 15, 2013
The Road to the Kentucky Derby Points Update - April 15
Las Vegas, NV - The Road to the Kentucky Derby is finally coming to a close - just three weeks until the 139th running of the Kentucky Derby! This past weekend saw the last of the big points awarded - the Grade 1 Arkansas Derby at Oaklawn Park and the Grade 1 Toyota Blue Grass Stakes at Keeneland each awarded 100-40-20-10 points for their first to fourth place finishers. All there is left on the Road is a pair of Wild Card races - the Grade 3 Coolmore Lexington Stakes at Keeneland on April 20 and the Grade 3 The Cliff's Edge Derby Trial Stakes April 27 at Churchill Downs will each hand out 20-8-4-2 points for their first through fourth place finishers. Most of the damage has been done and the bulk of the points have already been awarded already - only those on the bubble will benefit from the remaining Wild Card races.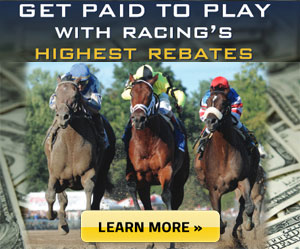 Both Todd Pletcher's Overanalyze and Kenneth McPeek's Java's War automatically punched their tickets to the Run for the Roses this past weekend with their wins in the Arkansas Derby and the Blue Grass Stakes respectively. Palace Malice, off a second in the Blue Grass Stakes moved into thirteenth place in the standings and Frac Daddy, after a second in the Arkansas Derby is now in fifteenth place - currently in position to start the Kentucky Derby but in danger of being bumped after the Wild Card races the next two weeks.
Shug McGaughey's Orb and Todd Pletcher's Verrazano continue to lead the points standing with 150 points and will likely be the favorites for the Derby in three weeks. Doug O'Neill's Goldencents is third with 129 points, Java's War, off his win in the Blue Grass Stakes has moved into fourth place in the standings with 122 points and Overanalyze with his win this past weekend is now fifth with 110 points.
Todd Pletcher's Revolutionary will also start the Kentucky Derby and sits in sixth with 110 points, Aidan O'Brien's Lines of Battle sits in seventh with 100 points, Rudy Rodriguez's Vyjack is next with 70 points and D. Wayne Lukas's Will Take Charge occupies ninth place with 60 points.
Follow the Road to the Kentucky Derby races at OffTrackBetting.com
Rounding out the top 10 is Eddie Plesa's Itsmylyckyday who sits tied with three others at 50 points - all look good to qualify by all could be bumped after the next couple weeks of racing. The group at 50 points includes Bob Baffert's Govenor Charlie, Kelly Breen's Black Onyx and Todd Pletcher's Palace Malice after his second place finish this past weekend in the Blue Grass Stakes. Next in fourteenth place is Chad Brown's Normandy Invasion followed by Arkansas runner-up Frac Daddy - both colts have 44 points. Mylute is on the bubble in sixteenth with 42 points and D. Wayne Lukas's Oxbow is next with 36 points. Rounding out the top 20 is Mark Casse's Uncaptured in eighteenth, Bob Baffert's Super Ninety Nine and John Terranova's Falling Sky - all of whom sit in a perilous qualifying spot with 30 points.
Currently on the outside of the top 20 looking in are Bob Hess trained Merit Man, Bob Baffert's Den's Legacy and Code West, Todd Pletcher's pupil Charming Kitten, Albert Stall Jr. trainee Departing, John Terranova trained West Hills Giant, and Paul Aguirre pupil Tiz a Minister - all of whom have 20 points and will need a good result in the next two weeks to jump into the top 20.
Dallas Stewart trained Golden Soul still has an outside chance of qualifying for the Derby - he has 14 points, Mark Casse pupil Dynamic Sky has 13 points and there are seven colts clinging on with 10 points - all absolutely need a win in the next two weeks to even have a shot at the Run for the Roses. They include Bob Baffert's Power Broker, Rydilluc who finished fourth this past weekend, Bill Mott trained Mr. Palmer, Todd Pletcher's Abraham, Elnaawi, Giant Finish and Narvaez.
That leaves just 36 colts with a shot at the 20 spots available for the Kentucky Derby May 4. There are two Wild card races left - each hand out 34 total points - so the bottom dwellers have some work to do! Stay tuned to OffTrackBatting.com for previews to these two Wild Card races and the Road to the Kentucky derby points updates that follow.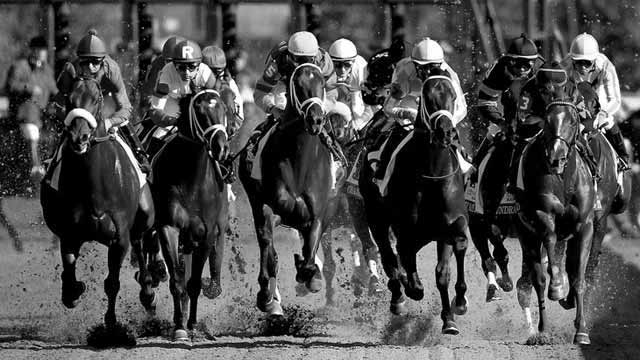 Bet Horse Racing with OTB