Turfway Park Winter Horse Racing Opens Thursday
Turfway Park Office
FLORENCE, Ky., Nov. 28, 2011 - Live Thoroughbred racing returns to Turfway Park this Thursday, Dec. 1, the start of the Holiday Meet and the beginning of the track's winter racing season.
Highlighting the Holiday Meet are five $50,000 stakes:
Holiday Inaugural, 6 furlongs for fillies and mares 3 years old and up, Dec. 3
My Charmer, 1 1/16 miles for fillies and mares 3 years old and up, Dec. 10
Prairie Bayou, 1 1/8 miles for 3-year-olds and up, Dec. 17
Gowell, 6 furlongs for 2-year-old fillies, Dec. 23
Holiday Cheer, 6 furlongs for 3-year-olds and up, Dec. 31
The Holiday Inaugural Stakes closed last Thursday with 42 nominations. Nominations for the My Charmer Stakes will close this Thursday, Dec. 1.
Live racing runs Thursday through Sunday each week with two exceptions. Turfway is closed Saturday and Sunday, Dec. 24 and 25, and then will be open every day the following week for its traditional holiday schedule, including Monday, Tuesday and Wednesday, Dec. 26-28.
Turfway Park live horse racing betting odds, video, results & replays at Off Track Betting online racebook.
Post time is 5:30 p.m. ET on Thursday, Friday, and Saturday and 1:10 p.m. on Sunday, again with holiday exceptions: post time from Monday, Dec. 26, through Friday, Dec. 30, will be 1:10 p.m. Post time remains at 5:30 p.m. on Saturday, Dec. 31, when Turfway hosts its second annual New Year's Eve Track Bash.
The New Year's Eve Track Bash features live horse racing, three options for hardy partiers from free admission to reserved seating, and live music by classic rockers Doghouse on the Willis Music Stage. Beer and drink specials will be available, including champagne toasts. Reservations on the third floor for $100 include a table for six, party favors, and a champagne toast. Reservations in the Top of the Park and Homestretch dining rooms priced at $75 per person include a deluxe buffet, beer, wine and mixed drinks, party favors, and a champagne toast. Reservations are available by calling (859) 371-0200 or via the Turfway website, www.turfway.com.
Turfway's popular Dollar Friday events return as well, with dollar draft beer and hot dogs and live music from Your Villain My Hero (Dec. 2); Tip Jar & the Bar Stars (Dec. 9); My Sister Sarah (Dec. 16); and Naked Karate Girls (Dec. 23). Live music is not scheduled for Dec. 30 due to the holiday schedule 1:10 p.m. post.
Live music on Dollar Friday has gained a new sponsor in Willis Music Company, a full service music enterprise with seven locations across Lexington, Louisville, and the Greater Cincinnati area. Willis Music offers a full line of band and orchestra instruments, keyboards, recording equipment, professional sound equipment, and instruction.
Other weekend specials include a $19.95 buffet in the Homestretch each Friday - a lower-priced lunch buffet will be offered Dec. 30 - and each Saturday, with the exception of New Year's Eve. Also on Saturdays, excluding New Year's Eve, Chef Peter Haubi's Top of the Park upscale buffet will be available for $26.95. Evening buffets are open from 5:30 to 8:30 p.m. Reservations are recommended.
On Dec. 4, Turfway will host a qualifying contest for the DRF/NTRA National Handicapping Championship in Las Vegas next January. The top three finishers in Turfway's contest will earn a trip to the national tournament, where they will compete for $2 million in cash prizes. The qualifier entry fee is $150; of that amount, $48 is a live bankroll that players use to make win and place wagers on races from designated tracks. Handicappers are encouraged to register in advance by calling (859) 647-4843 or visiting www.turfway.com. Walk-up registrations paid by cash or check only are accepted if seats remain. Registration begins at 11 a.m.
For the third straight year, Turfway will host members of the U.S. Marine Corps and WUBE-FM DJs Chris Carr & Company, who will set up Camp Carr for Kids to collect new, unwrapped toys for Toys for Tots. The WUBE crew and the Marines will be on-site around the clock from 5:30 a.m. on Dec. 8 through noon on Dec. 10. Chris Carr & Company, the WUBE morning show, will broadcast live from Turfway during the event.
The winter horse racing season runs without interruption through April 1 but for recordkeeping purposes the period is divided into two meets: the Holiday Meet, which ends Dec. 31, and the Winter/Spring Meet, which begins Jan. 1.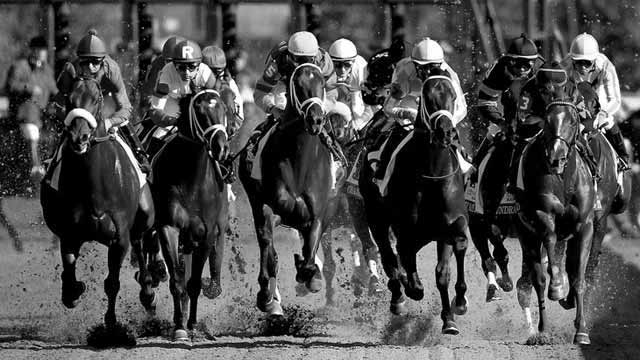 Bet Horse Racing with OTB