Trainer Chad Brown (Almanaar): "He ran great the last race. The other horse [Flatlined] beat him fair and square, he followed him the whole race. Joe Bravo, riding the Flatlined horse, got up at wire and beat him. I think this horse today had a little more room to work at an mile and an eighth. He got a beautiful set up. Joel fits the horse perfectly; it's the second time in a row he has given him a flawless trip on this turf course. I'm proud of the way the horse drove him down the center of the track."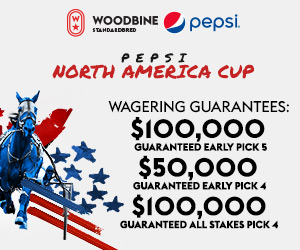 "Everything is in play for these two horses — the Woodford Reserve on Derby Day at Churchill is a Grade 1 I have interest in with both these horses. Down the road, races like the Manhattan at a mile and a quarter. Beach Patrol is already proven at a mile and a quarter in the Secretariat. There are lots of options. Hopefully, they stay healthy.
On Beach Patrol: "I think everyone in the house saw what we see all the time — what a scrapper this horse is. He's off a layoff and he fought, and fend off everyone but his stablemate, is remarkable. I will have to look at the DQ again. I thought my first look at it they both came in and met together, but it is what it is. We'll just move forward from here."
Jockey Joel Rosario (Almanaar): "He broke really well. I wanted to follow somebody but I got shut off a little bit on the first turn. But I took it step by step, trying to take my time with him so I could let him finish in the end. He did well. Turning for home I was a little outside but he was very happy, really enjoying where he was and giving everything to me."
Trainer Scooter Dickey (Flatlined): "[Jockey] Joe [Bravo] said he was listless today, he wasn't himself and never pulled on him like he usually does. We'll check him out tomorrow and see if he's all right. He's been training right up to it really good, so I don't know. We'll find out."
Jockey Edgar Prado (Divisidero): "He broke OK and settled nice. He was in a good spot, right behind the speed. He was a little closer but he was doing everything comfortable; it wasn't like I was riding to be there. He was taking me there nice and easy. I bided my time around the turn, I waited to the top of the stretch to turn him loose and he gave me an eighth of a mile kick and that's it."
Jockey Florent Geroux (Beach Patrol): "He was forwardly placed like we wanted, and it's just too bad. I started hitting him left-handed at the end and drifted a little bit and bumped the other horse and got DQ'd. Other than that, he ran a great race. It was his first time against older today and he showed like he belongs, so it was good."