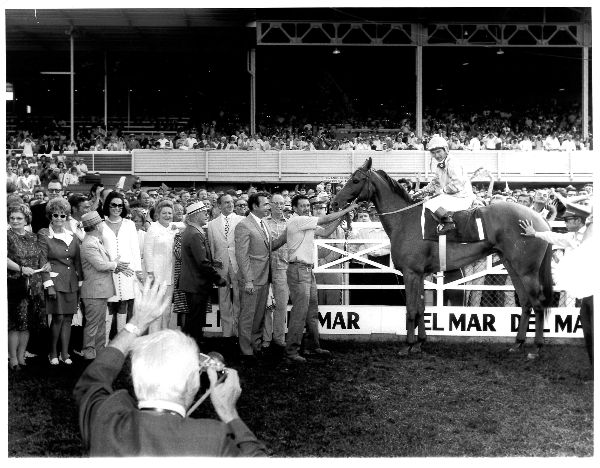 Bill Shoemaker and Dares J. in the winner's circle after No. 6,033. That's trainer Ron McAnally in the suit two removed from the horse. © DMTC Photo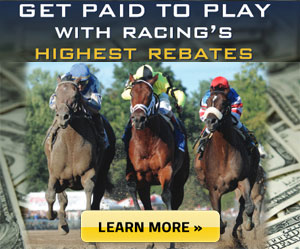 By Hank Wesch
September 7, 1970, Labor Day, was another working day for people whose jobs were on, or connected to, the Del Mar racetrack. But also a day that dawned with the promise of being special to them, and anyone interested in Thoroughbred racing.
Two days earlier, in the ninth race of the program, on a horse named Esquimal, Bill Shoemaker notched win No. 6,032 to tie John Longden's world record for career wins by a jockey.
There being no Sunday racing at that time, the racing world had a full day to savor the prospect of the man simply referred to as "The Shoe" ending a record quest they'd been following with enthusiasm since he hit the 6,000 mark a month earlier.
And, coincidentally, do it 14 years after another Labor Day at Del Mar when Longden notched record win No. 4,871, on a horse named Arrogate, to pass Sir Gordon Richards.
Dan Smith, 83, recently retired senior media coordinator for the Del Mar Thoroughbred Club, was on the job then as the whole thing unfolded.
"Shoe's first big splash was at Del Mar in 1949 when he led the meeting, as an apprentice, with 52 wins," Smith said. "That was the time people started finding out who he was. He kept riding at Del Mar through 1954. Then left to ride in Chicago and New York, won the Kentucky Derby on Swaps in 1955 and really became a star."
Then, 16 years after leaving, Del Mar's prodigal riding son returned home.
"He came back in 1970, the year the Del Mar Thoroughbred Club started running the track," said Smith, who wrote the definitive biography, "The Shoe" about Shoemaker. "He was in hailing distance of the record. He knew he was going to break it. He wanted to do it at Del Mar. He took dead aim on it and he got it done."
Shoemaker's words, from Smith's book: "I rode my 6,000th winner August 8 on a horse named Shining Count. And then the countdown began. As I got nearer the record …the drama and the tension built up. With all the newspaper guys and TV people following me around, there's always some tension involved. You handle it the best way you can."
As Shoemaker drew closer to the record, the media coverage intensified. Sports Illustrated sent one of its top feature writers, Jack Olson, to follow the quest through the final week. On the holiday weekend, crews from major television stations in Los Angeles and San Diego were on hand to chronicle the crowning and word spread across the nation and the world.
"It was important not just to Shoe, but to Del Mar," Smith said. "It is a very significant event in the track history and led to Del Mar becoming what it has, one of the leading racetracks in the country."
And Shoemaker remained unfazed by all the fuss. Fellow jockey, and by many accounts Shoemaker's best friend, Hall of Famer Don Pierce, was by his side through much of the buildup. And in sixth place, 16 ½-lengths behind on a horse named Sister Kat Bird, when his pal became the winningest jockey in history.
Pierce, 83, and a longtime Del Mar resident, doesn't remember the race. Nor does he remember Shoemaker being anything but his usual self in the weeks and days leading up to it.
"He was never excited about anything," Pierce said. "I don't know what was going on in his mind or how he felt about it (internally) but I played golf with him and was around him every day and he was the same as always. I never asked him about it and we never talked about it.
"He had a way about him that everybody around loved him. We wanted him to break (the record) and knew he would."
Shoemaker from "The Shoe" – "I never anticipated being able to break that kind of record early in my career, so I'd never set it up as a goal. But as I got closer to it and knew I could do it, I really wanted it …In one of the early races on Labor Day, September 7, I was on Dares J, a filly trained by Ron McAnally, and I knew she had a real good shot at winning."
Hall of Fame trainer McAnally, 88, has spent this summer, like decades before, at his secondary home in Del Mar. In fact, this is his 60th season at the shore, more than any other trainer in history. During that time he's saddled 447 winners, 77 of them in stakes.
"Dares J. was actually owned by a jockey agent, Camilo Marin," McAnally said. "But a jockey agent couldn't own horses in those days, so they ran her in the name of the auto painter (Earl Scheib's Green Thumb Farm Stable)."
In a long and colorful career, Cuban-born Marin, who died in 1988, was known for introducing, and often representing, a stream of riders from Latin and South America to U.S. racing. Among them were Hall of Famers Braulio Baeza, Manny Ycaza, Ismael "Milo" Valenzuela and Laffit Pincay, Jr., as well as Kentucky native Don Brumfield.
Shoe's big moment was the fourth race on the program.
McAnally had no instructions for Shoemaker before giving him a leg up on Dares J. He'd abandoned the practice years before after seeing Shoemaker go counter to all the information offered on a filly McAnally thought he had figured out, then produce an astonishing victory.
"(Dares J.) broke in front, and all of a sudden it goes so quiet it was like you could hear a pin drop," McAnally recalled. "Then, when she went under the finish line, the crowd let out a roar like I'd never heard before."
Dares J. led by two lengths at the first quarter, four at both the half and top of the stretch, and won clear by 2 ½ over I Wanna Win under Robby Kilborn.
Shoemaker from The Shoe: "I knew she had a real good shot at winning.
She broke sharp, and I sent her right to the lead. I let her roll on the turn, and she opened up a pretty long lead. She got a little late in the stretch, but she was too far in front to catch - and that was it. I naturally was happy and relieved it was over.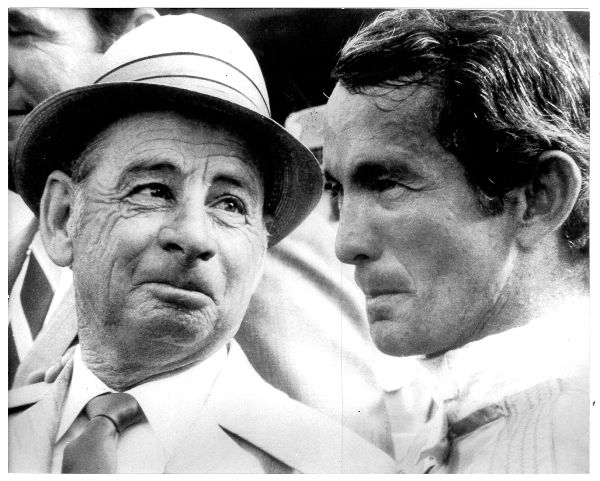 The Old Master Longden casts an admiring glance at the New Master Shoemaker. © DMTC Photo
"John Longden was there in the winner's circle waiting for me to come back, and he was one of the first to congratulate me. I felt a little bad breaking John's record. I'm sure it meant a lot to him. But records are there to be bettered, so I enjoyed doing it for that reason."
The late San Diego sportscaster Ernie Myers conducted winner's circle interviews.
"Well it's a great day for Bill," Longden told him. "I held it for 14 years and I know it is going to be a hell of a lot longer before they break it again. I think it took a good man to make this record and it took a damn good guy to break it."
Shoemaker said: "I'm glad that I could win today's race in Longden's style, in front all the way."
It was then the job of media department staffer Jeff Tufts, later to become Del Mar's morning linemaker for several decades, to escort Shoemaker through throngs of autograph seekers to the jockey's room. Shoemaker calmly obliged as many as he could.
"Can you imagine what that autograph would be worth today," Smith wondered.
Tufts had been given strict instructions from publicity director Eddie Read about his assignment and took them seriously.
"It may be that the reason I don't remember anything special is that Shoe pretty much took it in stride and I was a slightly nervous escort," Tufts said in an e-mail.
"Al Shelhamer, a former jockey and longtime steward, I think uttered the ultimate wisdom about Shoe when he said that aside from his obvious talent, the secret to Shoe's success was that there were never any real highs or lows.
"He took everything as it happened and didn't let disappointment or success affect him. Misjudging the finish line in the Kentucky Derby (in 1957 aboard Gallant Man to lose to Iron Liege) could have really hurt a lesser character, but Shoe dealt with it and went on winning.
"And could any other jock win 17 straight riding titles at Santa Anita and not be the object of envy and jealousy? He was one of a kind."
Who, 50 years ago, was in the spotlight on one special, and memorable, Labor Day at Del Mar.