HORSE RACING NEWS

Page 15 of 1,963 results (0.04 seconds)
---
08/07/2020
Dan Smith has left the building. Quietly.
---
08/03/2020
Del Mar Thoroughbred Club has announced it will run a make-up day of racing on Monday, August 31. It expects to present a 10-race card starting at 2 p.m. The added date means Del Mar will finish up its 2020 summer race meet with two four-day weekends -- A
---
07/31/2020
John Shirreffs and Honor A.P. © Zoe Metz Photography
---
07/30/2020
Del Mar Thoroughbred Club today announced a 10% purse increase after a solid opening span of racing days during the month of July. The increase will be retroactive back to the track's first day, July 10.
---
07/26/2020
Hall of Fame trainer Richard Mandella fired one of his big guns Sunday at Del Mar and the boom shook the grounds and might reverberate forward to the shore track's biggest race of the season.
---
07/25/2020
Champion Maximum Security make his comeback Saturday at Del Mar a winner – but only just. The Gary and Mary West homebred colt worked hard through the stretch to get past C K Stable's Midcourt, but get there he did by a nose at the finish of t
---
07/23/2020
Maximum Security © Zoe Metz Photography
---
07/17/2020
Following the loss of the three racing cards planned for this upcoming weekend, Del Mar shifted gears and reschedule one of those lost days for Monday, July 27, effectively giving the shore oval a four-day race weekend between July 24 and 27.
---
07/15/2020
With caution its primary concern, Del Mar has preemptively canceled its next three days of racing, July 17-18-19, after 15 jockeys tested positive for COVID-19. All of Del Mar's jockeys and jockey room personnel were tested on Tuesday by San Diego C
---
07/13/2020
Ken Church salutes the crowd with his winning bouquet following his victory in the 1974 edition of the Rocking Chair Derby at Del Mar.
---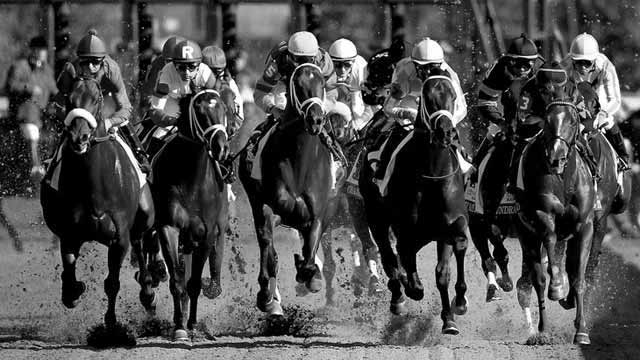 Bet Belmont Stakes with OTB