• Cadeyrn to step up in G1 Wood Memorial • Matt King Coal on target for Wood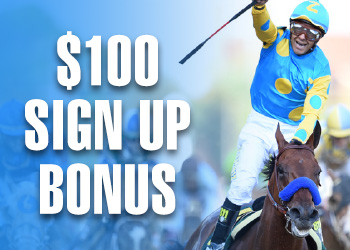 • Doors open early Saturday for Dubai World Cup, Winter Meet closing day • 'Machine Madness' continues next weekend • Aqueduct hosts handicapping tournament April 2
OZONE PARK, N.Y. - Tom O'Grady's impressive maiden winner Cadeyrn will wade into the deep waters of the Triple Crown trail, taking on winners for the first time in the Grade 1, $1 million Wood Memorial at Aqueduct on April 9, according to trainer Jeremiah Englehart.
Cadeyrn began his career last fall at the Big A, picking up a second place finish and a pair of thirds before breaking through in his fourth career attempt on February 20. Facing eight rivals in a maiden special weight, the 3-year-old Malibu Moon colt graduated in front-running fashion, sporting blinkers for the first time and drawing off to an 11-length score under a brisk hand ride from Manny Franco.
"He came out of that last race really well," Englehart said of his Wood Memorial contender. "I think the blinkers made the biggest difference. In the morning, he's one that has shown that he's a really nice horse, but in the afternoons he can play around a lot. It seems like every week, he's been getting better and better as far as his breezes go. We're looking forward to giving it a shot."
The $160,000 2-year-old-in-training purchase worked a half-mile in 48 seconds on Belmont Park's training track Friday morning for Cadeyrn's second breeze since breaking his maiden. The dark bay colt had gotten back onto the work tab last week with a relaxed half-mile move, covering the distance in 50 and 4/5 seconds.
"For his first breeze back, we just let him have something nice and easy," Englehart reported. "And [this week] I wanted to see him start getting a little more aggressive now for the next few weeks going into the race. I brought Manny along - I don't know if he'll be available to ride him in the race - but he knows the horse and he knew what I kind of work I wanted and he worked with him very well."
Nominations for the Wood Memorial, which is worth 100-40-20-10 points to the top four finishers as part of the Kentucky Derby Championship Series, close on March 26.
* * *
Following his second consecutive victory from four career starts on March 6 at Aqueduct in an allowance optional-claimer against a talent-laden field, Lady Shelia Stable's Matt King Coal remains on the Triple Crown trail, pointing towards a start in the Grade 1 Wood Memorial on April 9.
Breezing six furlongs in 1:13 over the Belmont Park training track Saturday morning, trainer Linda Rice was optimistic with how the $250,000 2-year-old-in-training purchase continues to develop heading into his first graded stakes attempt.
"He had a very nice breeze yesterday," said Rice. "He'll get one more before the Wood and we're pretty excited about the way he's come out of the allowance race and he better be on his best for the Wood."
Showing a penchant for running on the lead in three out of his four starts, Rice has no set plans to alter his running style leaving the final decision heading into the race to regular rider Jose Ortiz.
"I would say Plan A is to continue to utilize his speed," continued Rice. "You never know at some point if there's going to be enough speed in a race to consider taking him back, but Jose has ridden him and won a lot of races for me and I'm going to have to leave that up to him."
* * *
NYRA wagering facilities will open early on Saturday, March 26 for Dubai World Cup Day at Meydan Racecourse. Doors will open for simulcasting at 9 a.m. at Aqueduct Racetrack and at 10 a.m. at the Belmont Café. Online wagering will be available on the full Dubai World Cup card through NYRA.com beginning at 7:30 a.m., with the first race at Meydan scheduled for 7:45 a.m. EDT.
Featuring a showdown between 2014 Triple Crown hopeful California Chrome, Grade 1 Wood Memorial hero Frosted and Keen Ice, the upset winner of the Grade 1 Travers, the $10 million Dubai World Cup is scheduled to run as the ninth and featured race, with a post time of 1 p.m. EDT.
Live racing at the Big A is set with a first post time of 1:20 p.m. on Saturday, the closing day of the inner track winter meet. The 19-day main track Spring Meet will commence on Thursday, March 31 and live racing on Wednesdays will resume April 6.
* * *
On Saturday, racing fans at the Big A can play to instantly win one of more than 1,000 prizes - including top prize of a $500 betting voucher - in the new "Machine Madness" promotion offered by the New York Racing Association.
To play, all fans have to do is make a wager on one of the betting terminals on the second floor. Wagers on Aqueduct or any simulcast track count towards the promotion. Prizes, including betting vouchers from $2 to $500, are offered as tickets and automatically drop in the same location as the wager.
Machine Madness will take place today, March 20 and next Saturday, March 26 from 1 p.m. until 5:30 p.m. For further information, please visit NYRA.com or the promotion booth on the second floor for a full list of prizes.
* * *
Aqueduct Racetrack will host the "Big A Challenge", a live-money handicapping tournament, on Saturday, April 2. Guests will be able to experience the thrill of tournament play and compete for prize money, two seats to the National Handicapping Challenge, and one seat to the Breeders' Cup Handicapping Challenge.
Taking place in the Manhattan Terrace lounge at the Big A, the $500 buy-in tournament will feature races from Aqueduct and Gulfstream Park, ending with the Grade 1 Florida Derby.
Of the $500 entry fee, $300 will comprise the entrant's bankroll for the day while the remaining $200 goes to the prize pool. Participants are eligible to place win, place, show, and exacta and trifecta wagers.
Pre-registration is required and sign-up is available online at NYRA.com/challenge through March 29 with a major credit card deposit.