• Kid Cruz declared from TwinSpires.com Wood Memorial • Samraat likely to use 'cruising speed' in Wood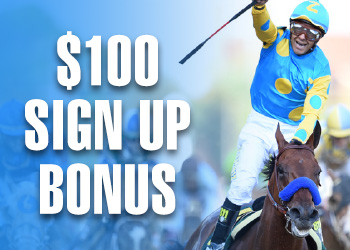 • Sahara Sky, second one year ago, trying G1 Carter again
OZONE PARK, N.Y. - Trainer Linda Rice today said that TwinSpires.com Wood Memorial contender Kid Cruz would miss tomorrow's Grade 1, $1 million race due to a sore shoulder.
"He was showing a little soreness after his last race [a victory in the Private Terms at Laurel Park] and after he breezed Wednesday, he was not quite up to where we wanted him to be at this point," said Rice, who trains the Lemon Drop Kid colt for Vina Del Mar Thoroughbreds and Black Swan Stable. "It's disappointing, but we'll give him some more time between races and possibly look at the Illinois Derby [April 19 at Hawthorne Park]."
Kid Cruz, who is named for New York Giants wide receiver Victor Cruz, was claimed for $50,000 last November by Vina Del Mar Thoroughbreds from Black Swan Stable, which later bought back a share of the colt. Overall, he is 2-1-0 from four starts with earnings of $101,375.
* * *
With the two principal speed horses lined up on the far outside of the Aqueduct Racetrack starting gate, trainer Richard Violette likes his draw for tomorrow's TwinSpires.com Wood Memorial.
Samraat, undefeated in five starts for Violette, enters the Wood off back-to-back victories in the Grade 3 Withers and Grade 3 Gotham on the Big A's inner track. In the Withers, Samraat engaged in a magnificent, race-long duel with Uncle Sigh, winning by a length with the runner-up 10 ¼ lengths clear of the rest of the field. In the Gotham, Samraat stalked Uncle Sigh and In Trouble from 1 ½ lengths back and then pounced to win by a neck in a three-way stretch battle.
With undefeated speedball Social Inclusion, the 2-1 morning-line favorite in the Wood, starting from the far outside in post 11, and Samraat's chief rival, Uncle Sigh (5-1), one slot inside him, Violette sees an opportunity for his runner to take back even farther, up to five lengths, and watch the leaders duel.
"I'm glad I'm not in the 10 or 11 [post]," Violette said Friday morning in his Aqueduct barn office. "They're up against it. I think they have to kind of play hardball and commit."
Violette believes Samraat (7-2), who will start in post 8, is easier to relax at high speed than Uncle Sigh, yet quick enough to make the lead if no one else wants it.
"It was probably a little bit more evident in the Withers," Violette said. "We engaged Uncle Sigh without engaging the horse. [Samraat's] such a unique animal: You can go into neutral, get into a spot, put your hands down, and he just shuts off. He'll maintain that cruising speed. He was able to just kind of keep Uncle Sigh from getting in a comfort zone."
Uncle Sigh's trainer Gary Contessa knows his horse wants to be in the mix from the start and must contend with Social Inclusion, who invades New York after two sensational races at Gulfstream Park, including a 10-length allowance win at 1 1/16 miles that earned a 111 Beyer Speed Figure, tops among 3-year-olds this year.
"I'm not just going to sit back and let Social Inclusion blow out of the gate and pass me without a fight," Contessa said. "Corey [Nakatani, riding Uncle Sigh] is going to do whatever he thinks is best, but my thought would be to ride out of the gate a little, and if [Social Inclusion] wants to go, he'll have to lay down the gauntlet. I think [Social Inclusion] will clear eventually, but there will be speed from the inside, too. I don't want to hook up with [Social Inclusion] early, but I don't want to hand him the lead. Ideally, we'll be second or third, tracking the pace."
Violette doesn't particularly care which horse makes the lead - or even if it's an inside pace player like Schivarelli or Noble Moon. He just wants to see the horses moving fast. "We'll be aggressive leaving there," Violette said of Samraat. "Most horses, if you're aggressive leaving [the gate], you're committing. We make sure everybody else commits.
"I think [Uncle Sigh's] got more than us to worry about. I think he's going to be in front of us unless they try to take back. They're going to have to go very fast to clear everybody. I think he has to. What's he going to do, go six wide?
Violette thought about it for a moment.
"I'm not changing positions with anybody," Violette said.
* * *
Dan Ward, assistant to Hall of Fame trainer Jerry Hollendorfer, issued an upbeat bulletin as Sahara Sky schooled in the paddock on Friday, one day in advance of his scheduled start as the 2-1 morning line favorite in the Grade 1, $500,000 Carter Handicap."It takes two people to hold him," said Ward. "He's very happy. He's very experienced shipping, settled right in, eats everything, trains with a lot of gusto. He's a handful."
Sahara Sky, a 6-year-old four-time graded stakes winner owned by Hollendorfer and Kim Lloyd, is taking another crack at the seven-furlong Carter Handicap after finishing second by a nose to Swagger Jack in last year's edition. In his following start, Sahara Sky returned to New York in May and tagged Cross Traffic by a nose on the wire in Belmont Park's Grade 1 Metropolitan Handicap.
The Met Mile was Sahara Sky's final start of 2013. He was fifth in his 2014 debut, the Grade 2 Palos Verdes in February, before employing a burst of speed in the stretch to register a half-length repeat victory in the Grade 2 San Carlos on March 8. Both starts came at Santa Anita, where he now trains.
"He might be sounder than last year," said Ward. "We've had a lot of problems keeping him sound and keeping him going all year. This year, he's training really, really sound, maybe because he's now training on dirt. He's always been on synthetic at Hollywood Park, but since we've been training at Santa Anita he seems to be a lot sounder. He's happy, and he always tries hard."