JOCKEY QUOTES

TYLER BAZE, SMOOTH ROLLER, WINNER: "This is his fourth race and from the very beginning Victor told me he could really run and he proved it. I worked him last week and ever since I've been on him down at Del Mar he's turned into a monster work horse in the morning; he really wants to do it. Last week, Victor wasn't here, he was at the Keeneland Sale. He called and told me to go seven eighths in 1:28. I literally breezed him in 1:25. I called him and told him 'that's as easy as he wants to go and he did it the right way.'

"I told him to dress up for Saturday because I'm expecting him to run big and he did. "He's a good-feeling horse. He goes out there and there's nothing wrong with a horse that's feelin' good. He's ready to do it and he's changed and he's really matured."

MIKE SMITH, HOPPERTUNITY, SECOND: "We ran a good race, but I just couldn't catch the winner. He ran great. The game plan going in was pretty much what happened. I thought I'd be laying third and he was. He was laying a comfortable third. Hard Aces was coming a little early on the backside, so it turned it into a long run. But he was able to gather himself up and secure second anyway. That's pretty much it."

MARTIN GARCIA, BAYERN, THIRD: "He looked like he was going nice and easy but he didn't want to run."

IS HE THE SAME HORSE AS HE USED TO BE?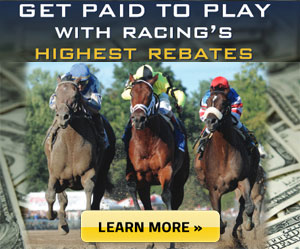 "Not at all. If he was the same, he would have won. Too quiet; he didn't show anything."
TRAINER QUOTES
VICTOR GARCIA, SMOOTH ROLLER, WINNER: "I expected him to run big. He had a lot of trouble in his last race. He was washed out, stumbled from the gate, was four or five wide both turns and only got beat a length and one-quarter. I worked the horse twice and he worked real good. Tyler was real happy with it. We'll go to the Breeders' Cup (Classic), absolutely. This will be my second Breeders' Cup. I ran a filly named Approved to Fly in 1988 (fourth in the Juvenile Fillies).
"I've been training since late 1985. It feels great (to beat the Breeders' Cup Classic winner from last year, Bayern). I thought we had a good shot in the race, but the only way to find out is to run with the big boys, and the horse ran like I expected."
NOTES: The winning owner is Miguel Rubio of Rancho Santa Fe who races as Lucky Charm Stable.