• California Chrome schools in paddock, has final gallop before G1 Belmont Stakes • General a Rod gets first taste of local surface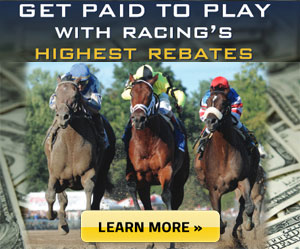 • Samraat, Ortiz ready for Belmont Stakes • Finley has high hopes for Commanding Curve • Romans trying to catch lightning in a bottle with Medal Count • Kid Cruz skips Belmont, finds 'easier' spot on undercard for Rice • Zito reflects on Triple Crowns past, Chrome's chances • New York trainers, former jockeys backing 'Chrome' in the Belmont Stakes
ELMONT, N.Y. - Triple Crown hopeful California Chrome had his final gallop around the Belmont Park oval Friday morning, traveling two miles under exercise rider Willie Delgado after schooling in the paddock around 6 a.m. The Kentucky Derby and Preakness winner will jog tomorrow morning at 5:30 a.m., a little more than 13 hours in advance of his bid to break a 36-year Triple Crown drought in the Grade 1, $1.5 million Belmont Stakes.
The handsome chestnut colt stood quietly in the saddling area's stall No. 2 - his post position for the 1 ½-mile "Test of the Champion" - before walking through the tunnel toward the track, pausing several times as if to pose for the photographers who lined the fence. Upon entering the track, he jogged halfway around the oval, then turned and galloped two miles.
"The horse is doing great, I couldn't ask anything more from him," said Alan Sherman, son of and assistant to trainer Art Sherman. "I'm looking forward to the race. I think if he runs his race, he's going to be pretty solid."
As the Belmont draws closer, Sherman reflected on the ride the California-bred colt, winner of six straight races, has taken his connections, including co-owners Steve Coburn and Perry Martin.
"It's been awesome," said Sherman. "These kinds of horses don't come around very often, if at all. I think it's great for the game, and I hope it will get new owners into the game."
* * *
Belmont Stakes contender General a Rod galloped over the main track at 5:45 this morning, his time over the Belmont Park course since arriving from trainer Mike Maker's Louisville, Ky. base Thursday evening.
Assistant trainer Joe Sharp said the Gulfstream Park Derby winner joined the rest of Maker's New York string around 8 p.m.
"The plane was a little late getting in, but he ate up well and settled right in, and galloped nice this morning," Sharp said. "He looks great. He came in and didn't have a hair turned."
Today was the first look at Belmont's unique 1 ½-mile surface for General a Rod, who has raced at Keeneland, Churchill Downs, Gulfstream and Pimlico in his seven-race career. He was second in the Grade 2 Fountain of Youth, third in the Grade 1 Florida Derby, and fourth in the Preakness.
"He took it all in stride. It was just an ordinary day for him, and he seemed real happy," Sharp said. "It seems like good horses just seem to get it. We just want to bubble-wrap him and keep everything on track for tomorrow."
Maker arrived in New York early this afternoon for his second shot at the Belmont, having finished seventh with Stately Victor in 2007. He was an assistant to D. Wayne Lukas when the Hall of Fame trainer won each of his four Belmonts: Tabasco Cat (1994), Thunder Gulch (1995), Editor's Note (1996) and Commendable (2000).
"You never know until you try it," Maker said. "The pace will be slower, so I don't forsee any trouble with the extra distance. In the Derby and the Preakness, he had no problem. He had a strong gallop-out in the Preakness, so I'm not too concerned about it."
Purchased prior to the Kentucky Derby from original owner J. Armando Rodriguez, for whom the horse is named, General a Rod was a troubled 11th at Churchill Downs and got shuffled back again at Pimlico, beaten just a head for third.
Maker said the Belmont didn't come into focus until about 10 days after the Preakness, after he watched the horse and discussed options with the owners, Skychai Racing and Starlight Racing.
"My theory was that the horse couldn't be doing any better," he said. "He had a bad go of it in the Preakness, and I kind of passed the ball to them. I said, 'I can't give you any reason not to run,' and here we are. They came out and saw what I saw, and they were excited to have the opportunity to run. We have a happy, healthy horse, and they were on board to give it a shot."
General a Rod joins Kentucky Derby and Preakness winner California Chrome and Preakness runner-up Ride On Curlin, who was seventh in the Derby, as the only horses to compete in all three legs of the Triple Crown. On May 31, General a Rod had a bullet five-furlong work in 1:00.20 at the Churchill Downs training center.
"It's a tribute to his soundness, I guess," Maker said. "We have a lot of confidence going into this race. I'd love to be the spoiler, that's for sure."
* * *
Though a New York-bred hasn't won the state's signature race in 132 years, Samraat has recent history in his favor heading into Saturday's Belmont Stakes. Since 2000, seven horses have run in the Kentucky Derby, skipped the Preakness and passed the "Test of the Champion," including last year's winner, Palace Malice.
A homebred of Leonard Riggio's My Meadowview Farm, Samraat will also have the comfort of familiar rider Jose Ortiz on his back. The 20-year-old native of Puerto Rico has been aboard the Noble Causeway colt in each of his seven career starts.
"He has all kinds of confidence that he can do anything he wants on him, and he's a very responsive horse," trainer Rick Violette said. "He's a rider's dream, because you can move a couple times and go into neutral. They're a good match. He rode a terrific race in the Derby, no question. We're very confident we'll get a good trip."
Samraat has not raced since finishing a creditable fifth in the Derby, beaten a nose for fourth by Wicked Strong after running near the early pace. Violette, who was third in the Belmont with Citadeed in 1995 and 10th with High Finance in 2006, opted to skip the Preakness and point for the Belmont.
It will be the Belmont debut for Ortiz, who entered today's card third in the local jockey standings with 21 wins - just four behind leader Javier Castellano - and fourth with more than $1.3 million in purses.
Of modern-day jockeys, 12 have won in their Belmont debut including Hall of Famers Braulio Baeza (1961), Steve Cauthen (1978), Bill Hartack (1960), Craig Perret (1987) and Bill Shoemaker (1957). The most recent to do it was Jose Valdivia with Ruler On Ice in 2011.
Cauthen's victory came with Affirmed, the 11th and last horse to sweep racing's Triple Crown, an exclusive club California Chrome is looking to join on Saturday.
"There's a lot of good horses in the race. It's not going to be an easy race for California Chrome," Ortiz said. "We've got a good chance. I like my horse. He always tries, and he has a big heart. I know he can do it."
Ortiz has seen a steady progression in Samraat, who opened his career with five straight wins including the Grade 3 Withers and Grade 3 Gotham before finishing second in the Grade 1 TwinSpires.com Wood Memorial on April 5 prior to his Derby effort.
"He has matured every race, a little more each time," Ortiz said. "In the Derby, he got a beautiful trip. He got a lot out of that race, hopefully. He's been relaxing pretty good. He's going to have to relax going a mile and a half. If he breaks good, he'll be OK. I think he can win."
* * *
For a brief moment on the first Saturday in May, as Commanding Curve came thundering down the stretch at Churchill Downs, Terry Finley allowed himself to get excited.
A former U.S. Army Ranger who founded West Point Thoroughbreds in 1991 and serves as its president, Finley watched as Commanding Curve rallied from well back to beat 17 other horses in the Kentucky Derby, finishing just 1 ¾ lengths behind winner California Chrome.
"It was incredible. Really, we had about six or eight seconds where I thought we were going to win the Kentucky Derby," Finley said this morning. "A good buddy of mine told me in most years, that move wins the Kentucky Derby. It was a pretty special feeling to know that we were in the running. All the credit to California Chrome; he got the job done. He outran us, no ifs, ands or buts."
After skipping the Preakness, Commanding Curve will get another shot at California Chrome in Saturday's Belmont Stakes. It is the second straight year West Point will be represented in the final leg of the Triple Crown, and fourth overall. Its best finish came with Macho Again, fifth in 2008.
"We could not be happier. You're not going to run in the Belmont Stakes if you're not really happy with the way the horse is doing," Finley said. "We know we have to run a mile and a half. That's a really tough test, and we wouldn't do that if we didn't think he was doing very well. All systems are 'go.' We're not going to have any excuses. We've had a good break, five weeks. We hope that is a little bit of a difference-maker, and that the difference puts us in front of California Chrome."
Finley said the Preakness was never really considered for Commanding Curve, third in the Grade 2 Louisiana Derby on March 29 for trainer Dallas Stewart, who also brought the Derby runner-up to last year's Belmont, finishing ninth with Golden Soul.
"Certainly with the euphoria and all the hoopla surrounding the Derby, you very quickly start thinking about the Preakness because it's only two weeks," he said. "The very next day we put a circle around the Belmont. We really wanted to take [the Preakness] off the table so we didn't get tempted and say, 'Let's just go to Pimlico.'"
Instead, Commanding Curve continued to train at Churchill Downs until his May 29 arrival in New York, where he had a sharp half-mile breeze in 47.38 seconds on Sunday. Seven Belmont winners since 2000 have won the race after running in the Derby and sitting out the Preakness.
"Sure we'd love to win," Finley said. "We know if we don't win, we're like most of the other connections; we want California Chrome to win if we don't. What I'm hoping for and wishing for and asking for, in my mind, is just to have a shot at the quarter pole. If we get there or not, that would be a really, really cool thing to have a shot at the quarter pole, so we have a rooting interest for the last 26 seconds."
* * *
Trainer Dale Romans considers the Grade 1 Blue Grass Stakes on April 12 the best race of his Belmont Stakes entrant Medal Count's life. Eight days prior to the Blue Grass, in which Medal Count made a huge sweeping move six wide to finish second, the Dynaformer colt won the Grade 3 Transylvania, also at Keeneland. With the success on short rest in mind, Romans worked Medal Count six furlongs in a bullet 1:10.60 on May 31 at Churchill Downs before shipping to New York. "I never had a horse in my career that went three quarters in 1:10," Romans said. "The last was [Whitney Handicap and Dubai World Cup winner] Roses in May. I wanted a good stiff work. His best race was the Blue Grass, and I wanted to simulate that [short rest]." Romans was relatively quiet for a while after Medal Count finished eighth in the Kentucky Derby and didn't commit to the Belmont until May 27. The race, however, "wasn't a late decision at all," he said. "I didn't talk a lot about it, but I knew what I was doing. I trained him like he was running here starting the day after the Derby."
* * *
For much of this past week, multiple stakes winner Kid Cruz was listed as a possible entrant for the Belmont Stakes, but Linda Rice said that, in the end, skipping the race in favor of the $150,000 Easy Goer on the undercard was the right move. "It was not that tough," Rice said of the decision. "We figured off that race in Maryland [an eighth-place finish behind California Chrome in the Preakness Stakes], he should be in against something other than the toughest horses in America." Kid Cruz, who won the Private Terms and Federico Tesio this spring before trying the Preakness, is the 5-2 morning-line favorite in a field of nine 3-year-olds for the 1 1/16-mile Easy Goer. The race came up tough, with a promising group of horses looking to have an impact in the division in the second half of the year. Second choice at 3-1 is Legend, a James Bond-trained son of Tiznow who broke his maiden May 4, earning at Beyer Speed Figure of 97 going at mile at Belmont Park. Rice hopes the Easy Goer is a springboard to greater things for Kid Cruz down the road. "The Belmont would be a thrill to be a part of, and I know from experience it's better when you're competitive," Rice said. "Right now, we're pointing to run [in the Easy Goer], and we'll look forward to the Jim Dandy and Travers and hope we have a horse good enough to run then." * * *
A day before California Chrome attempts to become the first Triple Crown winner in 36 years, Hall of Fame trainer Nick Zito reflected on two Triple Crown bids spoiled by his horses, and what it might take to finally end the drought. Zito first won the Belmont Stakes in 2004 with Birdstone, who thwarted Smarty Jones' bid for the Triple Crown in the waning stages of the race. In 2008, Zito won again with Da' Tara, while Triple Crown hopeful Big Brown was pulled up on the far turn. "Our stable is different," said Zito. "You might say, 'What do you mean?' At the time of our first one, we had five seconds. Five seconds in the Belmont. Our stats are two wins, seven seconds, couple of thirds. Our stable is different. Were we confident? Just about every time we run a mile and a half, in our head, we know we've got a little bit of a chance. It's the way we run our stable and the way we prepare them." Zito's outstanding record in the Belmont Stakes puts him in rarefied air. In the case of California Chrome, he believes racing fans may witness something special on Saturday. "It's a very interesting scenario with that horse, the way he trains," Zito said. "They say that's the way he goes, the way he trains. Boy, those workouts are tremendous. I don't care what anybody tells me. That horse is smooth as can be, when he works, when he gallops, whatever." How California Chrome handles the additional two furlongs he's asked to run in the "Test of the Champion" is pivotal to his chances, according to the trainer. "It's just that last quarter of a mile because if you look, Smarty Jones was in front going a mile and a quarter, and that last quarter of a mile got him," said Zito. "It's different. Mile and a half, mile and a quarter. It's different. It's a different race. It's just longer, that's all it comes down to."
* * *
A survey of NYRA horsemen and former jockeys suggests that New York racing participants are firmly behind California Chrome in his quest to become the 12th horse to win the Triple Crown.
NYRA television analyst and former jockey Richard Migliore said he finds no flaws in California Chrome headed into the Belmont Stakes tomorrow.
"I really like California Chrome," said Migliore. "I came out to watch him train at Belmont Park after the Preakness, looking for some weakness, some chink in his armor. I haven't been able to find it. I think he has really thrived and flourished on the workload, and he may be coming into the Belmont better than he did the Derby and the Preakness."
Migliore said California Chrome's ability to adapt makes him difficult to beat.
"California Chrome looks like a jockey's dream," said Migliore. "He doesn't get rank, you can ask him to run to get position, when you put your hands down he settles, when you ask him again there's instant response. He looks like he'd be a blast to ride."
Jean-Luc Samyn, another former New York jockey, also is backing California Chrome.
"We have to go with California Chrome," said Samyn. "He sure looked like the best horse. It probably took a little out of him in the Preakness, but I sure think he recovered well and he sure looks like the horse who is going to do it."
Trainer Al Stall, in town to run Central Banker in Saturday's Grade 1 Metropolitan Mile, raved about California Chrome's physical condition, coming just short of guaranteeing a victory.
"I'm not going to go against the grain. I love California Chrome," said Stall. "I like the way he's coming up to the race. That picture I saw this week of the size of his neck compared to a few months ago was amazing to me. That tells you the horse is in such great physical form, and obviously, his numbers are great. A clean break, and it is all over."
Trainer John Kimmel went as far to give out a cold exacta.
"I like The Chrome," said Kimmel. "I like The Chrome coupled with Wicked Strong in a straight exacta."
Hall of Fame conditioner Shug McGaughey, who ended Sunday Silence's Triple Crown bid when he sent out Easy Goer to a dominant victory in the Belmont Stakes, also made California Chrome and Wicked Strong his top two selections.
"[My pick is] California Chrome," said McGaughey. "He's training good here, last three races have been great. The percentages say 'no.' I think Wicked Strong has trained awfully well. That's who my picks are."
Nick Zito likes California Chrome but isn't comfortable playing him exclusively on top in his superfecta. Zito, a member of the Hall of Fame, won the 2004 Belmont with Birdstone, who narrowly beat Kentucky Derby and Preakness winner Smarty Jones, and four years later posted a huge upset with Da' Tara when Triple Crown hopeful Big Brown was eased.
"I want to take the superfecta: California Chrome, Samraat. Wicked Strong, and Ride On Curlin," said Zito. "And that's a wrap. A box, of course."
The only outlier in the survey was trainer Kiaran McLaughlin, who took the 2006 Belmont with Jazil.
"[My pick is] Tonalist," said McLaughlin. "I just think he's fresh, a very nice, talented horse."