• Desormeaux rides Exaggerator Tuesday in final work for G1 Belmont • One year later, Baffert 'glad to be a part of history'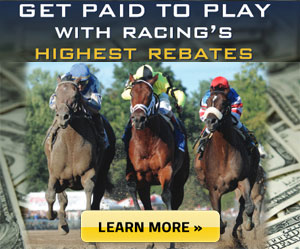 • Hennig hopes that lightning will strike twice with Strike Charmer • Pletcher weighs post position relevance in Belmont • 'All is good' for Creator, Gettysburg
ELMONT, N.Y. - Reunited with Hall of Fame jockey Kent Desormeaux for the first time since their 3 ½-length victory in the Grade 1 Preakness Stakes May 21, Exaggerator breezed five furlongs Tuesday morning in his final work prior to Saturday's 148th running of the Grade 1, $1.5 million Belmont Stakes.
The likely favorite for the Belmont, at 1 ½ miles, the last and longest leg of the Triple Crown, Exaggerator went out at 8:45 a.m. following the renovation break and completed the distance in 1:00 4/5 over a fast main track at Belmont Park.
"I think the best answer I can say is, in comparison, he was the same. Good energy, lots of fluidity," Kent Desormeaux said. "So, all systems go."
It was the first work for Exaggerator since a week before his second-place finish in the Grade 1 Kentucky Derby May 7. He came back two weeks later to upset previously undefeated Derby winner Nyquist in the Preakness at Pimlico Race Course, arriving in New York on May 29.
"That's a good thing being the same after two races in a little over four weeks today. It'll be five weeks on Saturday," trainer Keith Desormeaux said. "As a trainer, the time is of secondary importance. You want to see the horse recover after the work. If I get back to the barn and he's bug-eyed and he's sweating and he's panting, then that means he struggled over the track. When I got back to the barn, his sweat had already dried up. He had a nice calm, confident look in his eye and he was under control, so it looks like we're in good shape."
His connections continue to praise Big Chief Racing, Head of Plains Partners and Rocker O Ranch's Exaggerator for his ability to recover quickly, morning or afternoon.
"[After the work] his recovery was 20 feet. He took a deep breath, I turned him around, he sucked some air in and walked home like he had just been stable walking," Kent Desormeaux said. "He did switch leads early. I probably knocked him off balance. It was probably my fault. It was no concern of mine. I gave it to him, he floated the turn for maybe 20, 40, 50 yards, I asked him to come back to center which for me is the two path. He straightened away to the eighth pole, I asked him to quicken and he was full of life and full of speed."
Keith Desormeaux, starting his first horse in the Belmont, a race his brother won in 2009 with Summer Bird, watched the breeze from the box seat area at the finish line above the winner's circle.
"[Kent] made the perfect comment to me when [he] said he has never been on his left lead that long. That's exactly right. These are huge, sweeping turns here. He wasn't accustomed to being on that left lead that long, so that's why he switched to his right early at the five-sixteenths pole. It's a perfect reason," Keith Desormeaux said. "Regardless, it wasn't a concern."
Entries will be taken and post positions drawn Wednesday at 11 a.m. at the Rock Center Café and Summer Garden in Rockefeller Center in Manhattan.
Exaggerator is expected to head a field of 13 along with Brody's Cause, Cherry Wine, Creator, Destin, Forever d'Oro, Gettysburg, Governor Malibu, Lani, Seeking the Soul, Stradivari, Suddenbreakingnews and Trojan Nation.
* * *
Even though a year has gone by since American Pharoah became only the 12th Triple Crown winner and the first in 37 years, the moment remains resplendent for Bob Baffert.
"We're glad to be a part of history," said the Hall of Fame trainer by phone from his Southern California base.
With Baffert not having an entrant in the 2016 Belmont Stakes, things are significantly quieter at Barn 1, where he always stables his horses when they run at Belmont Park.
"It is a different feeling this year. I'm thinking back on last year, about all of the excitement and what Pharoah brought," he said. "Coming into the Belmont, we thought everything was going well, but you never know until the gate comes open."
No one understands that better than Baffert, who won the 2001 Belmont with Point Given but missed capturing Triple Crown glory three times when Silver Charm (1997), Real Quiet (1998) and War Emblem (2002) - all favored to win - fell short in the Belmont.
"The main concern was to just get him out of the gate. We wanted that clean break. When you're waiting and waiting, you're thinking about War Emblem [who stumbled badly at the break and lost all chance of winning]. You're thinking about all of that. You're thinking about all of those horses [who won the Kentucky Derby and Preakness but failed in the Belmont], like Big Brown. There was no way Big Brown could lose, but things can go wrong," Baffert said.
For American Pharoah, who would go on to complete the first "Grand Slam" with a smashing victory in the Breeders' Cup Classic in his final race in November, and owner/breeder Zayat Stables, Baffert and Espinoza, everything went right.
"We were all pretty relaxed [the week leading up to the Belmont] because it was all going so well. I knew going in there if he shipped good...and then the first time I saw him [after arriving from California], he was just incredible. The first day he galloped over that track at Belmont, he just went over it so nice. He just kept his cool. Then the way he went to the paddock, he was so cool and did everything else so nice," said Baffert.
On race day, once Baffert tightened the girth on American Pharoah and gave Espinoza a leg up, confidence soared.
"When Victor got on his back, he could feel the power. Once he felt that power, Victor looked at me like, 'Wow. I think he's really gonna be good today.' The minute he got on him, he could tell. He just felt this incredible power underneath him. After that, Victor just smiled and waved at people."
Even so, Baffert's heart was in his mouth when the gate sprung open.
"Pharoah sort of stepped back, and that was the worst break he'd ever had. He was stepping back right when the gate opened, but Victor gathered him up and got him going. That was the only moment that I was worried," Baffert said. "Once he got him out of the gate and got him rolling, I thought, 'This is really going to be enjoyable to watch.'"
Baffert, along with the Zayat family, will be at Belmont Park on Thursday for a live Q&A, from 5:30 to 6:30 p.m. in the horsemen's lounge on the second floor of the grandstand, free with paid admission.
* * *
Last year's Grade 1, $700,000 Longines Just a Game was the race that marked Tepin as something extra special and put her on the road to a multiple Grade 1 winning season capped by her decisive victory in the Breeders' Cup Mile and champion turf female honors.
Trainer Mark Hennig has considered the possibility that this year's one-mile Just a Game could serve as a similar springboard for Strike Charmer, who comes into the race fresh from a big effort while winning the Grade 3 Beaugay Handicap at 1 1/16 miles over the Belmont Park turf course May 14.
"That affected our decision [to enter], too," he said. "Obviously, with what Tepin did last year and Miss Temple City [who also ran well in 2015 filly and mare grass stakes in New York] now both going to Ascot, it opened the door for us in making the decision."
Among the international stars expected to run are former Canadian Horse of the Year and Queen's Plate winner Lexie Lou, who is a stablemate of Tepin in trainer Mark Casse's barn, and Irish invader Irish Rookie, but none have scared away Hennig.
"She's doing great and this is a natural progression for her after winning that last race over this course. This one is a little shorter, which isn't necessarily what she prefers, but we felt like as far as Grade 1s go, it was a good opportunity to try Grade 1 company," he said.
Hennig has only had the 6-year-old Cortlandt Farms homebred, who is by Smart Strike out of the Storm Cat mare Cat Charmer, since September. She was previously trained by David Carroll, now an assistant in one of Casse's many divisions.
"She was at Cortlandt Farm in Kentucky. She's been great and is an easy filly to train," Hennig said. "I've found that keeping her fresh has helped her a lot. It always takes you a little while to find your way with one, but at the age of 6 she's running some of the best numbers of her life, which is encouraging."
Joel Rosario will ride the mare for the first time.
* * *
On the eve of the Belmont Stakes draw, trainer Todd Pletcher said as the field grows - 13 are expected to enter the final leg of the Triple Crown when it's drawn tomorrow - post positions become more relevant.
In years past, Pletcher has occasionally remarked that post positions have not concerned him too much given the 1 1/2-mile distance of the Belmont and the fact that there is an ample run from the starting gate - three-sixteenths of a mile - into the first turn.
"I normally would say that, but this year it's getting to the point where the field size could have some effect on it," Pletcher remarked.
When asked what posts he would prefer for Stradivari and Destin, who he anticipates will both be in "prominent stalking positions" during the early running, Pletcher said, "Somewhere in the middle."
In the two Belmont Stakes won by Pletcher, his horses have had outside posts. Rags to Riches, the 2007 winner, was 7-of-7, while Palace Malice won from post 12 in a 14-horse field in 2013.
Since 1905 the winningest Belmont Stakes post is 1, which has yielded 23 winners.
Both Stradivari and Destin made a rare appearance on the main track Tuesday morning and galloped to their trainer's satisfaction. He said he wasn't sure whether they would gallop again on the main track or return to their usual morning surface, the training track, on Wednesday. Both Belmont hopefuls will school in the paddock tomorrow at 11:30 a.m.
* * *
Trainer Steve Asmussen will have two entries in Saturday's Grade 1 Belmont Stakes after it was announced on Monday that WinStar Farm's Gettysburg will start in the "Test of the Champion." Joining fellow Belmont probable Creator, Gettysburg has settled in to his new barn nicely, according to his connections.
"All is good and we're hoping to keep it that way," said Toby Sheets, assistant to Asmussen.
Gettysburg and Creator make Asmussen, who will be inducted in the National Museum of Racing's Hall of Fame this summer, one of three trainers to have multiple starters in the Belmont Stakes. He joins Todd Pletcher, who will saddle Destin and Stradivari and who also trained Gettysburg before Asmussen, and Dallas Stewart, who will send Forever d'Oro and Seeking the Soul.
Sheets said the pair will gallop later in the week on the training track and that Creator will paddock school on Thursday.
"We're schooling him on Thursday. I don't know what race yet until tomorrow," Sheets said. "It'll be just a routine gallop, nothing fancy."