• Maiden runner Presumptuous 'taking a shot' in G1 Beldame • Oscar Performance paddock schools ahead of G1 Joe Hirsch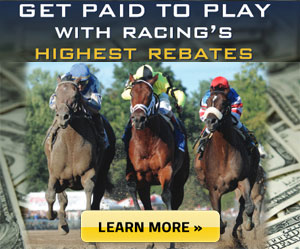 • Verve's Tale hoping for two-turn success in Beldame • Desert Stone set for stakes debut in G3 Pilgrim • Money'soncharlotte looks to stay perfect this year in Beldame • NYRA successfully in compliance with updated IRS regulations • JCGC Day to feature Breast Cancer Awareness Luncheon
ELMONT, N.Y. - William Clifton's filly Presumptuous, a maiden through 14 starts, will make a significant jump in class in Saturday's Grade 1 $400,000 Beldame. Although the 4-year-old filly by Midnight Lute hasn't visited the winner's circle yet in her career, her affinity for Belmont, and her ability to hit the board with six second place finishes and three thirds gives her and her trainer H. James Bond a chance to prove herself amongst the best.
"To be honest with you, she seems to have 'seconditis,'" said Kevin Bond, assistant trainer and son of James Bond. "She's been kind of coming into her own at Saratoga, and she actually just shipped in a few days ago. Pops is pretty optimistic. It's not like we think we can win it, but we're pretty confident we can maybe hit the board, get a check maybe make her worth something for Mr. Clifton.
"He's had some luck with turning mares with some sort of pedigree into a bit of a residual value, or taking them to the sale at Keeneland, but we'll see, she seems to like Belmont," he continued. "She ran pretty good against a couple of good fillies back here in May. She's competitive. We're taking a shot. It's cool to be in it, like I said I don't think she's better than anybody else in there, but she's definitely competitive."
Presumptuous has been progressing since the spring, and hasn't finished off the board since April 5, when she improved from her fourth-place finish over the inner track to a runner up finish at a mile against $60,000 maiden special weight company. Since then she repeated that placing at Belmont, and checked in for third before she ran three straight second place finishes at Saratoga, her home base.
"It's like she doesn't know, she likes to run second, or whether she gets tired that last 20 yards but that's what she's been doing, so I can understand why he wants to take the shot, and I guess there's only so many opportunities you get to take to increase their value like that," Kevin Bond said. "I've taken her to the track the last couple of days myself, and she's better than I've ever seen her. I feel like if we were going to take the shot at any time this would be the time to take the shot. We're not scared of anybody, and she can cover the ground." * * *
Amerman Racing's multiple Grade 1 winner Oscar Performance paddock schooled Friday morning on the eve of the Grade 1, $500,000 Joe Hirsch Turf Classic.
Trainer Brian Lynch said the 3-year-old son of Kitten's Joy looked ready for his first test against older horses in the 1 ½-mile route on the Widener turf. Oscar Performance, who has won his last three starts, including a victory in the Grade 1 Secretariat on August 12 at Arlington Park, will face a formidable 11-horse field in a race that is a "Win and You're In" qualifier for the Grade 1, $4 million Longines Breeders' Cup Turf on November 4 at Del Mar.
Oscar Performance was brought to stall 3 - what Lynch said is his lucky stall - before going once around on a picturesque fall day under the morning Belmont sun. Oscar Performance is the 3-1 morning line favorite and the only entrant without Lasix.
"He's been training great and we're excited to see him get his shot against older horses," Lynch said. "We'll give him a nice bath tomorrow and he'll look really good on television. He's a big, strong guy and we'll see what happens." * * *
Charles Fipke's Verve's Tale is ready to return to graded stakes company after winning the Summer Colony on August 20 at Saratoga, trainer Barclay Tagg said Friday morning.
Verve's Tale drew post 2 in Saturday's Grade 1 Beldame for fillies and mares 3-years-old and up. The 4-year-old daughter of Tale of Ekati should relish the 1 1/8-mile distance on the main track, Tagg said.
"She's been training real good and we're very happy with her. It's a tough race, so we'll see," Tagg said. "We have confidence and I think she likes the two-turn tracks a little better. She's been better here so far. She's done great and safe and sound."
Verve's Tale, who is 6-1 on the morning line, will be making her third straight start of the current campaign at Belmont after finishing fourth in the Grade 2 Ruffian on May 13 and fifth in the Grade 1 Ogden Phipps on June 10, Belmont Stakes Day. She has been training at Belmont since the start of the month, which Tagg said could be beneficial.
"You'd much rather lead them over than ship them," Tagg said.
Saturday will also mark the debut of Verve's Humor, who will run in a maiden special weight in Race 3. Also owned by Fipke, the 2-year-old colt by Distorted Humor has breezed four times on Belmont's main track this month after training in Saratoga over the summer.
"We've just been training him and training him and haven't seen what we'd like to see yet, but we thought it was time to give him a race," Tagg said. "He's been getting better but we haven't gotten too excited about it yet. I don't want to say anything and put any [pressure] on him."
Verve's Humor will be competing in an eight-horse field, drawing post 7. Manny Franco will ride. * * *
Trainer Rudy Rodriguez said he is curious to see how Desert Stone handles the step up in class in his stakes debut Saturday in the Grade 3, $200,000 Pilgrim for 2-year-olds at 1 1/16 miles on Belmont Park's inner turf.
Owned by Zayat Stables, Desert Stone rallied from eighth at the top of the stretch to finish second, just two lengths behind Maraud, in his debut at 1 1/16 miles on turf September 2 at Saratoga Race Course.
Since then, the Irish-bred juvenile breezed on Saratoga's turf training track before shipping downstate, where he breezed four furlongs in 48.56 seconds last Saturday on Aqueduct Racetrack's main track. Desert Stone drew the rail in the eight-horse Pilgrim and is 12-1 on the morning line.
"He's been training good, and the owners wanted to take a shot, so we'll see how he does," Rodriguez said. "He seems to be getting better with his [works]. It's a tough step but we think he can handle the distance again. Breaking from the inside should help. It's a good test and we'll see where we are with him."
Jose Ortiz will have the call for the first time. * * *
Money'soncharlotte will put her four-race win streak on the line in the Beldame, marking her first graded stakes start since winning the Grade 3 Molly Pitcher on July 30 at Monmouth Park.
Trainer Kelly Breen said by phone Friday morning that he's been impressed with the 5-year-old daughter of Mizzen Mast's 4-for-4 start to her current campaign.
"She is just putting it all together and having a great year," Breen said.
As a 3-year-old, Money'soncharlotte faced top-caliber competition, earning third-place honors in the 2015 Grade 2 Gazelle but finished 13th in the Grade 1 Kentucky Oaks and eighth in the Grade 1 Mother Goose. As a four-year-old, she dropped down to allowance optional claiming races. But this year, the Kentucky-bred has improved at every level, starting the year with an optional claiming victory on April 8 at Parx before winning the Lady's Secret on July 2. A 1 ¼-length score in the Molly Pitcher preceded a victory in the Lady Jacqueline last out on August 19.
"She did run in the Kentucky Oaks, I know she was the longest shot on the board, but I think the caliber of running in the Kentucky Oaks makes you think that you have a nice horse and it might be a year and a half late, but she has finally put it together," Breen said.
Money'soncharlotte drew post 5 in the Beldame and will have the services of Hall of Fame jockey John Velazquez.
"She doesn't have to be on the lead. I think we have a nice post," Breen said. "The speed looks like it is inside of us, which is where we want to be. It's all in Johnny's hands." * * *
The New York Racing Association, Inc. (NYRA) quickly moved to be in compliance with updated tax regulations for reporting and withholding rules for pari-mutuel wagers placed through NYRA Bets and at NYRA tracks in time for live racing Thursday at Belmont Park.
Under these new regulations, adopted this week by the U.S. Treasury Department and the Internal Revenue Service (IRS), the amount that is reported or withheld for tax purposes is determined by a bettor's total investment into a pari-mutuel pool. Previously, the amount reported or withheld for tax purposes was determined only by the winning base wager amount.
While the reporting thresholds remain unchanged, the frequency with which reporting and withholding requirements will be met under these new regulations will be greatly diminished.
For example, a winning $2 Pick 6 ticket that paid more than $5,000 would have had taxes withheld, even if the total investment was $100. Now, a $100 Pick 6 wager will only have taxes withheld if the winning payout is over $30,000. * * *
On Saturday, October 7, in conjunction with "Super Saturday" at Belmont Park, highlighted by the 99th running of the Grade 1, $750,000 Jockey Club Gold Cup, the New York Racing Association will be offering a special, all-inclusive package featuring admission, a Post Parade program, track-view preferred seating, a lunch buffet, and a complimentary clock featuring the silks of every Triple Crown winner for $50 per person. A portion of this special package will be donated to the Breast Health Center at Winthrop-Hospital.
Representatives from Winthrop's Breast Health Center will in attendance on October 7 to provide information for fans and attendees. To purchase this special luncheon package supporting the Breast Health Center at the Winthrop-University Hospital, fans are encouraged to contact the Belmont Park box office at 844-NYRA-TIX. Tickets are limited and will be available on a first come, first served basis.