Trainer Bob Baffert (American Pharoah, post position 5, 3-5 morning line): "I don't really think it's a horrible post position. I've always liked the five. It's one I've had good luck with. The main thing is that the horse is doing well; I think that's the most important thing. He's doing great, but we still have to get around there." "I think we don't know until it happens. A mile and a half is very foreign for most of those 3-year-olds and for me. We're just going to get him ready and if he's great he'll get it done."

"I don't know how I'm going to feel about it. I don't think about it because I know how tough it is so I never get ahead of myself. I want to win it for the horse because the horse is deserving of it. He's an exciting horse to watch and he's an exciting horse for me to train the way the does things easily. There's a lot of pressure. Right now we just want to stay focused. The horse is happy and healthy. I have a great team around me. We're enjoying New York right now. New York is just amazing every time I come here. It's just a lot of fun. There's a really good vibe behind this horse."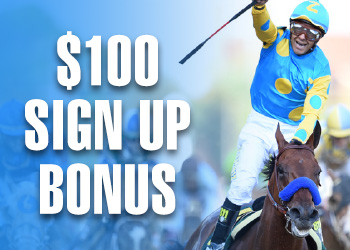 Jockey Victor Espinoza (American Pharoah, PP 5, 3-5): "I am very happy with the draw. Number five is a pretty good number. I'm here again. I've come here twice and I'm feeling lucky this year. The third time is the charm. American Pharoah is always special. From the first time (Bob) Baffert put me on, he was special."
Owner Ahmed Zayat (American Pharoah, PP 5, 3-5): "We are very honored and very blessed to be here. I think this is going to be a rider's race. It's a small but tough and talented field. I personally think that this year's three-year-old crop is unbelievably talented. I think the horses deserve to be there. I'm a horse fan before anything else, and I have tremendous respect for a lot of them."
"It's going to be a rider's race. Going a mile and a half, nobody has won at that distance. They are very young. I'm confident in the ability of American Pharoah because the horse is giving me that confidence. I'm not arrogant about it. I think that he's a special horse. What makes him special, in my opinion, is the way he moves. He's the best-moving horse I've ever seen and he does everything so easy. His stride and the way he's going into carry himself will allow him to get any kind of distance. We are coming in the best we could. Bob did a brilliant job as well as the entire team preparing him. The horse looks very healthy and very happy. We're going in with no excuses. It's an incredible feeling to go in confident that you have the horse to beat."
Trainer Kiaran McLaughlin (Frosted, PP 6, 5-1): "I didn't think there was going to be a bad draw for us and am happy that we drew post six in an eight horse field. No excuses. We weren't looking for any specific draw but in the middle is always a great place to be. In a mile-and-a-half race, they will all have plenty of time to sort it all out. Materiality drew well, eight of eight, as did American Pharoah, five of eight, and they'll probably be the first two into the first turn and we'll probably be third to six and from there we'll let Joel (Rosario) work it out. I'm just glad the sun is out so we can train properly. The last couple of days we've had to jog and now we'll gallop the next few days. Frosted is doing just super and we're excited about the race."
Trainer Todd Pletcher (Madefromlucky, PP 3, 12-1; Materiality, PP 8, 6-1): "I'd envision Materiality being close to the pace and Madefromlucky maybe in mid-pack. I think with Materiality, if you look at his first three races he's always been close to the pace and unfortunately missed the break at Churchill and found himself in a position he'd never been in. I like the fact that we drew outside of American Pharoah. We're going to make sure we break well this time and go into the first turn trying to make sure there's an honest pace."
"I think (post 3) is fine (for Madefromlucky). I don't think it was important for him where he drew. I think he'll appreciate the mile and a half. One of the things we're hoping is that because in his previous races he didn't run the turns very well, and because he seemed to run the turn much better at Belmont, that it'll be a positive. It's kind of a bigger, sweeping turn. He needs to keep improving. I think his last race was his best and he's trained well since then."
Trainer Mike de Kock (Mubtaahij, PP 1, 10-1): "He's done well. The fact that he's been settled in one place for a few weeks now has made a difference to him. I'm very happy with the way he's going and training. As opposed to the Derby where he had a lot of changes going into the race, everything has been pretty consistent this time, which I think makes a big difference."
"I think all the traveling and all the changes like feed, surroundings, changes, no one really wants to go through that going into a race like the Derby. Unfortunately those were the hoops he had to jump through. It's far more advantageous to be at Belmont and settled." "I don't think a mile and a half is a problem at all. He's by Dubawi and there's a lot of stamina in his family. The way he won the Derby in Dubai I'd be shocked if he didn't get the distance. He did win from drawing (post) one in Dubai, but I'd rather be on the outside to be honest. We've got a rider that knows his way around the track. You've got to leave it to the rider."
Trainer Dallas Stewart (Tale of Verve, PP 2, 15-1): "I liked him all winter but after he won at Keeneland, it was a mile and three-sixteenths, I just saw that he cooled out great and the stamina that he has. We just took a shot (in the Preakness). The horse continues to develop. He's a big, strong horse, sound, so here we are. The post is fine. We brought him here right after Pimlico and he's had some very good gallops. I just wanted to get him here. He's a very big horse, it's a big track, I just really felt like he would love it. I think he's pretty impressive. I like him."
Trainer Dale Romans (Keen Ice, PP 7, 20-1): "It's perfect. I like having another horse on each side of me when they all break and this gives my rider the time to figure it out. In an eight-horse field going a mile and a half, the draw isn't that big of a deal. But the important thing to me was having a horse on either side of me and we got that. My horse shipped great (yesterday) and is doing great since he got here and we'll be ready to go."
Owner Jerry Crawford (Keen Ice, PP 7, 20-1): "All of us who are running against American Pharoah on Saturday owe it to history, owe it to prior Triple Crown runners, owe it to American Pharoah, to be here to insure that if he wins the race on Saturday he will have earned it honestly and against great competition. I agree with Ahmed (Zayat), I believe this is one of the great 3-year-old crops and if American Pharoah can get a mile and a half on Saturday, all of our hats will be off to him. But, it's our job to do what we can to make the race honest."
Trainer Nick Zito (Frammento, PP 4, 30-1): "I don't think the post matters too much to us because we're coming from behind, so hopefully we'll get a good trip and go from there. We'll be all right. We'll get a good position and we'll be fine. I'll talk to (jockey) Mike (Smith) and leave it up to him. He'll definitely get the trip and hopefully he's good enough that day."