Anodin – see European report
Kaigun – Trainer Mark Casse said that gelding Mile contender Kaigun has helped the Canadian-bred son of Northern Afleet jump up from the optional claiming ranks into a Graded stakes winner this year.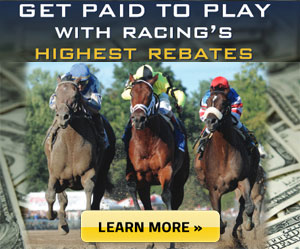 "He was a real nervous horse and he would wash out every time he got to the paddock," said the six-time Sovereign Award winner, who arrived first thing on Wednesday morning. "Now he's more relaxed, but he'll still get on his toes and get a little warm. Before he was a gelding, he would have a complete meltdown. Now, you can just throw him on a van and he'll got anywhere and run well.
Kaigun, who was second to two-time Horse of the Year Wise Dan at Keeneland in April in the Maker's Mile, galloped 1 1/2m in the morning under exercise rider Martin Rivera. With 16 starts under his girth, he won't need schooling during the week.
"He's an old veteran," said Casse. "He knows the drill by now."
Karakontie – see European report
Mustajeeb – see European report
Obviously – Obviously, the obvious candidate for pace-setter in a race in which he has played that role two years in a row, schooled in the gate, galloped 1m and went through the paddock Wednesday morning.
"I couldn't have asked for a more perfect scenario," trainer Phil D'Amato said. "He was perfect in the gate. He galloped nice and relaxed. I couldn't have him more perfect than he is now."
Sayaad – One man's misfortune can be another's fortune and Sayaad's connections are hopeful the cliché holds true in this year's Mile.
"With Wise Dan not being able to be here this year it really opens it up for others," Neil McLaughlin, the assistant trainer for his brother Kiaran McLaughlin, said of the two-time Mile champion and back-to-back reigning Horse of the Year, who is sidelined with an injury. "If Wise Dan had been in there, it seemed as though you were running for second place. Unfortunately, he is not able to join us, but fortunately, it opens the door a little bit more. Had Wise Dan not been in the Shadwell Mile, who knows?"
Sayaad, a son of 2006 Breeders' Cup Juvenile and 2007 Kentucky Derby winner Street Sense who is owned by Shadwell Stable, got beat for second in a photo his last time out in that race won by Wise Dan.
"Sayaad ran a great race that day," said McLaughlin. "He's the best he's been right now."
"I think it definitely took him a little time to come around and come into his own," McLaughlin said. "He's just a big strong horse and now everything has come together for him. He's peaking at exactly the right time."
Sayaad galloped 1½m Wednesday morning under regular exercise rider Pat Correa. McLaughlin said a lesson in the paddock may be in store for him on Thursday.
Seek Again/Tourist – Hall of Fame trainer Bill Mott's Mile prospects, Tourist and Seek Again, galloped 1 1/4m Wednesday morning.
Both colts shipped from New York on Monday and were restricted to light exercise Tuesday morning.
Mott said that Tourist, Seek Again and his other five horses have settled in and are doing well.
Tourist, a 3yo son of two-time Classic winner Tiznow, has emerged as a turf stakes horse this year after racing on dirt in 2013. He is making his first start since finishing as the runner-up to Adelaide in the Secretariat.
"Seek Again is more accomplished, but Tourist is a nice horse," Mott said. "He's a 3-year-old, but he's a pretty nice 3-year-old. He's Grade I-placed. Not a Graded winner, but Grade I-placed in his only chance in a Graded stakes. The horse that beat him came back and won the Cox Plate, which is a distance race. He beat us at a mile and a quarter and now we're back to a mile, which probably suits our horse better."
Summer Front – Thomas C. Moore's Summer Front was certainly in fine form over the summer, finishing second in three straight Graded stakes while competing against some of the same characters he'll meet again on Saturday afternoon.
The 5yo son of War Front is in career best form at the present, but the task at hand is still a tall one. Summer Front is 30-1 in the morning line and consequently, one of the three co-longest shots.
Christophe Lorieul, trainer Christophe Clement's top assistant said, "This is a very popular race and it is a tough spot, obviously."
Lorieul did not intend for his comment to be a double entrendre. Mile contender Obviously beat Summer Front by 1½ lengths two starts back in the Shoemaker Mile here in June and then he was bested by Tom's Tribute in the Eddie Read at Del Mar last time out in July.
He has never finished out of the money at the distance and has five wins with one second and one third in seven tries.
After arriving on Tuesday night with stable mates Tonalist, who runs in the Classic, and Irish Mission, a starter in the Filly & Mare Turf, Summer Front jogged once around the track on Wednesday morning and walked through the paddock under exercise rider Lee Vickers.
Toronado – see European report
Trade Storm – see European report
Veda – see European report
Mr. Commons – also eligible