Alsvid – Black Hawk Stable's multiple Graded stakes winner Alsvid jogged 1m around the main track for trainer Chris Hartman who is soaking in his first Breeders' Cup experience.

"I'm just overjoyed with the experience so far. This has been a lot of fun," Hartman said.

Hartman expects the dual Graded stakes winning son of Officer to come from off the pace in Saturday's race, which is his usual running style.

"There's enough speed in the race and he's going to be in a tactical position," he said. "With us drawing the rail, he shouldn't lose any ground so that should be to his benefit. Hopefully the rail's not dead."

Artemis Agrotera – One year after finishing a disappointing seventh at 9-2 odds, Chester and Mary Broman's Artemis Agrotera returns to the $1 million TwinSpires Breeders' Cup Filly & Mare Sprint without a race in the interim. A Grade 1 winner in each of her season of racing so far, the Mike Hushion-trained daughter of Roman Ruler will look to make it three in a row when she tackles the tall task of winning a Championship race off a 12-month layoff.

On Thursday she left Barn 62 and galloped on the main track. She is to school during the Thursday race card.

"I feel good about her," Hushion said. "She's full of herself and shipped much better than she did to Santa Anita last year. She's worked better than she ever has before and I had a decision to make and decided that she was good enough to run here. She has won two Grade Ones in her career and this could be the crowning jewel."

A winner of the Frizette at two, the New York-bred winner of five of eight starts will be making her third Breeders' Cup appearance. As a 2yo, she won the Frizette over subsequent multiple Grade 1 winner Sweet Reason prior to finishing troubled fifth in the Juvenile Fillies.

"The horse has shown me that the talent is still there," Hushion said. "She does things that most of the good horses I've trained couldn't do. How much of that she's going to show, we'll find out."

Barbados – Suzanne Stables' Barbados will be looking to make trainer Michael Tomlinson's first Breeders' Cup start a winning one. The 3yo son of Speightstown will also be searching for his first trip to the winner's circle since he won the Hutchenson Stakes at Gulfstream Park in January.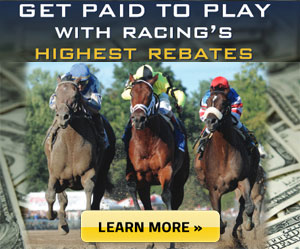 "We were elated when we drew in, very, very happy," Tomlinson said.
Tomlinson is hoping for a quick pace up front to set things up for his horse, who typically has a come-from-behind running style.
"We'll be off the pace," he said. "Hopefully it'll be a suicide pace up front and it'll set us up to come get a nice piece of it. We'll just have to see how it all set up."
Tomlinson went on to say that Barbados will run with a bar shoe in the Breeders' Cup Sprint.
"We'll have to run with a bar shoe on his right rear," he said. "He popped a little quarter so he's sound on it, everything's good, no excuse. He'll just run with a little bar shoe on him."
Judy the Beauty – Wesley Ward's champion Judy the Beauty continued preparing for a defense of her Breeders' Cup Filly & Mare Sprint title on Thursday morning with a jog around the training track and then a long grazing session on the hill beside Barn 60.
Trained by her owner, she will be making her third appearance in the Breeders' Cup, having finished second in the 2013 Filly & Mare Sprint behind two-time winner and champion Groupie Doll. A victory on Thursday would make her only the second dual winner. Trained at Keeneland throughout much of her season, Judy the Beauty was kept in training specifically to defend her title on her home track "Everything's great," Ward said. "We're very excited to run her at Keeneland. It's like Michael Jordan in the United Center. We are ready to go."
Private Zone – Good Friends Stable's Private Zone, the 5-2 morning-line favorite for the Breeders' Cup Sprint, left barn 68 and jogged one lap on the main track and then gallop another under assistant Juan Garcia. Under the tutelage of high-percentage trainer Jorge Navarro, the son of Macho Uno will look to sew up a championship season with a victory in the six-furlong dash.
"He's doing great," Navarro said. "He's ready. You should see him on race day. He puffs himself up and looks like a completely different horse. I think he actually intimidates other horses. He has an eye to him when it's time to race."
Runhappy – The 3-1 second choice on the Sprint morning line was exuberant in his gallop on the wet main track around 9:00 a.m. The 3yo Super Saver colt warmed up with a one-mile jog that included a respite halfway through so he could survey his surroundings.
"(Exercise rider Omar Torres) had a tough time pulling him up; he was really strong today," said Laura Wohlers, racing manager for owner Jim McIngvale. "He jogged a mile and we let him stop in front of the grandstand because we want him to get used to the crowds and the big screen TV (in the infield). He is kind of a 'Curious George.' He likes to look at everything, so the more you let him look, the better."
In addition to her role overseeing McIngvale's stable, Wohlers is a licensed trainer who conditioned Runhappy in his first two starts. For her, Runhappy won his career debut at Turfway Park in
December and was ninth in the LeComte at Fair Grounds in January. Since Maria Borell took over as official trainer, Runhappy is undefeated in four starts including the Phoenix Stakes at Keeneland on Oct. 2. Based at The Thoroughbred Center training facility just north of downtown Lexington, Runhappy arrived at Keeneland Wednesday morning.
Runhappy is scheduled to go to the main track Friday morning around 8:30.
"On race day (Saturday) he will jog to loosen up," Wohlers said.
Super Majesty – The 3yo daughter of Super Saver schooled in the paddock starting gate and galloped 1 1/2m on the Keeneland main track. Trainer Jerry Hollendorfer's assistant, Christina Jelm, reported that the three-time winner has been doing excellent since she arrived at Keeneland a month ago.
"Since she's been here at Keeneland the entire month training and every single day she is just blossoming, she's outstanding," Jelm said. "She gallops as light as a feather and she's just an unbelievable animal."
Taris – Michael Tabor, Derrick Smith and Mrs. John Magnier's Taris continues to give trainer Simon Callaghan confidence. A daughter of Flatter, she was purchased last fall at Fasig Tipton for $2.35 million on the merits of her nine-length romp in the Raven Run over the track and seven-furlong distance of Saturday's Breeders' Cup Filly & Mare Sprint.
Since being turned over to Callaghan, Taris the 4-year-old filly has placed in two stakes – including the Grade 1 La Brea at Santa Anita going seven furlongs – and won the Rancho Bernardino Handicap at Del Mar in three starts. Last out, she was third after dueling wide in the LA Woman at Santa Anita. On Thursday morning, she left Barn 62 and galloped on the training track.
"We're really happy with her," Callaghan said. "Sure there's pressure (training an expensive horse), but it's the kind of pressure you like to have. She's a class act and that makes it easier for you.
"She has trained great since she arrived," he continued. "We've gone to the training track for three days and we'll gallop (Friday) morning. She's won here and we know she likes the surface. She'll likely be pretty close to the pace. The three-hole forces her hand a little, but she likes to run pretty close to the lead."
Wavell Avenue – Trainer Chad Brown has an event-high 12 horses entered in this Breeders' Cup. Only one of the dozen races on dirt - Wavell Avenue.
The Canadian-bred daughter of Harlington has emerged as a capable sprinter this season and earned her trip to the Filly and Mare Sprint with a strong second in the Gallant Bloom Handicap on Sept. 26 at Belmont Park. She stumbled coming out of the gate, but recovered and mounted a rally to finish a half-length back of La Verdad with a career-high Beyer Speed Figure of 101.
Brown said the 4yo filly is a solid performer and could be a factor in the race.
"This horse is really doing terrific," he said. "She's been a pleasant surprise. Just the case of a horse getting better as she has gotten older and the trainer figuring her out, finally."
The improvement, he said, has come since he started putting her in the right type of races under jockey Joel Rosario.
"We found what she really wanted to do, cut back in distance and be a one-run sprinter," he said. "She wants to come off the pace and not be rushed. Joel has gotten to know her as well. "We've worked together in it with feedback from her races," Brown said. "If you told me in July that I would be running her in the Breeders' Cup with a chance to win a race, I'd have thought you were crazy. But here she is, coming off a lifetime best Beyer, a lifetime best Ragozin, the lifetime best physical shape when I look at her."
Brown said the speed figure stats indicate that she can deliver another good performance.
"She's worked sharp and her numbers haven't leapt forward. They have kind of come forward steadily. That tells me that she has enough foundation to at least pair up."
Wavell Avenue, purchased for $70,000 in a horses of racing age sale in the summer of 2014, has won three times this year and hit the board in six of eight starts. She is owned by Michael Dubb, David Simon and Bethlehem Stable.