Chad Brown (Big Blue Kitten, Slumber, Shining Copper) – All 12 of trainer Chad Brown's Breeders' Cup horses went to the track and galloped 1 3/8m Thursday morning.

While European star Golden Horn will be the shortest price on the board for the $3 million Longines Breeders' Cup Turf, Brown said he expects Ken and Sarah Ramsey's Big Blue Kitten - named after the colors of the nearby University of Kentucky -will be the local favorite.

"I would hope so, with a horse with such strong ties to Lexington," Brown said. "The horse was born and raised here by a family that is very prominent here in Kentucky. And they love their Big Blue Wildcats.

"Any advantage we can have, any large fan base, we'll take it. I always think that gives you a little edge."

Brown will saddle three Turf runners, two for the Ramseys, Big Blue Kitten and speedy Shining Copper, who is the set-up guy for late-running Big Blue Kitten. The Ramseys claimed Shining Copper for $62,500 on May 31 and Big Blue Kitten has won the two races they have run in together. Brown said he and Ramsey used a 'rabbit' with Big Blue Kitten earlier in his career and figured it made sense to take that route again.

"We thought that he was compromised on a couple of his races with no pace," Brown said, "so Mr. Ramsey made the decision that he wanted to have a solid pace every time he runs, even if it cost him some money. It was a big commitment to have an extra horse in the barn and to pay an extra entry fee for some big races, but he wants a pace for this horse. I think it's a good call; it works for him."

In addition to helping Big Blue Kitten, who set a Belmont Park track record in the Joe Hirsch Turf Classic in his last start, Shining Copper has delivered a return on investment. he has earned $141,000 in purse money since the claim.

Brown said there is no question what Shining Copper's tactic will be in the Turf.

"He's going to be in front," Brown said. "The horse will set the pace. He's in there to be the pacemaker."

Big John B – Michael House's winner of three consecutive races jogged 1 1/4m on the Keeneland training track for trainer Phil D'Amato.

Found – see European Report

Golden Horn – see European Report

Ordak Dan – Argentine-bred Ordak Dan was able to stretch his legs on the turf course today in preparation for his Breeders' Cup and U.S. debut in the Turf on Saturday. "He really, really liked the soft turf," said exercise rider Richard Castillo.

Castillo has been "baby-sitting" the strapping 7yo son of Hidden Truth leading up to the Turf. Since arriving in Kentucky, the horse was under the care of trainer Ignacio Correas until his trainer Juan Carlos Etchechoury arrived. Castillo is an assistant and exercise rider for Correas.

"He moved on it really, really smooth," Castillo said. "From what the groom in Argentina tells me, he does really well on the soft turf. It should dry some, but from the rain we've had, it should stay a little bit soft. He's doing good, he's feeling good. As of right now, all systems go."

Red Rifle – Twin Creeks Racing Stables' Red Rifle galloped over the Polytrack surface of the Keeneland training track Thursday morning to ready for a start in Saturday's Turf.

The Todd Pletcher-trained 5yo gelding, who had success while employing early speed in his career, has achieved success this season with a come-from-behind style that may well continue Saturday.

"I think his newfound, best running style is to drop back," Pletcher said. "So we'll let him do that." Red Rifle will have the services of jockey Javier Castellano.

"He excels in all areas, but you could argue that riding the turf is possibly his strong suit," Pletcher said of Castellano. "He has a knack of getting horses to settle and save ground."

The Pizza Man – Midwest Thoroughbreds' homebred The Pizza Man and jockey Florent Geroux teamed up for the first time since his final Breeders' Cup Turf work last Friday at 8:30 a.m. (at Churchill Downs) and galloped a mile on the training track. The team of Midwest, Geroux and trainer Roger Brueggemann will each be looking for their second Breeders' Cup victory in as many tries and in successive years, following Work All Week's victory in last year's Sprint.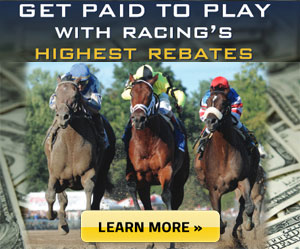 "He's settled in well," Brueggemann said.
Richard Papiese, principal of Midwest, is pleased with how his 6 yo gelded son of English Channel is doing.
"I'm not worried. The horse is doing great and it's a mile-and-a-half, so it's a rider's race and we have a great rider," Papiese said. "Golden Horn is tough based on his accomplishments, but also Slumber can be very tough. Big Blue Kitten is a good horse and you have to respect Red Rifle because it's Todd Pletcher and you know he's ready to run. (Found) is also very good, but you never know what to expect. There are great horses in there, but this is a great horse.
"I think he'll be off the pace on Saturday," Papiese continued. "There will be some pace. I would think he would be mid-pack, but we will see what everyone else does and it'll all depend on when he pulls the trigger."
Twilight Eclipse – If West Point Thoroughbreds' Twilight Eclipse were human and serving in the United States Army, his owner thinks he wouldn't be a regular foot soldier. He would be in the Special Forces.
"He would be a Ranger. This horse is special. He'd be at the heart and soul of the success of the military engagement," said West Point Thoroughbreds Founder and President Terry Finley, a United States Military Academy graduate and retired Captain who is also a graduate of the Army's Airborne and Ranger School.
Twilight Eclipse, whom Finley purchased privately for the partnership for a reported $100,000 after the horse's second start, has earned just shy of $1.9 million. On Saturday, the 6yo gelding will compete in his third straight Breeders' Cup Turf after finishing third last year and sixth in 2013.
"We're no different than the other owners who will stand in the paddock with their Breeders' Cup horses because we all consider our horses special, but we think Twilight Eclipse is very accomplished and is extraordinary to be running for the third straight year," said Finley. "When you are in the partnership business and spending other people's money, you have to produce. Whether you breed or you buy, you make mistakes. Very few make it to this level."
Twilight Eclipse doesn't only carry the stable's colors, he represents the brand.
I say 'I love you, Buddy' to this horse every day. He digs down deep and gives you everything he has every time he runs. He never cheats. It is that much more impactful to have a horse like him," said Finley. "The really good ones know they're something special. They've got the strut and swagger.
Tommy (Albertraini, the trainer) is with him every day and he tells me that with each passing year, this horse has gotten even more swagger."
"This horse was third last year and Awesome Gem, who ran in four Breeders' Cups, was fourth in the 2007 Classic. They are our best finishers yet (of 14 starters). It would be very neat to stand in the winner's circle with my partners, but I would love it for this horse to stand in the winner's circle. I hope he would know how much he's accomplished and how much joy he has given to so many people," said Finley.
Albertrani is making sure Twilight Eclipse will be combat ready on Saturday.
"The track was still a little loose this morning so he had a little jog and then galloped about a mile-and-a-quarter," said Albertrani, who will also tighten the girth on Ready for Rye before the Turf Sprint. "The main thing is that both of my horses have been doing really well since they've been here. They're good to go."
Finley said that he and partners Theresa and Lenny Viola have acquired an interest in Dirt Mile even-money favorite Liam's Map, who is being retired after the race and will head to Lane's End Farm to start his stallion career. Lenny Viola is also graduate of the United States Military Academy. West Point Thoroughbreds also has a strong rooting interest in the Sprint with Favorite Tale, who is trained by Guadalupe Preciado, one of the six main conditioners on the enterprise's roster.