Derby Winner Continues Quest to Become 12th Triple Crown Champion

BALTIMORE, 05-17-14 – California Chrome continued on his quest for a Triple Crown sweep Saturday at Pimlico Race Course, scoring a dominating victory in the $1.5 million Preakness Stakes (G1) to the enthusiastic approval of a record crowd of 123,469.

Two weeks after capturing the Kentucky Derby (G1) by 1 ¾ lengths, the California-bred 3-year-old colt received yet another heads-up ride from jockey Victor Espinoza on his way to a 1 ½-length triumph over Ride On Curlin in the 139th running of the Middle Jewel of the Triple Crown.

Trained by 77-year-old Art Sherman, California Chrome is eligible to become Thoroughbred racing's 12th Triple Crown champion in the 146th running of the $1.5 million Belmont Stakes (G1) June 7 at Belmont Park. The modestly bred California-bred colt will seek to join the company of Triple Crown champions Affirmed (1978), Seattle Slew (1977), Secretariat (1973), Citation (1948), Assault (1946), Count Fleet (1943),Whirlaway (1941), War Admiral (1937), Omaha (1935), Gallant Fox (1930) and Sir Barton (1919).

California Chrome, a strong 1-2 favorite in a field of 10, broke alertly and gained stalking position behind early pacesetter Pablo Del Monte. After Ria Antonia, the lone filly in the field, made an early move to challenge the pacesetter heading into the first turn, California Chrome settled in third around the turn and on the backstretch. Social Inclusion, the 5-1 second betting choice ridden by Luis Contreras, made a move outside California Chrome heading into the far turn, prompting Espinoza to ask his horse for some run. The favorite swept past the pacesetter on the turn into the homestretch, engaged to his outside by Social Inclusion, and spurted away in early stretch, never to be challenged again.

California Chrome crossed the finish line clear of Ride On Curlin, who rallied from far back under Joel Rosario to finish second, 6 ½ lengths clear of Social Inclusion. The running time of 1:54.84 for the 1 3/16 miles of the Maryland Jockey Club's signature race was the fastest since Big Brown was timed in 1:54.80 in 2008.

The Preakness highlighted a 13-race program with nine stakes, including four graded stakes, generating an all-sources handle of $83,786,363, including the $53,655,673 wagered on the Middle Jewel.

The Preakness Day Celebration included performances by Grammy Award winner Lorde and hip-hop icon Nas in the infield.

"It was another fantastic day with the record attendance under ideal conditions," Maryland Jockey Club president Tom Chuckas said. "We pride ourselves in our hospitality and extend an invitation to Sherman Racing to stay here at Pimlico for as long as they want as the team prepares California Chrome to the Belmont Stakes and a date with destiny."

PREAKNESS STAKES QUOTES Winning Trainer Art Sherman (California Chrome): "He broke great and had a perfect trip. I was so happy when I saw where he was able to set him. Right now he's really on his toes and doing good. He's a remarkable horse to come back in two weeks and win. I know he's not the only horse that ever did that, but it's tough on a horse to come back in two weeks. I appreciate everyone involved in my team. They did a hell of a job. Both my sons are here. It's very emotional.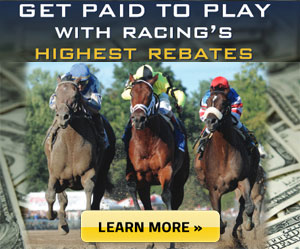 "To me, this race was even a little tougher for me knowing that I'm coming back in a little shorter distance than I normally ever run them and the time I give them to rest between races. I was a little concerned about that, but he's got a big heart this horse – big. "Wow. I'll tell you it's quite a thrill. I know we had to run harder in this race. For me, just watching him perform, coming back in two weeks, I was a little concerned. But I'll tell you one thing: he's a real race horse. I'm hoping that the mile and a half is up his alley, too, because he's a very good horse. "Oh, you've got to have a tear. I've got my whole family here. We worked hard all year and Victor (Espinoza) rode him perfect. It's a dream for any trainer to do this. "I couldn't tell how much horse he really had. It was hard for me to get a good view because people were jumping up and down in front of me. But when I looked up at the board, I could see him starting to move away and I felt really good then."
Winning Jockey Victor Espinoza (California Chrome): "It was not easy, but we got it done. I'm excited and looking forward. I had to start early because the outside horse was pushing me. I thought I had the perfect position, but when the outside horse attacked me, I had to open it up at that point. It was tough today. This race was a little complicated. I saw another horse take the lead, I'm second, then (Ria Antonia) wants to go. I have to steady, steady and I have to hope and make the right decision and hope for the best. Then, I'm sitting third and I think it's perfect."
Trainer Billy Gowan (Ride On Curlin, 2nd): "I thought it was awesome. California Chrome ran a great race and he's a great horse. My horse ran a great race. He was in a good spot down the back. Joel (Rosario) said he got shut off for a second, but he came running in the stretch and gave me a heckuva thrill. I'm really proud. I like the horse; I like everything; I like the Preakness. I think we have to go to the Belmont if he comes out of the race good."
Jockey Joel Rosario (Ride On Curlin, 2nd): "We had a good race. My horse ran really well. I thought that I had him and we were going strong, but if I got beat, I wanted it to be California Chrome, because he is a great horse. I know my horse is too."
Owner Ron Sanchez (Social Inclusion, 3rd): "My horse, I would have liked to have seen him on the lead, but that didn't happen today. I'm proud of my horse. He ran well. Right now, we're going to the Belmont."
Jockey Luis Contreras (Social Inclusion, 3rd): "He acted up a little bit in the gate, but it was no big deal at all. The horse ran a really big race today. I can't tell you how happy I am with this horse. We will get them the next time."
Trainer Mike Maker (General a Rod, 4th): "He ran well. He may have been a little crowded down the backside. Whether or not that affected anything, we'll find out."
Jockey Javier Castellano (General a Rod, 4th): "It was a beautiful trip until the three-eighths pole when I checked him bad. I'm not sure if I could have beat California Chrome, but that sure cost me."
Trainer Graham Motion (Ring Weekend, 5th): "He got a decent spot but he just didn't have a real clean trip. A horse stopped in front of him. I don't think it cost him a lot but it might have cost him a position. I was very pleased with him. I thought he was very game. I thought he ran very competitively. I just wish he'd had a clean trip and then you wouldn't have any question. We'll talk about it (Belmont Stakes), definitely. I was very pleased with how he ran today."
Jockey Alan Garcia (Ring Weekend, 5th): "We had an unbelievably rough trip. We had trouble right from the start, getting bounced around. But he did everything he could."
Trainer Wesley Ward (Pablo Del Monte, 6th): "He got away good from the gate but then Calvin (Borel) on Ria Antonia put her right with him. I wish we could have gotten away with a 48 (second) half. I would have felt a lot better."
Jockey Jeffrey Sanchez (Pablo Del Monte, 6th): "He wanted to go for the lead and got over good to a spot. He ran his race."
Trainer Mark Casse (Dynamic Impact, 7th): "I think we beat three or four horses. We have no excuses. He just didn't run fast enough."
Jockey Miguel Mena (Dynamic Impact, 7th): "We got a nice trip and a clean break and got around the turn good. But he struggled a little with the racetrack, but he came running at the end."
Trainer Linda Rice (Kid Cruz, 8th): "I was a little disappointed, but he was running at the end of it. He just had too much to do. I'm also thrilled that we have a Triple Crown in the making, so that's really good for racing. I think we still may go after the Belmont because the distance is in his favor. This was a pretty good challenge for him and he did pretty well."
Jockey Julian Pimentel (Kid Cruz, 8th): "We were really far back on the outside. It took so long to get going. When we started going, he got going pretty good down the lane, but it was just too late."
Trainer Bob Baffert (Bayern, 9th): "I got a horrible trip. That was a horrible trip. He took a half-step and got bumped. (California Chrome) is something. He's a cool customer. He does everything right. He's fast enough to stay out of trouble. Victor rides him with so much confidence. He knows when he has to move into a spot. He has so much acceleration."
Jockey Rosie Napravnik (Bayern, 9th): "It was very rough. The horses on either side of us sandwiched us so tight we were practically off the ground. We got into a decent position and he still made a run to the quarter pole."
Trainer Tom Amoss (Ria Antonia, 10th): "Disappointed, but she looks good."
Jockey Calvin Borel (Ria Antonia, 10th): "My horse ran OK today. We didn't have any real trouble. She's a nice horse, but she just didn't have it in her today."