Mark Casse, winning trainer of World Approval (No. 7): "When we saw the rain was coming, Ms. [Charlotte] Weber was concerned and we talked about it a few times, and I thought his race was so good in the [Grade 2] Dixie, I thought the rain it wasn't going to hurt her. We couldn't get Julien [Leparoux] and I said to Norman [Casse], 'We're going to win the Fourstardave and I'm not sure who's going to ride him.' It turned out to be Manny; he impresses me. He played in a basketball charity game last week and he had so much drive and he's so athletic and we've got some luck with him, so let's ride him. You couldn't have asked him to ride a horse any better. The only instructions I told him was that he likes a target. That was one of the reasons we cut him back to a mile, because we thought if we could win the Breeders' Cup Mile or have a shot anywhere, it would be a mile [race]. When you run him farther, he doesn't get a target. [If it's] shorter, there's more speed, and he got a target and it looked like he loved it.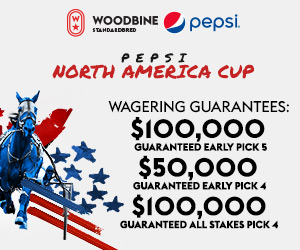 On where he might run next: "Maybe the Woodbine Mile is a possibility, but I haven't really thought about it. Long-term, our goal was the Breeders' Cup, but we're just happy to have this. We won the Woodbine Mile last year; I wouldn't mind winning it two years in a row.
On picking up his third win of the meet: "The meet's been frustrating. This is only our third win and we've run forty-something horses. Of those, only about five of them ran bad. We've gotten beaten by a length or half-length, but this is important to me because this is where I grew up with my dad, so I want to do well."
Manny Franco, winning jockey aboard World Approval (No. 7): "I just rode the best horse in the race. I just tried to stay out of trouble and I think that was the key. I sensed the pace was good enough because they were fighting for the lead on the first turn. I knew the pace, and they were going fast.
"He handled the ground really well. I saw on paper that he had been on this kind of turf before and he ran really well. I feel so lucky right now. I want to thank the trainer for giving me the opportunity."
Javier Castellano, jockey aboard runner-up Time Test (No. 3): "I had a good trip. Overall, I was in great position. Once I moved him outside to let him go, he didn't have enough to get to the wire. He kind of struggled with that the footing in the stretch."
Bill Mott, trainer of third-place finisher Ballagh Rocks (No. 1): "It was good. He tried hard. It was a little rough going around the first turn. I mean, he kind of got bounced around. He was up in there and the 5-horse [Sassy Little Lila] shaved him a little bit. Once he got to the backside, he seemed like he had a pretty good trip from there.
"He is competing now. The track surface played some part in it today. The track was a little challenging. [The] mile has always been a good distance for him. The good thing is that he handles about any kind of track."
Brad Cox, trainer of fifth-place finisher Sassy Little Lila (No. 5): "She was able to be where she needed to be. She didn't break quite as sharp as I thought she would. We had to ask her to get up in the race but she established position around the first turn. Going around the backside, I thought she was in good position. At the turn, she had no separation from the field, and that's normally where she kind of gets away from them and she's dangerous. Luis [Saez] said when he asked her, she was kind of slipping and sliding a little on the turf, so that might be a little bit of an excuse. Obviously, it's a tough race and hat's off to the winner. We'll regroup with her."
Winning margin: 2 ¼ lengths Full order of finish: 7-3-1-6-5-2 Final time (One mile inner turf): 1:37.65 Fractions: 24.64; 49.86; 1:14.46