Prado's Return 'Day to Day' Wildcat Red Breezes 5 Furlongs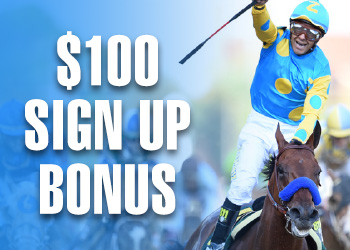 Weekend Pool Guarantees
HALLANDALE BEACH, FL – Jockey Edgar Prado was off his mounts Friday, still recovering from a spill in Tuesday's seventh race. Prado's agent, Bob Klesaris, said the popular Hall of Fame rider is "day to day," after Prado went down when his mount, Equilibrium, clipped heels with another horse.
"He's doing OK," Klesaris said. "There was nothing career-ending or life-threatening. He had a pretty good laceration above his eye and on the corner of his eye, and he had a little bit of plastic surgery. He just looked like he came out of a prize fight. I guess, in reality, he's going to miss three or four days. He's already missed two, and he's off his mounts today, so I'd say he's day to day."
Prado is currently sixth in the riding standings at the Championship Meet in both wins (9) and purses earned ($258,390). He finished second at the Gulfstream Park West meet in wins (42) and money won ($1.048 million).
The native of Lima, Peru was inducted into the Hall of Fame in 2008, two years after guiding Barbaro to victories in the Florida Derby (G1) and Kentucky Derby (G1). He has ridden the winners of 6,784 races and nearly $253 million in purses.
Wildcat Red Works toward Sunshine Millions Classic
Wildcat Red breezed five furlongs in 1:02.66 at Gulfstream Park Friday, continuing to work toward a start in the $250,000 Sunshine Millions Classic on Jan. 17.
The Jose Garoffalo-trained 3-year-old was one of only five horses that worked over the track rated as 'fast' and one of only two at the distance Friday morning.
"It was a very good work. I was pleased with the way he finished and galloped out," said Garoffalo, whose trainee was ridden by Carlos Olivero.
The well-traveled Wildcat Red finished second behind Ohio and Indiana Derby (G2) winner East Hall in the Sunshine Millions Classic Preview at Gulfstream Park West on Nov. 8. The son of D'wildcat has finished first in six of eight starts at Gulfstream, including victories in last season's Hutcheson (G3) and Fountain of Youth (G2), He finished second in the other two starts, including a photo-finish loss to Constitution in the $1 million Besilu Stables Florida Derby (G1).
Guaranteed Pools for Weekend's Late Pick 4 and Pick 5
The 50-cent Late Pick 4 will have a guaranteed pool of $100,000 Saturday and Sunday, while the 50-cent Pick 5 will have a guaranteed pool of $50,000 both days.
The $100,000 La Prevoyante (G3), the $100,000 Mr. Prospector (G3), and the $100,000 W L McKnight (G3) will all be included in both multi-race wagers on Saturday's program as the eighth, ninth and 10th races, respectively.
The three graded stakes will also be included in the multi-race sequence of the 20-cent Rainbow 6, which offered a carryover of $56,368.43 heading into Friday's program.