McGaughey Not Concerned with Top Billing Post Rydilluc Seeks Return to Winning Ways in Saturday's Canadian Turf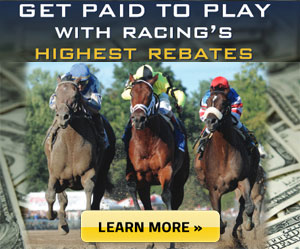 Normandy Invasion Launches Comeback Saturday
HALLANDALE BEACH, FL - The highly regarded Top Billing will test stakes company for the first time Saturday in the $400,000 Besilu Stables Fountain of Youth Stakes at Gulfstream Park. Listed at 7-2 on the morning line, the stretch-running colt drew post 12 in the 13-horse field, but trainer Shug McGaughey isn't overly concerned about the post position in the 1 1/16-miles test.
"I don't think it's going to hurt him," McGaughey said. "Obviously, I'd rather be six of seven, but I'd rather be there than stuck down on the inside with his running style. Hopefully, the speed will show on the inside, and we can save a little ground around the first turn and get into position on the backside."
Top Billing, a son of Curlin and the A.P. Indy mare Parade Queen, will be ridden once again by jockey Joel Rosario. The chestnut colt was described as "a handful" in the early stages of his training last year, but has matured markedly and settled down in his current routine.
"He used to be a little rambunctious when they were breaking him, but he's never been that way since we've had him (at the track)," McGaughey remarked. "He's not that way now--he's like a puppy dog. It's one of the good things about him, too, that traveling with him is not going be a problem."
The 68th running of the Fountain of Youth will offer Kentucky Derby qualifying points of 50-20-10-5 for the first four finishers. McGaughey secured his first victory in the Gulfstream feature last year with Orb, who was also making his stakes debut. Orb went on to capture the Florida Derby (G1) and Kentucky Derby (G1).
Top Billing is one of two runners on Saturday's Gulfstream card for McGaughey, who will also tighten the girth on Reload in the $150,000 Canadian Turf Stakes (G3). The 5-year-old son of Hard Spun made his grass bow last out on January 17, when he led from flagfall to finish in a salty allowance heat. Leading rider Javier Castellano has the return call aboard the Phipps Stable homebred, who drew the eight hole in the 12-horse affair.
"If there's speed, he doesn't have to be (on the lead), but he'll be right there," McGaughey said. "If he breaks good, he'll be right there."
Reload has been a bit of a project for McGaughey. After the big chestnut paired up impressive victories at Keeneland and Belmont last spring, he tailed off a bit, but appears to be ready to fulfill his potential.
"Reload has always been a horse that's had a lot of ability, but his feet have bothered him," McGaughey explained. "It seems to me that when we get his feet right, then he's right. I had him down here last winter at Payson Park and changed his shoes. We got him to Keeneland and he came back and ran a great race (there) and then he ran a great race at Belmont on an off track, but then he went off form again. I ran him at Aqueduct and he didn't run any good. I sent him straight down to Payson and we worked on his feet again. Keeping him there on that racetrack seems to help him.
"I had worked him on the turf there last winter and I didn't particularly think that it did a whole lot for him," McGaughey continued. "With his pedigree he should run on it, so we tried him again this year and he was completely different. He ran really well (at Gulfstream) and he came out of that race really well."
Reload has recorded two drills at Payson since his last start, included a best-of-seven move in :48 1/5 on the turf on Tuesday.
McGaughey's other star sophomore, Honor Code, continued his comeback from a brief setback by working a half-mile in :49 3/5 at Gulfstream on Wednesday morning. The son of A.P. Indy has not raced since prevailing in the Remsen Stakes (G2) at Aqueduct on November 30, when he defeated Cairo Prince.
"We walked him yesterday and jogged him this morning," McGaughey offered. "He seems to be pretty good."
McGaughey mentioned the Rebel Stakes (G2) at Oaklawn Park on March 15 as a possible spot for Honor Code.
Rydilluc Seeks Return to Winning Ways in Saturday's Canadian Turf
Rydilluc will seek a return to his winning ways in Saturday's $150,000 Canadian Turf (G3) at Gulfstream Park.
The son of Medaglia d'Or stamped himself as one of the most exiting turf prospects in the country last season at Gulfstream Park, where he cavorted over the grass course for run-away victories in an allowance race and the Palm Beach Stakes (G3).
The then-3-year-old colt was so exciting, his owners and trainer Gary Contessa tested the Road to the Kentucky Derby in the Blue Grass Stakes (G1), in which Rydilluc set the pace before fading to a respectable fourth over Keeneland's synthetic surface. Back on turf for his next start, the son of Medaglia d'Oro captured the inaugural running of the $460,000 Penn Mile at Penn National last June.
Favored in the Virginia Derby (G2), Rydilluc showed his usual early speed but faded to eighth over a 'good' Colonial Downs turf. An 11th-place finish in the Secretariat (G1) at Arlington Park last August convinced Contessa that something had to be wrong, but nothing showed up during veterinarian examinations..
"This would be the easiest game in the world if horses could talk to us. We'd know when to bet; we'd all be retired; we'd all have houses in the Bahamas," Contessa said. "To the eye everything looked good. He trained good; he ate good. We ran him and he ran two very dull races in a row.
The first one was in the Virginia Derby. It had rained all day so we assumed it was the soft turf. He came off that race and trained good. We said, 'Let's try him again and go to the Secretariat.' He ran poorly again."
Knowing something wasn't right, Contessa and his owners sent Rydilluc for a nuclear scan. "They take a nuclear isotope and put it in a horse's vein and take a full body scan and whatever is bothering the horse lights up. His front ankles lit up. To the eye the ankles looked fine. You watch the ankles; you work with them, and the horse doesn't show any pain. But his ankles lit up. They were obviously bothering him. There were no clinical signs of it," Contessa said. "We just stopped with him and turned him out in upstate New York and let him be a horse. We blistered his ankles a little bit and then returned him to training at Palm Meadows."
Rydilluc turned in an eye-catching seven-furlong workout in 1:22.05 on turf at Palm Meadows on Feb. 12 under jockey Edgar Prado.
"He's trained lights-out. I didn't want to him to work like that, but if you saw Edgar, he was like this," said Contessa, holding his hands together to fashion a tight-hold of the reins. "He's had a few days to recover. He hasn't run for 6 months. I don't think it'll take anything out of him. At least, we know he's ready to rock and roll."
Normandy Invasion Launches Comeback Saturday
At this time last year, Normandy Invasion was taking his first steps on the Triple Crown trail that would ultimately see him forge a lead into mid-stretch before finishing fourth, beaten just 3 ½ lengths by Orb, in the Kentucky Derby (G1).
Unraced since the Derby due to a foot abscess and other minor issues, Normandy Invasion launches his comeback on Saturday at Gulfstream Park in the fourth race, an entry-level allowance going one mile on the main track.
Owned by Rick Porter's Fox Hill Farms and trained by Chad Brown, Normandy Invasion drew post one and was installed as the 7-5 program favorite in the field of six older horses. Javier Castellano, on track to register his third straight meet riding championship, will be aboard.
"I thought time went by fast, but now I know that it really goes fast because it's been a year since we were thinking about the Derby," Porter said. "All we can do is wait and see, but he's sure showing every indication for us to expect a big race out of him."
A 4-year-old bay son of Tapit, Normandy Invasion has never raced at Gulfstream and is trying a mile for the first time since his only victory in six career starts, a 9 ¼-length maiden score on Nov. 2, 2012 at Aqueduct.
Normandy Invasion closed his 2-year-old season running second by a nose in the Remsen (G2) before finishing fifth by 1 ½ lengths in the Risen Star (G2) in his first start at 3. He was second to favored Verrazano in the Wood Memorial (G1) prior to the Derby.
"We've given Normandy plenty of time off purposely. We weren't going to give him this much time off originally, but when he got the abscess in his foot we decided to bring him back as a 4-year-old," Porter said. "I wanted to let the hoof grow all the way out. We've given him plenty of time, and he responded."
Normandy Invasion was initially sent to WinStar Farm to begin preparing for his comeback before joining Brown's string at Palm Meadows, Gulfstream's satellite training facility in Boynton Beach. He has had eight works since arriving, most recently going a half-mile in 48.90 seconds on Feb. 16.
"Chad feels, and I've been watching, that he's galloping better than he ever has," Porter said. "He's galloped with more intensity and he seems to want to go further than they're letting him go. His works are getting better and better, and his gallop-outs are as if he's still working.
Everything's a go for the mornings. I'm just hoping that that translates into a big afternoon, and we will see the real Normandy Invasion back in action."
In a perfect world, Porter said he would like to see Normandy Invasion run well enough to point for the $400,000 New Orleans Handicap (G2), to be run for the 89th time at Fair Grounds on March 29.
"When you've been off nine or 10 months, you always worry about them getting a little tired, no matter how long you gallop them and how many five-eighths you put in them," Porter said. "There's a chance he might get a little bit tired, but Chad feels he won't have a problem with the distance. Chad's a good conditioner with horses that have been off for a while. I'm looking for him to run well."
Porter said he will travel from Kentucky to Gulfstream to watch Normandy Invasion's race in person.
"I think I'm more nervous this time," Porter said. "Normally I'm not nervous, but I know how much horse we have and I'm just hoping somewhere along the line something hasn't gone wrong and he isn't going to show up when we get to the races. There's really no reason to feel that way, but I'll feel a lot more relieved when the race is over and he comes out of it good and is able to win the race or at least run a big race. We don't have to win the race. We certainly would like to win the race and he should win the race unless a mile's just too much for him first time back after 10 months."