Twocubanbrothersu a Blast from the Past for Rigattieri Rich Daddy Proves to be Wise Investment; Miss Darla Hoping Glass Slipper Fits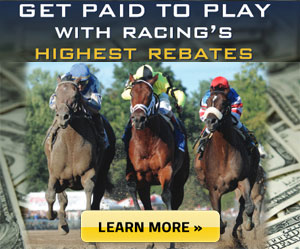 Indycott Seeks Repeat, Classic Salsa Eyes Redemption in Claiming Crown Walder Hopes Claiming Crown is Beginning of Busy Meet at Gulfstream
HALLANDALE BEACH, FL - When Twocubanbrothersu won back-to-back allowances at Suffolk Downs in 2014, the pair of impressive performances didn't go unnoticed by trainer John Rigattieri.
Eleven months later, when the gelded son of Harlington was entered in a $6,250 claiming race at Tampa Bay Downs, the veteran trainer decided to take a chance on the Kentucky-bred.
"I saw him at Boston and he had good early speed; I knew a little about him from Boston," said Rigattieri, who claimed Twocubanbrothersu May 3 after a 5 ¾-length victory. "He was a horse I knew could go long."
Twocubanbrothersu finished third at Delaware Park in his first start for Rigattieri, who co-owns the gelding with Stephen Derany, before winning four straight starter allowance races by a total of 26 ¼ lengths.
"Did I think he'd be this good when I claimed him? No, but I did think he'd be a good distance horse," said Rigattieri, who had saddled nearly 2700 winners, primarily in New England and Mid-Atlantic.
His streak was broken by a third-place finish in a stakes, before going to Laurel, where he captured back-to-back starter allowances by 10 ¼ lengths and 2 ½ lengths. His most recent victory came in a Claiming Crown 'Win & You're In' race on Nov. 1, earning him a fees-paid berth in Saturday's $110,000 Iron Horse, a 1 1/16-mile race for 3-year-olds and up that started for a claiming price of $7,500 or lower. Daniel Centeno, who was aboard for his two most recent scores, has the return mount.
"He's done everything right so far. I hope he can keep doing it at Gulfstream Park," said Rigattieri, whose stable is based at Tampa Bay Downs during the winter.
Rich Daddy Proves to be Wise Investment; Miss Darla Hoping Glass Slipper Fits
Along with running for larger purses, the Claiming Crown offers horsemen an opportunity to showcase their talents. After getting Rich Daddy for a minimal price, trainer Jose Garoffalo has helped turn the 4-year-old gelding into a wise investment.
The 17th Claiming Crown headlines opening day of Gulfstream Park's Championship Meet on Saturday, with nine races worth $1.1 million in purses.
"It is a great idea. It's a very good stimulus for the owners and trainers," Garoffalo said. "We can have the chance to prove that we can improve horses. It's a professional challenge, and at the same time it's good stimulation for the owners because the purses are very, very good. I think it's going to be fun."
Entered in the $200,000 Jewel at 1 1/8 miles, Rich Daddy owns two wins, four seconds and purse earnings of $61,285 in seven starts since being claimed for $6,250 out of an 11-length win May 30 at Gulfstream.
Rich Daddy had three wins and $70,842 in purses over his first 23 career races, much of it spent on turf. Since making the claim for Winds of Change Racing Stable Corp., Garoffalo has seen a steady progression.
"His numbers are amazing, unbelievable, considering what we got him for. I don't think you find horses like that too often, running for that kind of price," he said. "I was following the horse and I noticed that he usually ran on the turf and the turf didn't do much, but every time he went on the dirt he was winning by 10, 11 lengths.
"I figured he was a dirt horse. I checked the horse before the race where I claimed him, and he looked decent, sound," he said. "We had to fix a couple of little things but we did it and now we have a brand new horse."
Rich Daddy was a 9 ¼-length winner of a one-mile optional claimer Aug. 27 then was a strong third behind Grade 2 winner East Hall in the Sensitive Prince Stakes Sept. 12, both run over off tracks at Gulfstream. He was 1 ¼ lengths behind Lynx and seven lengths ahead of Souper Lucky, both of which are graded stakes placed.
Most recently, Rich Daddy cruised by 6 ½ lengths over multiple stakes winner Bluegrass Singer in an optional claimer going one mile and 70 yards Nov. 13 at Gulfstream Park West.
"The last race was impressive, and the race before that was impressive, too, because he ran against East Hall and other stakes horses," Garoffalo said. "When he won the allowance here the other day he was impressive, too; the numbers were very good. We're very optimistic. I think the horse is ready for the race, so we'll see what happens."
Garoffalo is also running 5-year-old Montbrook mare Miss Darla in the $110,000 Glass Slipper for females 3 and up on the main track. The Florida-bred has four wins and two seconds in 12 starts since being moved to Garoffalo's barn by owner Peter Mattson in January.
In the Glass Slipper, Miss Darla will be stretching out to one mile, a distance she has tried just three times in 42 lifetime starts with one second, coming April 23 at Gulfstream.
"Miss Darla has been very, very good all year round. She runs good all the time," Garoffalo said. "The only concern that I have for her is the distance. I've been training her for the mile. She usually doesn't run that far, but she finished second in a tough race in the summer, so we can try the distance again. At that level, she's always been very competitive. I've been looking at the PP's, and she's got a shot. She's one of the more qualified fillies in the race."
Indycott Seeks Repeat, Classic Salsa Eyes Redemption in Claiming Crown
As the Championship Meet gets ready to open at Gulfstream Park, trainer Danny Gargan is hopeful that a pair of summer claims will make an impact in the $1.1 million Claiming Crown on opening day.
Based in New York, Gargan is pointing Indycott to the $200,000 Jewel, the richest of the Saturday's nine Claiming Crown races, and Classic Salsa to the $110,000 Rapid Transit. He claimed both for $50,000 at Saratoga on behalf of Midwest Throughbreds.
"They're both nice horses," Gargan said. "We thought we'd ship down. Midwest likes to participate on Claiming Crown day because we claim a lot of horses, the whole group of us. It's nice to be here at the end of the year and have the quality of horses to be competitive."
A gelded 5-year-old son of A.P. Indy, Indycott owns two wins in four tries at the Jewel's 1 1/8-mile distance, including a neck victory Aug. 10 on the day he was claimed. He was third behind multiple stakes winner Tacticus and Grade 1 winner V.E. Day in the Temperence Hill Invitatitonal Sept. 12 at Belmont Park in the first start for his new connections.
On Nov. 1 at Laurel Park, Indycott was a gutsy, front-running winner of the Jewel Preview, chased for all of nine furlongs before prevailing by a head over Mr. Palmer, with Lieutentant Seany O another neck back. Both are also nominated to the Jewel.
"When we claimed him, we claimed him with the purpose to get him to the Claiming Crown. We thought he might be that kind of horse, but you never know until you actually have them," Gargan said. "He ran a great race at Belmont. It was a tough race, like a Grade 3. When he came back and ran at Laurel, there was no speed in the race. He just showed a lot of heart and fought the whole way. That's not really his running style, but because he had the inside post and with no speed, it ended up that way."
Corey Lanerie, coming off two riding titles at Churchill Downs and another at Keeneland this fall, has the mount.
Classic Salsa was third in his most recent start, the Rapid Transit Preview at Laurel, where he stumbled out of the gate from post 4 and was rushed up to the lead along the rail before fading to third as the favorite.
Claimed July 25, he was second by a length to multiple stakes winner Loki's Vengeance in an optional claiming allowance Sept. 25 at Belmont in his first start for Gargan. A bay son of Two Step Salsa, Classic Salsa has a second and two thirds in three tries at the Rapid Transit's seven furlongs.
"He's a speed horse. He stumbled at the start and that cost him any chance of winning. If he hadn't stumbled, I think he would have won the race," Gargan said. "He's probably better going six furlongs, but he's won going 6 ½. At Gulfstream, speed is so good he might be super good at that distance."
Luis Saez, second in races and purses won during last year's Championship Meet, has the call.
"Both races are coming up really tough, but I think Indycott is going to really like the distance. The mile and an eighth is perfect for him," Gargan said. "Corey Lanerie has been riding like he's on fire, and Luis Saez has always done well at Gulfstream."
Walder Hopes Claiming Crown is Beginning of Busy Meet at Gulfstream
After starting just 14 horses during Gulfstream Park West's two-month Fall Turf Festival meet, trainer Peter Walder is looking forward to a busy December at Gulfstream Park.
It all starts on Saturday, opening day of the 2015-16 Championship Meet, when Walder will saddle four horses in three of the nine stakes that comprise the $1.1 million Claiming Crown program.
Walder is set to run Moonshine Promise in the one-mile, $110,000 Glass Slipper for females 3 and up, and Runs With Bulls and Toh's Grey Cat in the $110,000 Iron Horse for 3-year-olds and up going 1 1/16 miles, both on the main track. He will also send out recent purchase Yankee Dealer in the $125,000 Emerald, scheduled for 1 1/16 miles on the grass.
A gelded 6-year-old son of Yankee Gentleman, Yankee Dealer has been in the top three in 23 of 36 career starts with 13 wins, 10 of them in 20 tries on turf. He is five-for-nine this year including victories in the Black Tie Affair and Cicero handicaps in Illinois, the latter Oct. 24 in his last start before being purchased privately.
"He was presented to us last year, but it was too much money. He came back around to us this year and my owner called me up and said he's a horse I think we should have," Walder said. "I looked it up that night and saw he was eligible for the Claiming Crown. I flew to Chicago, vetted him out and bought him.
"He's been training really, really good," he said. "He's a nice, old, classy, professional horse. From what I've seen out of him, if the race happens to come off the grass because of rain, I'll run him because he seems to be working well over the track."
Florida-bred Runs With Bulls has been first or second in his last five starts, three of them wins including two in a row, all at Thistledown. Based at Gulfstream with Walder, who is also a co-owner, Toh's Grey Cat has been worse than third once in five races this year, winning a one-mile claimer June 21.
"He's a beast. I can't take credit for anything, really," Walder said of Runs With Bulls, a 6-year-old son of Flashy Bull. "He's a big, good-looking horse and he's been training really good. He seems like a pretty honest horse and he's eligible, so why not?
"Toh's Grey Cat, he's been working really good. We gave him a little break and sent him to the farm for a little bit, and he came back and worked three times," he said. "He worked in a minute out of the gate the other day, which is good for him. He's not a great work horse. He ran third in the race a couple years ago, so I just figured why not."
Moonshine Promise is a 6-year-old mare that had also been running recently at Thistledown, and has a lifetime record of 13-12-7 from 51 starts. She ran second in both her recent starts at one mile, and has hit the board in nine of 11 tries at the distance.
"She's another one that just seems to win, so we'll take a shot," Walder said.
Walder is also considering Sr. Quisqueyano for the $100,000 Harlan's Holiday Dec. 12, War Story for the $75,000 Tropical Park Derby and possibly Unbridled Courage in the $75,000 Tropical Park Oaks, both on turf Dec. 19.
"I'm looking forward to a good December," he said.