Cairo Prince Might Train up to Florida Derby Alpha to Try Turf in Mac Diarmida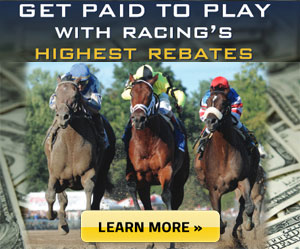 C. Zee Ready for Hutcheson
HALLANDALE BEACH, FL - Cairo Prince, impressive winner of the $400,000 Miller Lite Holy Bull (G2) at Gulfstream Park on Jan. 25, may get some extra time before making his next start.
Trainer Kiaran McLaughlin is looking at bypassing the $400,000 Besilu Stables Fountain of Youth (G2) on Feb. 22 and training up to the $1 million Besilu Stables Florida Derby (G1) on March 29.
"The plans right now are to probably just point for the Florida Derby," McLaughlin said. "The Holy Bull was a huge effort, and they're not machines. It's hard to run every four weeks and run your best. We'll still look at [the Fountain of Youth], but we might very well skip it."
Cairo Prince came from just off the pace to win the Holy Bull by 5 ¾ lengths in 1:42.16 for 1 1/16 miles, the largest margin of victory since Suave Prospect won by eight in 1995.
Owned by Namcook Stables, Paul Braverman, Harvey Clarke and Craig Robertson, Cairo Prince has run four times in 16 weeks since his debut last October at Belmont Park. Winner of the Nashua (G2) in his second start, he was second to Honor Code in the Remsen (G2) on Nov. 30 to cap his juvenile season.
With his Holy Bull triumph, Cairo Prince stamped himself a leading contender for the Kentucky Derby (G1) on May 3. McLaughlin has started four horses in the Derby including 2005 runner-up Closing Argument, who also won the Holy Bull.
"Cairo's doing great and eating up well," McLaughlin said. "He's just doing real well. He's back to the track training. The Holy Bull was such a huge effort, and we have to look down the road to the first Saturday in May."
Alpha to Try Turf in Mac Diarmida
A multiple Grade 1 winner on dirt, Alpha will try a new surface when he opens his 5-year-old campaign next month at Gulfstream Park.
Trainer Kiaran McLaughlin is pointing the son of Bernardini to the $200,000 Mac Diarmida (G2) for 4-year-olds and up going 11 furlongs on the grass on Feb. 15.
Owned by Godolpin Stable, Alpha began his 2013 season in Dubai, finishing off the board in a pair of Group 2 races before returning to the U.S. His lone win last season came in the Woodward (G1) at Saratoga Race Course in August.
"He's out of a Nijinsky [II] mare, and she was all turf," McLaughlin said of the reason behind the switch. Alpha's mother, Munnaya, had one win in four career starts in England. "We've often thought about it, and we just didn't because he was doing so well on the dirt."
Alpha has six wins and nearly $1.8 million in earnings from 19 lifetime starts, including victories in the Jim Dandy (G2) and Travers Stakes (G1) at Saratoga and the Withers (G3) and Count Fleet at Aqueduct in 2012.
Stabled with McLaughlin at the Palm Meadows training center, Alpha has never raced at Gulfstream Park.
"At Palm Meadows, we have the option of working on the turf and he worked real well on it once, and that's all we wanted to see," McLaughlin said. "We're going to give it a try."
Alpha breezed a half-mile in 50.84 seconds over the grass on Dec. 24, and he has been back to the dirt for his most recent moves, including a four-furlong work on Jan. 25 in 50.05.
"The other thing is, in those types of races, usually he would be lone speed and he likes that, being comfortably on the lead, so that's what we're going to try," McLaughlin said. "And if it happens to rain off he loves the slop, so there's a lot of reasons why we're pointing that way. It's a good time to try the turf. If it doesn't work, we'll go back to the dirt."
McLaughlin is also eyeing other stakes at Gulfstream with fillies Wedding Toast and Penwith. A 4-year-old daughter of Street Sense, Wedding Toast has strung together four straight wins including the Comely (G3) at Aqueduct on Nov. 30, and is possible for the $100,000 Sabin (G3) for older females at 1 1/16 miles on dirt on Feb. 16.
Third in the Demoiselle (G2) at Aqueduct on Nov. 30, Penwith made her 3-year-old debut by winning a one-mile optional claiming allowance on dirt at Gulfstream on Jan. 2. She is expected to come back in the $200,000 Davona Dale (G2) for sophomore fillies at 1 1/16 miles on Feb. 22.
C. Zee Ready for Hutcheson
C. Zee will make his graded stakes debut in the $200,000 Hutcheson (G3) on Saturday at Gulfstream, a race that will give trainer Stanley Gold a gauge on where to go next.
Runner-up in the $100,000 Spectacular Bid on Jan. 4, C. Zee stretches out from six to seven furlongs in the Hutcheson, where he drew post four in the field of 10 3-year-olds under regular rider Edgard Zayas.
"This horse has got good size, he's made well, and he's well-balanced. He's just a good-looking horse with a likeable personality," Gold said. "I'm not going to rule anything out, but I'm not going to get ahead of myself. I might go home with my head between my legs or I might go home thinking, 'I've got to get him ready to go two turns in the Fountain of Youth with the Florida Derby right around the corner.'
"The main thing is he'll rate but he's quick, so that's nice. He surprised me when he turned out like this because usually you don't get that. It's really nice to have that trait."
Bred and owned by Jacks or Better Farm, which also campaigned stakes winners such as Awesome Feather, Jackson Bend and Fort Loudon, C. Zee was disqualified from second to third in his debut at Calder in September.
At Gulfstream, he broke his maiden by 2 ¼ lengths over the well-regarded Endowment Manager on Dec. 13, then was second to Just Call Kenny in the Spectacular Bid with two sharp works at Calder since the race.
"We could have easily won it," Gold said of the Spectacular Bid. "If you watch the head-on coming out of the stretch, we were about three wide closely together and [the winner] was coming from behind. Had we not fanned a little wide coming out of the turn, he wouldn't have been able to come through and it might have been a different outcome. But, that's racing. Things happen.
"He doesn't mind the track and I don't think he cares what the track condition is," he said. "He's pretty much a laid-back horse and just takes everything in stride. Considering how little experience he has and what he's done, I think he's got a real bright future ahead of him. I'm looking forward to the race."
C. Zee is a son of Elusive Bluff out of the Distorted Humor mare Diamondaire. Elusive Bluff made only two starts before being hurt, a pair of grass wins including the 2008 Miss Grillo (G3) at 1 1/16 miles.
"He's a well-bred horse. He was supposed to be a big horse, but he's little known," Gold said. "I didn't know anything about him until we got this horse. I think this is his first crop. I don't think there are too many Elusive Bluffs around. He might be a pretty decent sire in time."
Should he decide to stay sprinting, Gold said he would also consider the $150,000 Swale (G2) at seven furlongs on March 1 for C. Zee.
"Hopefully, the outcome on Saturday is good and we'll move forward and go two turns and go against the tops at the distance," Gold said. "He's still got to run good in the Hutcheson. We won't be ducking anybody if he proves to be good."