Breen Looking for Glass Slipper to Fit Rebecca's Sunrise Servis Ready for Busy Saturday at Gulfstream Park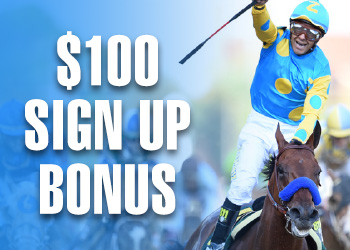 Consistent Florida-Bred Grande Shores Tackles $110,000 Rapid Transit New Claim Frontier Warrior Takes Win Streak Into $110,000 Express
BOYNTON BEACH, FL – Trainer Kelly Breen will be the first to admit that he's still getting to know 4-year-old Rebecca's Surprise, a filly he claimed this summer at Monmouth Park and who looks to be a top contender in Saturday's $110,000 Glass Slipper Stakes, part of the $1 million Claiming Crown on opening day of Gulfstream Park's 76th annual Championship Meet.
But there's one thing Breen does know for certain, what the daughter of Marino Marini did before he acquired her and what she has continued to do since transferring to his barn.
"She wins," Breen said. "She's got a lot of wins in her career."
There are 11 of them, to be exact, as well as five second-place efforts and five thirds in just 26 career starts. She's won more than 42 percent of her races and has finished in the money at an even more impressive 80 percent rate. She boasts five wins in 2014 alone, her most recent coming in a one-mile allowance at Laurel Park on October 16, a race contested at the same distance as the Glass Slipper, in which she romped home to victory by 10 ¼ lengths.
"She's doing well," said Breen, who winters at Palm Meadows, Gulfstream Park's satellite training facility in Palm Beach. "She came down to Florida and she seems to fit in with the warm weather and everything, and we're excited [for the Glass Slipper]."
Breen has had Rebecca's Surprise since July, when he claimed her for $50,000 out of an optional claimer. He says the Claiming Crown did cross his mind when he made the acquisition.
"It was a thought," Breen said. "But just in claiming horses, it's risky enough that we were just happy to win a race with her."
Rebecca's Surprise made her first start for Breen in stakes company, contesting Monmouth Park's Lady's Secret Stakes in September. She ran admirably that day, finishing third, just three-quarters of a length behind the winner, after setting the pace and dueling to the wire. The filly has yet to finish off the board with Breen as trainer, running second in an allowance at Keeneland prior to her runaway win at Laurel.
Still, Breen sees room for improvement as his filly looks for her first stakes victory.
"She's a little nutty," Breen said. "You claim a horse and you don't know them for that long. Every day, we're just trying to figure out her quirks, and hopefully the right horse shows up on Saturday."
Rebecca's Surprise will break from the far outside in a field of 14 that includes Courtney Ryan, the leading mare in the country by wins this year, and Best Behavior, a three-time winner at Gulfstream Park who was most recently runner-up in the Sky Beauty Stakes at Gulfstream Park West. All have achieved success despite having modest roots. The Glass Slipper is open to fillies and mare that have started for a tag of $12,500 or less since January of 2013; Rebecca's Surprise ran for just $7,500 last September at Parx Racing in Pennsylvania.
"The Claiming Crown is a good thing for some horses to get some prestige and run for a lot of money," Breen said. "It's taken off, and it is good for the industry. You go by looking at all these races and how there's 14 in every race."
Breen's trainee will be ridden by Paco Lopez.
"It's all in Paco's hands," Breen said. "He's ridden her, and he knows her. I just can't wait to get her out of the paddock and get her onto the track and get her out of my hands."
Servis Ready for Busy Saturday at Gulfstream Park
Trainer Jason Servis will saddle horses in four of the eight Claiming Crown races on Saturday's opening day card at Gulfstream Park, making for a busy afternoon.
While Servis' top contender is Ribo Bobo, the likely favorite in the $110,000 Express Stakes who will be looking to win his second Claiming Crown event in as many years, Servis will also be represented in the Rapid Transit, Emerald, and Jewel stakes by Box Office, Screenplay, and Cease, respectively.
The three geldings, as well as Ribo Bobo, are owned by the Mr. Amore Stable, which is run by Ron Lombardi. Lombardi, who owns the physical therapy company SportsCare, has an office in Hallandale and enjoys running his horses nearby at Gulfstream.
"He called me and said, 'I want to run as many as we can Claiming Crown day, if it's 12 or three, whatever it is,'" Servis said. "So, that was the plan. [Four] was as many as we could get in, but I originally nominated 10."
Screenplay will run in the Mr. Amore Stable colors in the $125,000 Emerald Stakes, to be contested at 1 1/16 miles on grass. A veteran who has run 46 times and earned 14 wins, Screenplay has posted eight wins at the distance and has thrice won over the Gulfstream Park turf course. He enters the race a winner of two of his last three, most recently taking a Belmont Park allowance by 3 ½ lengths.
"He doesn't really need a distance, or a track, or a soft turf," Servis said. "He's tough. He rolls his sleeves up and jumps up."
The 7-year-old's tenacity impressed Servis so much so that he even entered him in the G2 Monmouth Stakes earlier this summer. Breaking from the 14-post as a coupled entry with fellow Servis entry Hangover Kid (who went on to run in the G1 Breeders' Cup Turf), the son of Stephen Got Even ran fifth in that race, the first graded stakes event of his career.
"That was a bummer that day," Servis said. "He drew way outside and I think if I draw inside I'm right there. But this horse knows how to win, and he's doing good. You know he's going to give his all. I'm feeling pretty good about that horse."
Servis says he likes "the old class horses," and that's what led him to claim the 7-year-old Cease, an entrant in the $200,000 Jewel Stakes, out of a $25,000 claimer at Saratoga in August. The son of War Chant has only made two starts for Servis, finishing second in a $62,000 optional claimer before running fifth in the G3 Bold Ruler Handicap at Belmont, but the multiple graded-stakes placed runner has seen it all in his 34-race career. The Claiming Crown is often referred to as the claiming horses' Breeders' Cup, but Cease ran in the actual thing, contesting the Breeders' Cup Marathon (before that race was phased out of the lineup this year) in 2011 and 2013.
"I fancy him," Servis said. "He's an old horse, and I think he may like the cooler weather better, but we'll see. He's doing good. I wouldn't be running him [if he wasn't]."
Screenplay and Cease (as well as Ribo Bobo) will both be ridden by Paco Lopez, but Box Office, the last of the Servis quartet, will have apprentice Tyler Gaffalione in the irons when he goes to the post in the $110,000 Rapid Transit, run at seven furlongs on the main track. Box Office, a 5-year-old son of Tiznow, has finished second in four of his six starts in 2014, most recently posting back-to-back fourth-place finishes in allowances at Saratoga and Belmont Park. The gelding may not have a win in 2014, but he has won at Gulfstream. That came in his very first start for Servis in November of last year.
"He's doing good," Servis said. "That's not his distance, but we like to run at the meet and support the Claiming Crown, so we're running. He's a good horse, very solid. I'd take a barn of him any day of the week."
"The horses are all doing good," he added. "Hopefully they get down there safe in the van with the ride [from Palm Meadows] and we have a good day."
Consistent Florida-Bred Grande Shores Tackles $110,000 Rapid Transit
Just three weeks after his third consecutive runner-up finish, Grande Shores looks for career win No. 11 in Saturday's $110,000 Rapid Transit at Gulfstream Park.
A Jacks or Better Farm homebred trained by Stanley Gold, Grande Shores was second in the Kenny Noe, Jr. Stakes on November 16 at Gulfstream Park West, his fourth straight start at six furlongs.
"We were in the Claiming Crown last year and we wanted to be in it again this year, and he's doing real well," Gold said. "Hopefully, he'll run good again. I'm happy about the way he is and not worried about the time frame. I'm just glad there's a race there for him. We've had our eye on this race for a long time and I'm just glad to get there."
Grande Shores has been first or second in 10 of 11 starts this year with four wins, and has a record of 10-13-3 with purses of $271,561 in 38 career starts. He has three wins, three seconds and a third in nine tries at the Rapid Transit distance.
"The inner drive and desire is what fuels him, but he's stayed sound and durable and, fingers crossed, he always shows up," Gold said. "You just pretty much expect him to put in his run and he catches them or he doesn't. The attractive thing about this race is it's seven furlongs. Six always seems to be a little bit too short. It's the right distance, but the Claiming Crown is usually very, very tough so we'll see what happens."
New Claim Frontier Warrior Takes Win Streak Into $110,000 Express
One of the hottest of the 110 horses entered in the Claiming Crown is Frontier Warrior, who takes a five-race win streak into the six-furlong, $110,000 Express.
The 7-year-old gelding was claimed by trainer Peter Walder for $20,000 out of a three-length victory on November 20 at Laurel Park on behalf of Ron Paolucci's Loooch Racing Stables.
Frontier Warrior is 6-for-11 this year and shows 14 wins from 38 lifetime starts with purses of $264,612. His five wins date back to mid-September and come by a combined 24 ¼ lengths, including a 10 ½-length score on October 13. Each of his last three victories has come in front-running fashion.
"[Paolucci] said, 'Take a look at the horse and let me know what you think, if he'll fit in the Express,'" Walder said. "I called him back and said 'Absolutely.' I got him down here, walked him a few days and jogged him, and he's coming out of his skin. He's just really, really, really doing good. He's just a very happy horse right now; very happy."
A successful gambler known for taking risks, Paolucci won the Breeders' Cup Juvenile Fillies in 2013 with Ria Antonia. Frontier Warrior will break from post 4 in a 10-horse field led by multiple stakes-winning Florida-bred and defending Express champion Ribo Bobo.
"He's pretty astute with his claims and again, that's kind of cool. Here's a guy that won the Breeders' Cup and he's still looking to claim horses," Walder said. "This horse really defines the Claiming Crown, a horse that has run for cheap at one point and has gotten good. He deserves a shot in there."