Twilight Eclipse Takes Another Shot at Main Sequence Violette Seeking Second Fountain of Youth Success with Upstart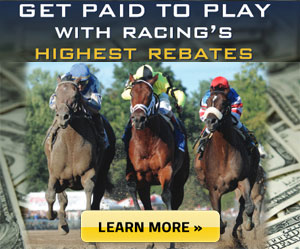 Bluegrass Singer Gets Lopez for Fountain of Youth
HALLANDALE BEACH, FL - No horse faced Main Sequence more times last year, or came closer to beating the two-time Eclipse Award winner and Horse of the Year finalist, than West Point Thoroughbreds' Twilight Eclipse.
The bay 6-year-old Purim gelding, a multiple graded stakes-winner and world record-holder at 1 ½ miles, was the only horse to show up in each of Main Sequence's four 2014 starts, all Grade 1 victories.
Twilight Eclipse wound up with one win in seven starts last year, the Mac Diarmida (G2) at Gulfstream Park, but ran second twice and third twice and banked $702,000 to top $1 million in lifetime earnings.
"He came close to Main Sequence in all of his starts and a couple races were within photo finishes and with a little bit more racing luck, I think we possibly could have won one of them," trainer Tom Albertrani said. "Overall, we were just very happy with the horse all through last year."
Twilight Eclipse will be up against Main Sequence again in defense of his title in the $200,000 Mac Diarmida, to be run for the 20th time on Saturday's eight-race stakes card at Gulfstream. It is the season debut for both horses.
In his U.S. debut, Main Sequence ran down Twilight Eclipse to win the United Nations (G1) by a neck last July at Monmouth Park. Six weeks later, Main Sequence was a head better than Imagining in the Sword Dancer Invitational (G1) at Saratoga Race Course, with Twilight Eclipse less than a length away in third.
The next matchup came in the Joe Hirsch Turf Classic (G1) in September at Belmont Park where both Main Sequence and Twilight Eclipse came on late to pass Imagining, with Twilight Eclipse again coming up a neck short. In the Breeders' Cup Turf (G1), Twilight Eclipse was third by 1 ¾ lengths as Main Sequence beat Flintshire by a half-length.
"In the United Nations he encountered a little bit of traffic and that might have cost him a little bit that day. It was the same thing in the Turf Classic," Albertrani said. "He kind of got stuck on the inside a little bit and it could have made a little difference. We were also in a situation where it seemed like whenever he was running, it rained. I think he really appreciates a firm course. Overall, we're not complaining. The horse has run some extremely good races and I'm hoping this year we could see the same thing from him or maybe even a little better."
Twilight Eclipse owns two wins in three lifetime starts at Gulfstream Park. In addition to last year's Mac Diarmida, he captured the 2013 Pan American (G3) in 2:22.63, a world record for 1 ½ miles on turf.
Albertrani is still looking for his first win of the Championship Meet. He had seven seconds and four thirds with purses of $109,145 through 49 starters. On January 8, Albertrani-trained 3-year-old colt Tradesman was disqualified from first to sixth for interference in the stretch.
"It's been a tough start to the meet, but you've got to stay positive. You know things will turn around," Albertrani said. "It's a matter of time before things change. I kind of had this start once before and things certainly changed, so you've got to be positive."
Violette Seeking Second Fountain of Youth Success with Upstart
Trainer Rick Violette won't be entering uncharted territory Saturday when he saddles Upstart for a start in the $400,000 Besilu Stables Fountain of Youth (G2). The veteran trainer achieved success in 2004 with Read the Footnotes, who posted a narrow victory in the key 1 1/16-mile prep for the Florida Derby (G1) and Triple Crown.
"Read the Footnotes ran his eyeballs out in the Fountain of Youth," said Violette, whose trainee finished a neck ahead of favored Second of June while coming off victories in the Remsen and Nashua at Aqueduct the previous fall.
A New York-bred like Upstart, Read the Footnotes finished fourth in the Florida Derby as the even-money favorite, but his Gulfstream experience seemed to put the son of Smoke Glacken in a position to win the Kentucky Derby that year.
"At the half-mile pole he was sitting right behind Smarty Jones and his jockey Robby Albarado hadn't asked him to run yet. Then the last eighth he started grinding. After he pulled up we found a knee chip and never ran again," said Violette, noting that he had become excited by the possibility of winning the Kentucky Derby at the half-mile pole. "If you get me to the half-mile pole in the situation and the jockey hasn't asked him to run yet, I'll sign up now. We'll take it from the half-mile pole home. I'd take that any day of the week."
Smarty Jones won the Derby by 2 ¾ lengths before winning the Preakness and finishing second in the Belmont. Read the Footnotes faded to seventh in the Derby.
Violette made it the Kentucky Derby with a New York-bred horse again last year, when he saddled Samraat for a fifth-place finish, nose out by Jimmy Jerkens-trained Wicked Strong for fourth. Samraat had prepped in New York, where he won his first five starts before finishing second in the Wood Memorial (G1).
"Samraat, he was as brave as any horse we've had. He always found more. He ran a really good race and just got beat by Jimmy's horse at the wire for fourth. He won a couple of Grade 2s and finished second in the Wood, so he was a real horse," Violette said. "If Upstart has that much courage, we'll be in good shape."
Bluegrass Singer Gets Lopez for Fountain of Youth
Mucho Macho Man Stakes winner Bluegrass Singer will have a new rider for his next scheduled start in Saturday's $400,000 Besilu Stables Fountain of Youth (G2) at Gulfstream Park.
Paco Lopez will replace Javier Castellano in the 1 1/16-mile Fountain of Youth, the Bluegrass Cat colt's fourth start at the Championship Meet. Castellano has been aboard for the last two races, including a third-place finish in the $400,000 Lambholm South Holy Bull (G2) on January 24.
Lopez will be the fourth jockey in nine starts to ride Crossed Sabres Farm's Bluegrass Singer, following Orlando Bocachica, Hall of Famer Edgar Prado and Castellano.
"Boca got hurt and we went with Edgar, and Edgar had an obligation. Then Javier rode him twice, and Javier had an obligation," trainer Marcus Vitali said. Cory [Moran, Lopez's agent] approached me and I really thought it would be a good fit."
Bocachica, recovering from a January 14 spill at Gulfstream, broke Bluegrass Singer's maiden last October. Prado was up for an entry-level allowance victory on December 17,and Castellano guided him to a 1 ¾-length score in the Mucho Macho Man, formerly the Gulfstream Park Derby, on January 3.
"This horse has had a lot of different riders due to the obligations of the other riders, so it's kind of been musical rider. Fortunately for me, it seems to work out," Vitali said. "Every time a new rider has been on him, he's won."
Lopez and Vitali teamed up to win the Tampa Bay Stakes (G3) on January 24 at Tampa Bay Downs as well as the Fred Hooper (G3) on the dirt February 7 at Gulfstream Park.
"Paco won a stake for me at Tampa and a stake for me at Gulfstream, so you've got to keep in line with what's working. If it ain't broke, don't fix it," Vitali said. "The horse likes to lay up close and he's good with those types of horses. If the horse makes the lead, he's good at rating the pace. It's always good to get a horse you think will be compatible with your horse."