Rainbow 6 to Offer $50,000 Guaranteed Jackpot Friday Notyouraveragejoe Set for 2014 Debut in Saturday's Quality Road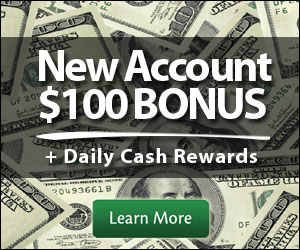 Naval Command Pointed to Stakes After Impressive Maiden Win
HALLANDALE BEACH, FL – The 20-cent Rainbow 6 will offer a guaranteed $50,000 jackpot for Friday's card at Gulfstream Park.
The popular multi-race wager, which produced a $6.6 million payoff for a Palm Beach bettor last month, was solved last Sunday by a Lewiston, Maine player who cashed for $219,761.86.
The Rainbow 6 jackpot is only hit when a bettor has the only ticket with the winners of the day's final six races.
On Sunday, June 29, however, there will be a mandatory payout of the entire Rainbow 6 carryover pool, whether there is a single winning ticket or multiple tickets with the most winners in the six-race sequence.
A special live racing program at Gulfstream is scheduled for Tuesday, July 1, when the Rainbow 6 will start anew.
Notyouraveragejoe Set for 2014 Debut in Saturday's Quality Road
At 3-5 favoritism in the morning line, Wildcat Red looms as a rather imposing foe in Saturday's $75,000 Quality Road Stakes at Gulfstream Park.
Trainer Steve DiMauro is well aware of his competition, but he's not about to let it dissuade him from using the 1 1/16-mile stakes for 3-year-olds as a springboard for Notyouraveragejoe's 2014 racing season.
"I'm not looking at the other horses that are going to run. I'm just going to think about my own horse. It really doesn't matter who else is in there," said DiMauro, whose colt is rated third at 5-1 in the morning line behind Wildcat Red and East Hall (4-1). "My concern is fitness more than competition."
Notyouraveragejoe hasn't run since Nov. 30, when he finished second at Gulfstream in the off-the-turf $100,000 Pulpit Stakes behind Storming Inti, who came right back to win the Kitten's Joy Stakes on turf. Although he'd prefer to start his colt back on turf, DiMauro is comfortable with running him on the main track Saturday.
"It came up a short field. I'm happy to be in it," DiMauro said. "Hopefully, I can build off of whatever he does here."
The son of Discreet Cat finished second once in three starts at 5 ½ furlongs before graduating at a mile in an off-the-turf maiden race. He came right back to score a 33-1 upset victory in the one-mile $100,000 Juvenile Turf Stakes at Gulfstream on Nov. 9.
DiMauro had entered Notyouraveragejoe in the English Channel Stakes at Gulfstream on June 14 but "a small issue" forced him to scratch the Florida-bred colt.
"I would prefer to be on grass, but he seems to handle it all, whether its dry or wet, turf or dirt," he said. "Once he went long, he seemed to be good no matter which way we went."
Naval Command Pointed to Stakes After Impressive Maiden Win
Impressed with Naval Command's impressive maiden triumph last Saturday, trainer Bill Kaplan is pointing the juvenile daughter of Midshipman to the $75,000 Cassidy Stakes at Gulfstream on July 12.
Favored at 9-5 for her debut on the strength of a string of impressive workouts, Naval Command's victory was hardly a surprise. The manner in which she got to the winner's circle under jockey Juan Leyva was somewhat unexpected. After breaking from the gate ninth in the 10-horse field, she was a little slow to settle into stride before advancing along the rail and launching a strong stretch drive to win by a length over a sloppy track.
"I expected her to be on the lead. She's very quick out of the gate, but she got a little intimidated first time and she backed out a little. He got her going again and got her over to the rail. She backed out again a little when she got to the rail," Kaplan said. "That's what makes it so impressive in a 4 ½-furlong race. It wasn't like she was all the way in front and won by five. This was more impressive."
Kaplan bought Naval Command for Pinnacle Racing Stables, H. Jack Hendricks and Roger Justice at the 2014 OBS April 2-year-olds-in-training sale for $60,000.
"When I go to a sale I put most of my judgment into how they move during the breeze," Kaplan said. "That's a good percentage of what I do, and then I'll look at their conformation and all the other stuff, like breeding."
Kaplan has built a reputation for success with bargain purchases at auction, most notably with Musical Romance, whom he purchased for $22,000 and who went on to win the 2011 Breeders' Cup Filly & Mare Sprint and the 2011 Eclipse Award as the country's champion female sprinter.
Kaplan is hopeful that Naval Command has the ability to compete in major stakes. "We've got the race on the 12th, so we'll be nominating for that one," he said. "If she wins that, we might try something up north and get ready for the Breeders' Cup."