Vitali Leaning Toward Lambholm South Holy Bull with Bluegrass Singer Lambholm South Holy Bull the Goal for First Down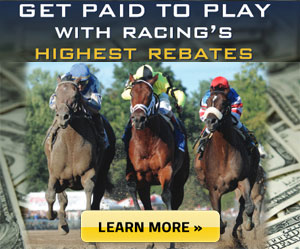 Bocachica Released from Hospital
HALLANDALE BEACH, FL - Mucho Macho Man Stakes winner Bluegrass Singer is expected to make his next start in Saturday's $400,000 Lambholm South Holy Bull (G2) at Gulfstream Park, trainer Marcus Vitali said Thursday morning.
The 3-year-old son of Grade 1 winner Bluegrass Cat is cross-entered in the 1 1/16-mile Holy Bull as well as the $150,000 Hutcheson (G3) at seven furlongs, two of the five sophomore stakes on Saturday's 11-race card.
Bluegrass Singer drew far outside post 8 in the Hutcheson and post 4 of 10 in the Holy Bull, where he will have the services of Championship Meet leading rider Javier Castellano, who earned his second straight Eclipse Award as top jockey last weekend at Gulfstream.
"I'm leaning toward the Holy Bull," Vitali said. "I'm trying to get some [Kentucky Derby qualifying] points together, and that's kind of my decision. Javier's got the assignment, and those two got along really good last time. I just think we've got to take our chances, hope for the best and shoot for the sky."
Castellano was aboard for Bluegrass Singer's last race, a 1 ¾-length victory in the Mucho Macho Man, formerly the Gulfstream Park Derby, on January 3. It was the second straight win at a mile for the gray gelding, following a 4 ¾-length romp in an optional claiming allowance on December 17.
The Holy Bull will be Bluegrass Singer's first try beyond a mile, but he was second around two turns in a one-mile turf allowance in October at Gulfstream. Overall he has three wins and a third in four tries over Gulfstream's main track.
"He handled two turns on the turf," Vitali said. "If he can handle it on the turf, he can handle it on the dirt. I don't see any reason that he wouldn't handle the two turns at Gulfstream. I don't have a lot of concern about it."
With only 21 days since the Mucho Macho Man, Bluegrass Singer had a three-furlong work in 36 seconds on January 18 at Gulfstream Park West, the fastest of eight horses.
"I brought him back into the race easy off the last race, being just three weeks between races. I figured he's run so many times and he's the kind of horse that keeps himself fit anyway," Vitali said. "It can be kind of a tricky situation when you're pointing for two races. You've got to train them a little different for either race. I just did my best and the horse responded to everything perfect. He's coming into the race excellent."
Vitali won the first graded stakes of his career last winter with Lochte in the Gulfstream Park Turf Handicap (G1). His other graded win came with Valid in the Monmouth Cup (G2) last summer on dirt.
"It's very exciting, but I don't take anything for granted," Vitali said. "We work hard and have a good staff. Everybody's working good, and we've got a good horse. It's just a matter of staying focused, don't get too high on it, remember where you came from, and things usually work out good for you."
Lambholm South Holy Bull the Goal for First Down
Godolphin Racing's Frosted is expected to vie for favoritism for Saturday's $400,000 Lambholm South Holy Bull (G2) at Gulfstream Park, having made a most positive impression while finishing a close second in the Remsen (G2) against a strong rail bias at Aqueduct Nov. 29.
Godolphin Racing's First Down, who is also set to compete in the Holy Bull in an uncoupled entry with Frosted, is rated at 12-1 in the morning line for the important prep for the $1 million Besilu Stables Florida Derby (G1; March 28).
The interest of longshot bettors may well be piqued by First Down's first past performance line in Gulfstream's track program. The Tom Albertrani-trained colt registered a three-quarter of a length debut victory over the Kiaran McLaughlin-trained Frosted in a 6 ½-furlong maiden race at Belmont Park on Sept. 20. The two Godolphin colts raced as a 7-2 coupled entry that day, when bettors were likely expecting Frosted to graduate, having previously gained race experience with a fast-closing second in his debut at Saratoga on Aug. 23.
First Down provided a pleasant surprise for the bettors, who still got to cash their win tickets, and his trainer.
"He was never a flashy work horse in the morning. I was actually quite surprised the way he ran in his first race," Albertrani said. "It was very impressive to see him win first time out."
Frosted, who is rated second at 5-2 behind 2-1 favorite Upstart for the Holy Bull, went on to graduate by more than five lengths before finishing just a half-length behind Leave the Light On in the Remsen. First Down followed up his debut victory with a fourth-place finish in the Nashua (G2) at Aqueduct on Nov. 2. The son of Street Sense experienced light bumping at the start and raced three wide around the turn into the homestretch before flattening out over a muddy track.
"We were hoping to see him take a step forward (in the Nashua), but he caught a bad track and he had a little traffic," Albertrani said. "He got more of an education in that race than in his first race. That being said, I think this horse can take another step forward,"
Albertrani said First Down has been training forwardly at Palm Meadows, Gulfstream's satellite training facility in Palm Beach County.
"It does look like he's a little bit more mature. He's working more aggressively. He seems to be more focused," he said.
Rajiv Maragh has been named to ride First Down in the 1 1/16-mile stakes.
Bocachica Released from Hospital
Jockey Orlando Bocachica was released from the hospital Wednesday evening. a week after breaking his arm and jaw when his mount in the second race Jan. 14, Centella, ducked into the gap after the start of the race, unseating the veteran rider.
"He was released (Wednesday evening) and he's feeling much better," said Bocachica's agent, Jay Rushing. "Now it's just a matter of the healing process taking over. I imagine he will be out a couple months."
At the time of his injury, Bocachica was tied for ninth in wins at Gulfstream's Championship Meet. He finished the Gulfstream Park West meet third in wins and money won. Last February, Bocachica won his first Grade I victory when guiding Lochte to victory in the Gulfstream Park Turf Handicap.