Wolf Hopeful About Intense Holiday's Chances Financial Mogul Gets Started in Holy Bull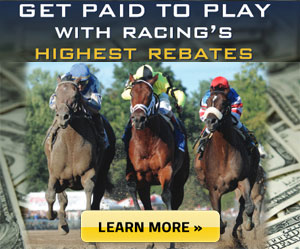 Wildcat Red to Miss Holy Bull
HALLANDALE BEACH, FL - Intense Holiday will have the rest of the field inside him when he breaks from post 11 in Saturday's $400,000 Miller Lite Holy Bull (G2) at Gulfstream Park – the same scenario his sire, Harlan's Holiday, faced 11 years ago in the Donn Handicap (G1).
His connections are hoping for a similar result, as well. Hustled from the gate by Hall of Fame jockey John Velazquez, Harlan's Holiday was able to secure good early position before drawing away in the stretch to win the 2003 Donn by 2 ½ lengths.
"We were at the draw that year and everybody had a heart attack when he pulled the 11-hole," said Jack Wolf, who owned Harlan's Holiday and is co-founder and managing partner of Starlight Racing, which campaigns Intense Holiday. "Good horses can find a way to win from any post."
The 1 1/16-mile Holy Bull will mark the 3-year-old debut for Intense Holiday, who had a maiden win from five starts at 2. Before leaving New York for South Florida, he was fifth in the Champagne (G1) at Belmont Park and fourth in both the Nashua (G2) and Remsen (G2) at Aqueduct.
"We sort of took a stab in the Champagne because there sort of wasn't any other place to go. I thought he ran a credible race there," Wolf said. "Not using it as an excuse, he hasn't had the best of trips. This race has got some pretty fancy horses in there. It's one good horse after another."
This year's Holy Bull field is the largest since Barbaro beat 11 challengers in 2006. There have been as many as 11 four times in its first 27 runnings, the best finish from post 11 being Choctaw Ridge's fourth in 1992.
"We've been pointing for this race ever since his last race in New York. He's trained forwardly and seems to be maturing at the right time," said Starlight co-founder and managing partner Don Lucarelli. "I just wish, naturally, that we had a better post but you have to play the hand you're dealt. Hopefully this will make him get more involved early and see from that standpoint what he can do."
Despite his post, Intense Holiday is fourth in the program at odds of 6-1; Nashua winner and Remsen runner-up Cairo Prince is favored at 3-1. Other familiar horses Intense Holiday will face are Financial Mogul, second in the Nashua, and Wicked Strong, third in the Remsen.
"We're hopeful he can catch a trip and show us what he really is capable of," Lucarelli said. "Whatever happens, happens, but I do think that he will be a good horse. He can handle the distance. It's going to all be how much pace is in front of him and where he sits off the first turn; that's what's going to dictate everything. It's all about the trip, but the horse is doing well."
Financial Mogul Gets Started in Holy Bull
A deep field of 11 3-year-olds will test their Triple Crown credentials on Saturday in the $400,000 Miller Lite Holy Bull Stakes (G2). Cairo Prince, winner of the Nashua Stakes (G2) and a narrow second in the Remsen Stakes (G2), is the 3-1 favorite on the morning line, but faces a number of promising colts for his 2014 debut in the mile-and-a-sixteenth contest. Among them is Financial Mogul, who has not faced the starter since rallying for second to Cairo Prince in the Nashua on November 3.
"We'll get his 3-year-old career started on Saturday," trainer Rick Violette Jr. said. "He's not ready for the best race of his life, but hopefully this will move him forward and show that he belongs, and keep dancing the bigger dances."
Financial Mogul romped in the slop at Saratoga in his second start on August 31 for owners Klaravich Stables and William H. Lawrence. After finishing fourth in the six-furlong Futurity Stakes (G2) at Belmont on September 29, the stretch-running youngster made up ground on Cairo Prince in the Nashua and cut the margin to 2 ½ lengths at the wire. Violette opted to give the Street Boss colt some time to grow up after that.
"We were very tempted to run him in the Remsen, but then we thought about it and decided that it was late in the year and he'd already run four times," Violette explained. "I told (co-owner) Seth Klarman that if we're going to give him a break, that we should do it then because his break would be short, if any at all, after the Remsen. We took him down to Palm Meadows and gave him about three weeks off. He was in jogging mode for a couple of weeks. He's fit enough to run without being ready for his best race."
Financial Mogul has recorded four timed moves at Palm Meadows since the calendar turned, most recently a stamina-building mile drill in 1:43 on January 17.
"I like doing that sometimes," Violette offered. "He went off in a bunch of 13s (seconds per furlong) and he got the last quarter in 24 (seconds). It was a really good move. The ones that can do it do it well, and the ones that can't really don't want to go two turns. His breeze was fabulous."
Violette acknowledged that while Financial Mogul isn't fully cranked up for the Holy Bull, he expects to get a gauge on where the colt stands among his peers.
"(Cairo Prince) is probably the most accomplished, and he looks ready to roll," Violette remarked. "He's trained pretty seriously here (at Palm Meadows). But the rest of them are looking to move to the next level, and confirm what they might have shown in their last couple of 2-year-old races. I don't think you can eliminate anybody at this stage. A 3-year-old can improve leaps and bounds, and I just hope we're one of them."
Wildcat Red to Miss Holy Bull
A minor illness will keep Wildcat Red, runner-up in the Gulfstream Park Derby on Jan. 1, from making his next scheduled start in the $400,000 Miller Lite Holy Bull (G2) on Saturday at Gulfstream Park.
Trainer Jose Garoffalo said the D'wildcat colt was treated after showing some mucous in his throat on Monday morning, the day entries were taken for the Holy Bull.
"We decided not to enter because the horse got sick," Garoffalo said. "He's got a little cold. He wasn't a hundred percent good for the race, so we decided to skip the race. He's in good shape. It's just a routine cold, so we're treating him and he'll be better for the next time."
Garoffalo said Wildcat Red did not have a fever and that he could train the horse up to the $400,000 Besilu Stables Fountain of Youth at Gulfstream on Feb. 22, which is also being targeted by GP Derby winner General a Rod.
"He just wasn't reacting like he usually does. He wasn't too happy [Monday] morning," Garoffalo said. "Maybe it was the change of weather or something related to that, I don't know. We hopefully have many races ahead for him."
Garoffalo also mentioned the $200,000 Hutcheson (G2) at Gulfstream on Feb. 1 as a possible start. Wildcat Red has two wins and two seconds from four career starts.
"We have to evaluate the horse in the next couple of weeks," he said. "He's OK. We didn't want to take the chance, so we just do what's best for the horse."