Rolling Super Hi-5s, Early Pick 5, $5 Quinella Well Received Super Hi-5, Late Pick 5, Rainbow 6 Carryovers Thursday

MIAMI GARDENS, FL – Wednesday's opening-day handle for the 41-day Fall Turf Festival at Gulfstream Park West registered an 87 percent increase over 2014 figures.

A 10-race program generated a handle of $2.4 million, representing a sharp boost from last year's wagering total of $1,280,230 at Gulfstream Park's sister track.

"We are very happy with Opening Day at Gulfstream Park West," said P.J. Campo, the Vice President of Racing for The Stronach Group and General Manager of Gulfstream Park. "We were pleasantly surprised with the turnout at the facility and happy with the turnout at our simulcast rooms at Gulfstream Park, and our handle was up 87 percent over the corresponding day last year despite technical difficulties."

The second season of Gulfstream Park West featured three new options on the betting menu.

Rolling Super Hi-5 wagers were offered on all 10 races, while the Early 50-cent Pick 5 spanned Races 1-5 and a $5 quinella was offered on the last race. The betting menu also included the popular 20-cent Rainbow 6, Late 50-cent Pick 5, Pick 4 multi-race favorites.

The Super Hi-5, which includes race-to-race carryovers when there is no ticket with the first five finishers in exact order, was well received Thursday. After going unsolved for the first three races, a $11,236 carryover generated a $74,890 Super Hi-4 handle in Race 4. Multiple winning tickets with victorious 1-2 favorite Doctor J Dub on top were each worth $760.20. When Darnell's Spirit ($119) captured the sixth race, a carryover might have been expected but the longest shot on the board keyed a winning ticket worth $11,892, including a carryover of $1,335 from Race 5.

There will be a $5,915.52 Super Hi-5 carryover for Thursday's first race.

The early 50-cent Pick 5 returned $1,616.70. The Late Pick 5 proved to be more of a challenge with no tickets sold with all five winners, resulting in a $6,930.82 carryover for the five-race sequence spanning Races 6-10.

"The bettors' response to the Early Pick 5 and Rolling Hi-5's was very positive," Campo said. "We will continue monitoring the new wagers to see what works and what doesn't.

The $5 quinella in the last race returned $272.50.

There will also be a $1,503.92 carryover for the Rainbow 6, as well as the carryovers for the the Super Hi-5 and Late Pick 5.

NOTE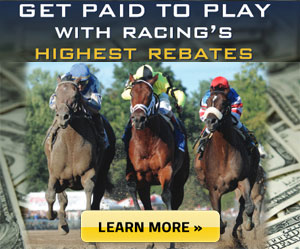 Jockey Octavio Vergara Jr., who was unseated and kicked by his mount in the walking ring prior to the sixth race, was taken to Memorial Regional Hospital in Hollywood for evaluation.